It Was Hard Being a Dyslexia Mom Before Coronavirus and Now It's Even Harder
For me, helping my son go from a bright but illiterate fourth-grader to a high school student who can read and write was an incredible full-time job. It was really hard to understand that a regular public school--even our wonderful, progressive elementary school that taught him so many things—couldn't teach my son to read.
Because I was an early reader, I didn't get it. Even my husband, who also has dyslexia, didn't really get it. But I learned. I learned how to interview neuropsychs to find one to match my kid. I learned how to get the appointments, how to ask the right questions. Another barrier to get over was understanding that
most neuropsychs know as little about how the education system works as most teachers know about the cognitive science behind how we read.
And now, parents like me who are just beginning their journey are supposed to be teaching and advocating for their children while coping with COVID-19, whether they are on the front lines of fighting the virus, working from home—or worse, having just lost a job.
Is my child learning to read, or reading to learn?
This is the first question parents must ask themselves.
If your children can read on their own and read independently for information and fun, resources abound to keep them going during the pandemic. The important thing you can add is making the learning two-way, not just listening and watching.
You can talk with them about their reading and ask questions.
Ask them to draw you a picture or write a letter to Grandma about something they learned.
They can build a Lego diorama to show you what they know.
[pullquote position="right"]As much as you can, read with your kids, even when they are older. Audible is offering free "Stories" and Learning Ally is offering scholarships—great resources for dyslexic students. Celebrities are reading bedtime stories on Instagram and Facebook. Computer-generated voices are improving all the time, but the tones of a real human voice help convey meaning that computers still can't match.
I worry most about those still learning to read. Dyslexia is the most common learning disability—accounting for 80% of all learning disabilities. Plus there are huge numbers of readers who aren't dyslexic but still struggle for other reasons, like poor instruction at school.
Most Parents Aren't Reading Teachers, They Need Resources
Let's stipulate that most parents are not reading teachers. And English is an incredibly hard language to decode. Blame it on the Saxons, the Normans, the Vikings, the Romans and the Welsh, Scottish and Irish. Blame it on the Scribes and Gutenberg who codified how to spell things before the Great Vowel Shift changed so many English sounds.
If you have time to start educating yourself about this, you could listen to Emily Hanford's radio documentaries on reading, or go even deeper with Amplify's Science of Reading podcast. You might watch The Big Picture: Rethinking Dyslexia. For books, you could read Language at the Speed of Sight by Mark Seidenberg or Proust and the Squid by Maryann Wolf.
Next step: If you want to do what you can from home and can afford it, start the search for qualified tutors who can assess your child and start where they are (Warning: this can be complicated and time-consuming).
If that's more than you can handle, try 20 minutes a day using the book Teach Your Child to Read in 100 Easy Lessons. It probably helps many struggling readers; true dyslexics may need more repetition. Early readers can try playing the free app OG Star or read Flyleaf decodable texts. Older struggling readers can try Mindplay, a not-too-expensive online program. To help with all kinds of challenges, understood.org is a great web site.
But mostly, since background knowledge is so important for reading and that is much easier for a parent to help with, work on that. Natalie Wexler addresses this in her book, The Knowledge Gap. This means that everything I mentioned for kids who are good readers applies double for struggling readers.
There are more tips and real talk about the challenges of supporting and advocating for kids with dyslexia in my interview with Chris Stewart. And you can find more of my writing for Education Post here.
More Reading Resources for Parents and Families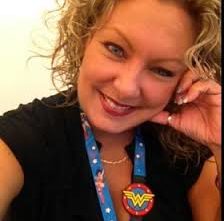 Lisa Hollenbach is Senior Digital Manager for Education Post. Prior to joining Education Post, Lisa developed digital and content strategy for Teaching Channel. She served on the Bill and Melinda Gates Teacher Advisory Council from 2014-2017 and was active in the planning and execution of several Elevating and Celebrating Effective Teachers and Teaching (ECET2) convenings at both the regional and national level. Lisa attended both private and public schools in Pennsylvania. She is a graduate of the Pennsylvania State University and holds a bachelor's in secondary education social studies, a bachelor's in public policy, a minor in women's studies and a master's in community psychology and social change. A former educator, Lisa taught for more than 15 years in both traditional public school and public charter school settings. She also served as a leader of her local and regional teachers association from 2001-2016. Lisa has worked with several universities throughout her career and is currently an adjunct professor at the Pennsylvania State University, teaching courses in sociology, psychology, education and their intersections. She is passionate about helping education advocates share their stories and creating an equitable education system that serves all students.