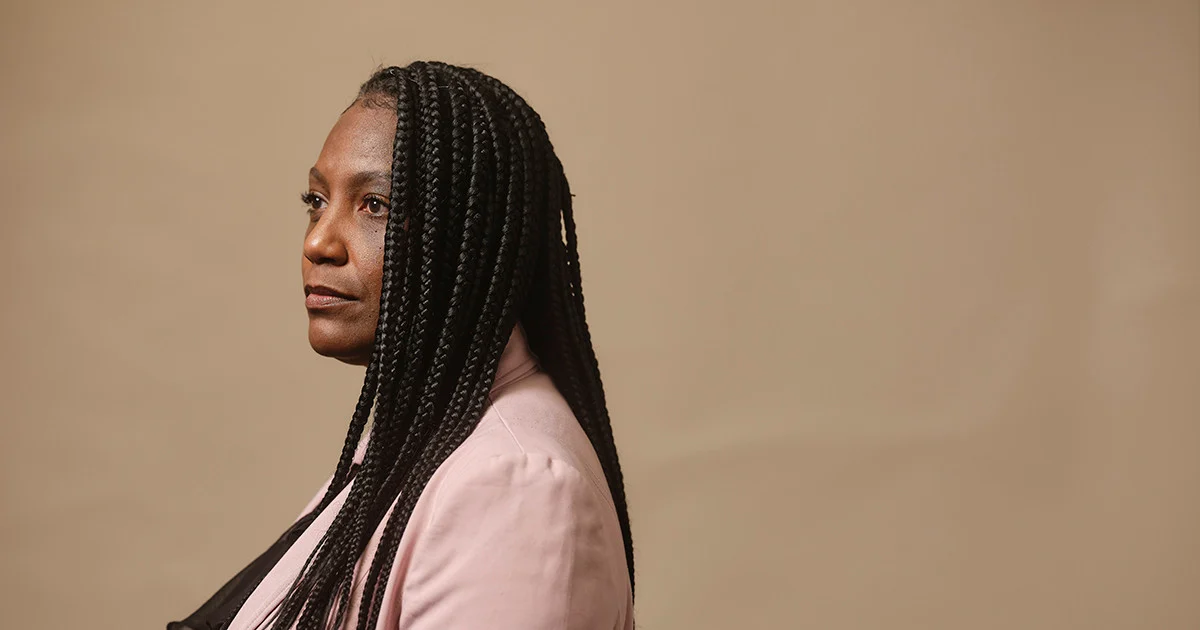 White Parents Chased This Black Educator Straight Out of Town, And They Didn't Stop There
This story and accompanying videos were originally co-published by ProPublica and FRONTLINE as part of an ongoing collaboration.
---
In April of 2021, Cecelia Lewis had just returned to Maryland from a house-hunting trip in Georgia when she received the first red flag about her new job.
The trip itself had gone well. Lewis and her husband had settled on a rental home in Woodstock, a small city with a charming downtown and a regular presence on best places to live lists. It was a short drive to her soon-to-be office at the Cherokee County School District and less than a half-hour to her husband's new corporate assignment. While the north Georgia county was new to the couple, the Atlanta area was not. They'd visited several times in recent years to see their son, who attended Georgia Tech.
Lewis, a middle school principal, initially applied for a position that would bring her closer to the classroom as a coach for teachers. But district leaders were so impressed by her interview that they encouraged her to apply instead for a new opening they'd created: their first administrator focused on diversity, equity and inclusion initiatives.
DEI-focused positions were becoming more common in districts across the country, following the 2020 protests over the killings of George Floyd, Breonna Taylor and Ahmaud Arbery. The purpose of such jobs typically is to provide a more direct path for addressing disparities stemming from race, economics, disabilities and other factors.
At first, the scope of the role gave Lewis pause. In her current district, these responsibilities were split among several people, and she'd never held a position dedicated to anything as specific as that before. But she had served on the District Equity Leadership Team in her Maryland county and felt prepared for this new challenge.
She believed the job would allow her, as she put it, to analyze the district's "systemic and instructional practices" in order to better support "the whole child."
"We're so excited to add Cecelia to the CCSD family," Superintendent Brian Hightower said in the district's March 2021 announcement about all of its new hires. (The announcement noted that the creation of the DEI administrator role "stems from input from parents, employees and students of color who are serving on Dr. Hightower's ad hoc committees formed this school year to focus on the topic.") Hightower acknowledged "both her impressive credentials and enthusiasm for the role" and pointed out that, "In four days, she had a DEI action plan for us."
A subsequent speaker, a parent named Lori Raney, was rewarded with applause when she asked the board, "My question to you is, if you vote to do away with the DEI program, does that mean the new DEI officer has her offer rescinded? Because why do we need to pay $115,000 for somebody who doesn't have a job to do anymore?"
At that moment, Lewis recalled, her husband said: "That's it. We're not doing this. You are not going there." He left the bedroom in disgust.
Not long after, a volunteer from the campaign of Vernon Jones, a Black Republican who at the time was running for governor (Jones later switched to a run for Congress), read a statement to the school board from the candidate. "Embracing the teaching of critical race theory is a slap in the face of Dr. King's teachings," said the volunteer, Stan Fitzgerald. "Taxpayer-funded anti-white racism is still exactly that — racism."
Upon hearing that, Lewis thought about how Martin Luther King Jr. promoted humanity and love, and she was devastated to hear his words used by strangers to attack her. Everything she had just witnessed felt contrary to his ideals.
Breaking down in tears, Lewis closed her laptop. She could no longer watch.
"That cut me so deeply," she said. "It hit the core of who I am as a being."
Lewis missed the part when Miranda Wicker, another parent and member of the county's Democratic Party, addressed the board. "Those who want this ban are spouting talking points fed to them by an outside special interest group with a deeply political agenda to keep people riled up against an invisible other," said Wicker, who was interrupted by loud shouts.
"Stop the disrespect!" school board Chair Kyla Cromer yelled at the crowd after banging her gavel. "Stop! Stop!"
Cromer threatened to adjourn the meeting early but ultimately allowed it to continue.
The board voted 4-1 with two abstentions to pass the anti-CRT and anti-1619 Project resolution. But the crowd was still worked up. Cromer moved to take a break. The livestream of the meeting was paused. But the yelling continued. And things spiraled out of control, to the point that Cromer abruptly adjourned the meeting.
One man in the crowd screamed: "I'm furious!"
Another declared: "We're going to hunt you down!"
The school district's chief communications officer, Barbara Jacoby, would later say that's when the students attending the meeting started crying.
"They had to be rushed out of the room," Jacoby recalled. She went with them and the school board members as security guards ushered the group to a conference room behind the dais. "And then we had to be walked to our cars," she said. "We had to be followed out of the parking lot onto the highway by police officers."
In response to questions from ProPublica, the school board provided a statement describing how some members requested school police escorts to their homes, where city and county agencies conducted extra patrols. In response to the other questions, including ones about anti-CRT letters the board received, Jacoby responded on its behalf, stating "the information you note below is correct." Cromer and Hightower declined to comment.
Jacoby said the scene felt unreal. "It's certainly not anything anyone who comes to work for a school district expects would ever be part of their job."
Lewis' phone kept ringing that night. People from the district were telling her that this is not who they are, that they're embarrassed by the actions of their neighbors and church members, that they're sorry she had to witness this.
In a phone call the next morning, Hightower apologized to Lewis. He said he still wanted her to come to Cherokee. Another administrator asked if she would consider a different position.
But by then she'd made up her mind. She told Hightower: It's just not going to work.
"I can't say I blame her," Cherokee County School District chief of staff Mike McGowan said in an interview with ProPublica. "There was so much misinformation about who she was, what she stood for and what was going on politically."
In response to a detailed list of questions to the district covering all aspects of Lewis' experience in Cherokee County, Jacoby responded that "we have no further comments to add."
The following morning, before it was publicly known that Lewis had quit the job she'd never started, a former Cherokee County student who'd attended the school board meeting appeared on "Fox & Friends" and warned that the board was still pursuing CRT under the guise of other concepts. "I think that they're relying on wordplay to try to confuse Cherokee County representatives or constituents that aren't necessarily completely involved because they're busy with their day-to-day life," the guest, Bailey Katzenstein, said. She claimed that CRT initiatives would be carried out by "someone from Maryland" in the form of programs "synonymous" with CRT: DEI and SEL (or social-emotional learning). SEL is a decades-old child development concept that emphasizes building self-awareness, teaching kids how to better communicate, fostering relationships and making responsible decisions, according to scholars and researchers.
"I don't think it's acceptable," Katzenstein said of the school board not banning DEI and SEL along with CRT. "They're hiding behind closed doors, and I think it's completely full of cowardice."
The Fox host, ending the segment, said: "If you thought this was an elite, New York City school problem, Bailey Katzenstein just told you the exact opposite. This is spreading. It's going all over the country, and it's having real impacts."
The next day, Cherokee County parents used their private Facebook group to continue to report Lewis "sightings." (People with access to the group shared screenshots of posts with ProPublica.)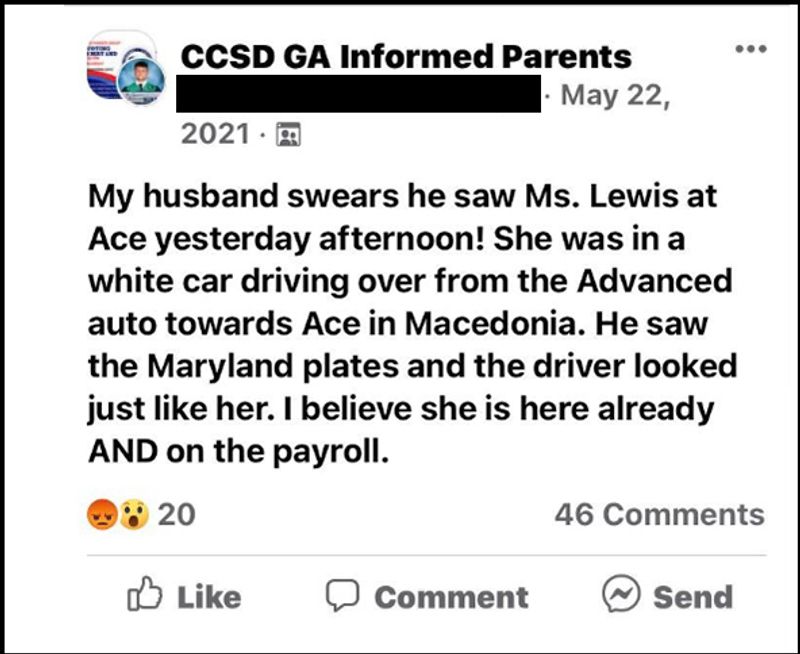 "My husband swears he saw Ms. Lewis at Ace yesterday afternoon!" one woman wrote, adding, "He saw the Maryland plates and the driver looked just like her."
But Lewis was still in Maryland. She hadn't returned to Georgia since the house-hunting trip.
In a statement quoted in the Cherokee Tribune & Ledger-News a week and a half later, Lewis wrote: "I wholeheartedly fell in love with Cherokee County when I came to visit and accepted the position, but somehow, I got caught in the crossfire of lies, misinformation, and accusations which have zero basis."
When Lewis and her husband actually relocated to Georgia later that summer, the Cherokee parents' private Facebook group lit up.
"Guess where Cecelia Lewis is possibly landing now?" another woman wrote.
They'd figured out her next move.
Five days after Lewis quit her would-be job in Cherokee County, the district's human resources director forwarded a copy of her resume to the chief academic officer at his former school district, one county over. "Great catching up!" he wrote. "Talk soon."
Officials in the Cobb County School District, the second-largest in the state, called Lewis soon after. They wanted to talk to her about an opening they had for a supervisor of social studies, a job title she'd held in another school district earlier in her career.
Lewis did not know it, but the position already had been subjected to scrutiny.
In the summer of 2020, in wake of Floyd's killing at the hands of Minneapolis police, the Cobb County School District began to more tightly manage the way racial issues are handled in social studies teacher training and more closely vet the materials trainers and educators could use.
According to records obtained by ProPublica, the previous, longtime social studies supervisor had been reprimanded for hosting a district-approved speaker from the state Department of Education. A teacher had complained about the speaker's presentation, titled "All Are Welcome."
The social studies supervisor's boss wrote in the letter that most of the presentation was appropriate. There were just a few issues.
The boss wasn't happy with the "sensitive content and images" and "probing questions" in the presentation. One slide included a photo of Minneapolis police officer Derek Chauvin atop Floyd, his knee pinned to Floyd's neck, along with two questions that challenged educators in how they approach lessons about such controversies: "What can we share with our black students to help them cope with the bottom?" "What did the man on top miss out on learning that could have made him a better person?"
Additionally, the director's letter reminded the social studies supervisor that there already had been discussions about references to the 1619 Project, about vetting all presentations, about monitoring social media posts for the "message they send to the greater Cobb County community" and about ensuring that outside organizations the social studies supervisor might partner with would present controversial issues in a manner acceptable to the school district.
In 2021, the social studies supervisor retired. Lewis — who holds a master's degree in teaching the subject — applied to replace her.
In June, at around the same time that Lewis got the call from Cobb County to come in for an interview, Cobb's seven-member school board passed its own anti-CRT and anti-1619 Project resolution. Three members — all of them Black Democrats — abstained, noting this was not the first time they were blindsided by the addition of a problematic, last-minute agenda item.
Once a Republican stronghold represented by Newt Gingrich in Congress, Cobb County flipped to blue in 2018 and has remained that way since. By 2020 the county elected its first Black sheriff and county commission chair. Though the school district's population is 30% Black and 24% Hispanic, the school board majority remains white and conservative.
By mid-July, another metropolitan Atlanta school district was courting Lewis. But by then she was living in Cobb County and decided to follow up with the district there. It had been weeks since she'd gone through multiple rounds of rigorous interviews, during which Cobb officials complimented her on her credentials, saying she'd be an asset in multiple leadership roles, according to Lewis.
Lewis recalled that a district official finally called her back toward the end of July to apologize for the delayed response and explained that the superintendent had been involved in vetting her hiring, something that typically doesn't happen for a person who applies for a supervisor role.
Today, the metal detectors remain installed at the entrance to the building where Cherokee County School Board meetings are held. A staff member is permanently assigned the task of evacuating students in attendance, should the need ever arise. And an increased number of security officers are strategically placed throughout the meeting room and beyond.
Standing in line outside the building before a recent school board meeting, mothers identified themselves to each other as "a Marjorie" — meaning a proponent of the speaking style of Rep. Marjorie Taylor Greene, known for her provocative and unfiltered claims.
A little while later, once the meeting was underway, a man who described himself as a school bus driver and a grandfather stepped to the microphone during the public comment period.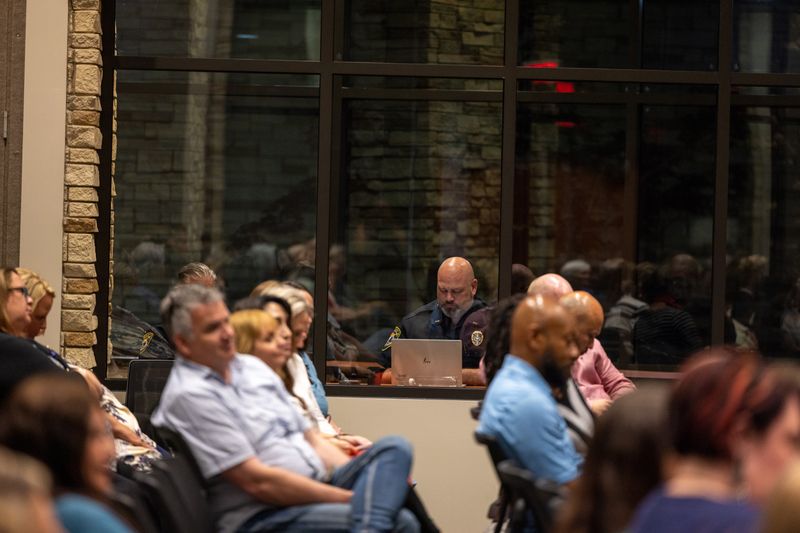 "This is not California or New York. This is Cherokee County, Georgia. We can choose what and how our students learn on a local level," said the man.
"I was raised in a different era, in the '50s and '60s, where we were equipped to survive and succeed."
Nicole Carr focuses on criminal justice and racial inequity for ProPublica's South unit. She previously served as an investigative reporter for WSB-TV in Atlanta. In addition to covering Georgia's historic 2020 elections and various aspects of the pandemic, Carr's work has been rooted in law enforcement and government accountability. In a joint 2020 investigation with the Atlanta ...