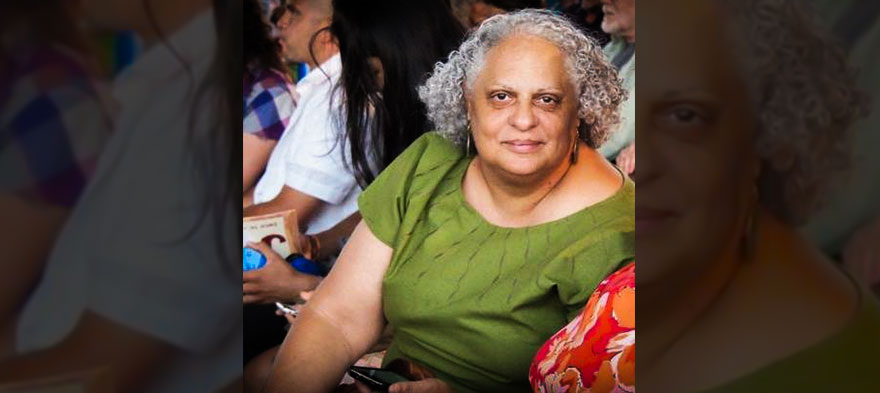 This Real-Life Black Panther Is Way More Badass Than Any Movie Character
Mary Scott-Boria, 67, has had a long and distinguished career in Chicago's civic world: first executive director of the Chicago Sexual Assault Services Network, executive board member of Cook County Democratic Women, director of the Associated Colleges of the Midwest's Urban Studies Program and veteran board member of Mikva Challenge, which helps young people develop their voice in government and politics. She's easy to spot in her West Side neighborhood of Humboldt Park, a petite figure with curly white hair, likely accompanied by some of her grandchildren. If you met Scott-Boria today, you'd never guess that as a teenager, she joined the Black Panther Party. "My Black Panther experience was the source of my radical existence. The Panthers gave me a sense of a worldview." Thanks to the times and her activist-minded mother, she had already had some exposure to Black freedom movements. She attended Martin Luther King Jr.'s 1966 rally at Soldier Field with her mother and sister, where King spoke to thousands protesting for equal housing, education and employment for Black Chicagoans, then led a march to City Hall.
A Rough Start in Chicago
Scott-Boria and her sister were so inspired they left their father's home in Battle Creek, Michigan, to move in with their mother in the East Garfield Park neighborhood on Chicago's West Side. But returning to Chicago proved to be harder than expected. While Battle Creek was experiencing similar upheavals, the smaller environment had shielded her from some forms of overt racism. Not so in Chicago. "It was really hard to feel the racism and segregation so pronounced," Scott-Boria remembers. "I grew up in a pretty integrated school system, even though our communities were pretty segregated. Coming to Chicago was a big shock." In her very first week at Lucy Flower High School, a Black classmate challenged Scott-Boria's racial identity, asking, "What are you?" "What am I? I'm a Negro, just like you," Scott-Boria, daughter of a White mother and a Black father, answered. "[pullquote position="left"]I constantly had to articulate for people what my racial background was." In Chicago of the late '60s, that racial background carried consequences for where to live. When Scott-Boria and her sister arrived in Chicago, her mother's landlord took the family to housing court to evict them. "The landlord rented to her thinking she was a White woman married to a White man with White children. He was not going to have those little Black girls in his building," she recalls. After a year of legal wrangling, the family was evicted and moved. She also had the personal challenge of finishing high school as a young mother. Fortunately, the high school she attended while pregnant "was a lifesaver. There were only about 16 girls. The staff was incredibly supportive of us. I got all A's while I was there." After her oldest daughter, Tonja Morgan, was born, Scott-Boria spent just a few months at Lucy Flower before graduating. In April 1968, when King was assassinated, she remembers coming home from school with baby Tonja on her back. "At that point I wasn't so much involved in what was going on. I was involved in my little baby."
College Was Her Moment of Awakening
But that changed once she graduated and started at Crane Junior College. In the late 1960s, Crane, like so many other college campuses, was a hotbed of student radicalism. But at Crane, on Chicago's West Side, that radicalism took a distinctly Black focus. As Scott-Boria remembers it, "It was the most political institution in the city. The Black Panthers were there, the Black liberationists were there, Black nationalists were there. There was a small cadre of people who were very radicalized." That radical group of students—Scott-Boria estimates they totaled 20 to 30 people—made big waves in a short time. Their demands led to a new name—Malcolm X College—and accelerated construction on a new, larger building, which opened in 1969. And there was more. "We demanded a Black president. We demanded that all the faculty quit and that we interview and hire all-new faculty that summer. We wanted more Black Studies classes. The time was just right, because it was happening all over the country." Malcolm X supported the student organizers with travel to other colleges to learn about their approaches to Black Studies and curriculum. At the same time, Scott-Boria found herself drawn to the Panthers' message of self-empowerment. She took her daughter with her to a Panther rally at First Baptist Congregational Church to hear Chicago Panther leader Fred Hampton speak. "People were impressed I was there with a baby," she remembers. Before Hampton spoke, another speaker invited the audience to consider joining the movement. "If you are Black, you can join. If you are light-skinned, bring your birth certificate," he told the crowd. Soon after, Scott-Boria did as he had said. "I went to the Black Panther office and I said, 'I want to join,' and I brought my birth certificate." People there laughed, but they let her in.
For Scott-Boria, joining the Panthers meant the opportunity to prove her Blackness. "I'm here in black pants and a black shirt. I had a black beret. I had to compensate for being so light-skinned. I felt like I had to prove myself. Because I was so light-skinned, my Afro needed to be bigger, and I needed to wear those combat boots." She sold newspapers and worked in the children's breakfast program, which provided the inspiration for free breakfast in public schools. "I would put my daughter in a stroller and go down Madison Street to the Better Boys Foundation." About 200 children a day came to eat bacon, eggs, toast and grits. Scott-Boria sold papers to their parents, who could get breakfast, too. "It was a place that fed their minds as well as their bellies. A lot of political education took place." Scott-Boria's own political education took place there as well as at college. "We didn't go anywhere without [Mao Tse-Tung's] Little Red Book. We were very literate in the sense that we needed to understand political movements, the communist movement." She also learned about liberation movements in Angola and Mozambique, which later led to her involvement in the struggle for Black freedom in South Africa.
From the Panthers to 'Black Panther'
In December of 1969, Hampton was killed in a police raid. His death rocked the Chicago Panthers, including Scott-Boria, to their core. "I left maybe six months after Fred was killed, because I was scared to death," she remembers. Once she finished at Malcolm X, she transferred to the University of Illinois-Chicago (UIC) to earn her bachelor's degree. UIC was a distinctly less politically active campus, and she took a step back from student organizing. Her focus shifted to the women's movement and health. She attended a conference in Puerto Rico on women's health issues, where she learned about forced sterilizations. The experience motivated her to earn a master's degree and spend the early part of her career in hospital social work. As she says, "All of it started with my involvement with the Panthers." Today, she's looking forward to discussing the movie "Black Panther" with her grandchildren as they grow and come to understand the deeper themes in the film. "There's a lot of power in this movie," she observes. "How the broken relationship between Africa and African-Americans is reconciled. The deeply painful experience between the two leading male characters and how we understand that is going to be an interesting topic of conversation. And then, finally, how the Black women appeared in the movie as real badasses." But no movie character is as badass as Mary Scott-Boria, a living figure in Chicago's Black history.

Maureen Kelleher is Editorial Partner at Ed Post. She is a veteran education reporter, a former high school English teacher, and also the proud mom of an elementary student in Chicago Public Schools. Her work has been published across the education world, from Education Week to the Center for American Progress. Between 1998 and 2006 she was an associate editor at Catalyst Chicago, the go-to ...