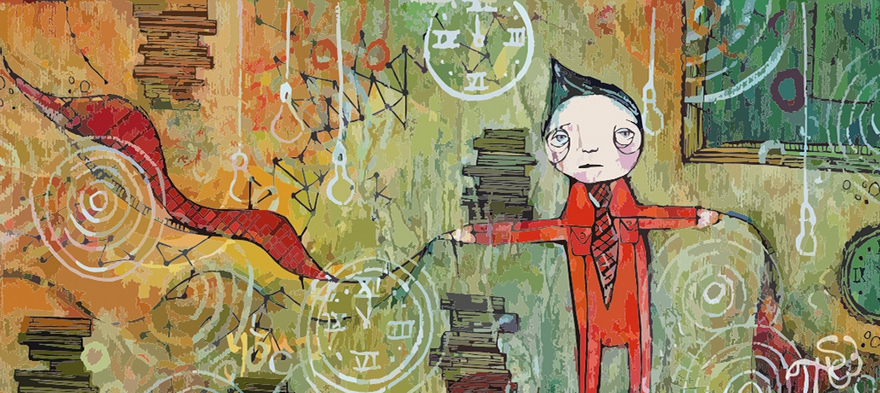 The Invisible Teacher: How the Secret Lives of Educators Can Impact Students
When you enter a school, it's easy to notice the brightly colored bulletin boards and the roar of chatter spilling out of the cafeteria. But what do think about when you see a teacher? Professionalism? Intellect? Role model? Victim? Ms. Jones, the second-grade teacher, is making copies, and it's easy to miss the bruise on the inside of her right arm from the beating her husband gave her last night. ( One in 4 women have been victims of domestic violence.) Mr. Smith is struggling to carry a box of supplies up to the science lab; he's weaker than usual because he's consumed more drinks in the past two months than he has in the previous 20 years. (About 10 million men in America are alcoholics.) Coach C. is the P.E. teacher and looks like a fitness magazine model, but two weeks after she found out she was pregnant she also found out she has a malignant lump in her chest. (Some 231,000 women are diagnosed with breast cancer each year.) Teachers—the people behind the title, that is—are often the most invisible players at school. Sure, they have a right to their private life, but I believe teachers would more willingly divulge important details about their socio-emotional well being and seek support if it weren't so risky to do so. No one wants their private struggles to be used as a strike against them professionally. So on this first day of Teacher Appreciation Week, I say to my fellow teachers, "I see you." I extend my deepest gratitude to teachers, not just for the amazing things we do for kids, but for the inspiring people we are.
Teachers Are Human, Too
As the founder and president of Teachers Who Pray (and an educator for the past 14 years), I have made it my life's mission to acknowledge the humanity of teachers while proclaiming the divinity of the work. I want the world to know that educators are just as human as anyone else, and that our love for children and our state teaching license does not immunize us from having messy lives from time to time. Yet, God's grace can cause us to overcome any trial of life and be our ever-present helper in the classroom. Why is this important? Because if teachers stay in the profession long enough, there will come a time when our personal struggles collide with the professional stresses that come with having a class of 20-40 little souls to care for. The isolation that many classroom teachers feel is a very real problem. Add to that, health crises and addiction, bereavement and depression, bankruptcy and divorce can make it impossible for a teacher to focus on making sure his or her instruction is well prepared and executed. Suffering in silence can compromise the education of our students—or worse. On April 10, special education teacher Karen Smith was teaching when her estranged husband entered her San Bernardino, CA classroom with a gun, killing her, her 8-year-old student Jonathan Martinez, and then himself. (A 9-year-old student was also wounded.) Given that Smith was separated from her husband Cedric Anderson after just four months of marriage, it stands to reason that he was abusive toward her prior to the murder-suicide. Did she ever imagine that he would actually harm her at school? Because there is such a stigma attached to teachers having personal lives that are less than perfect, I can fully understand why Smith did not notify the administrators to keep her husband out of the school building. I'm not blaming her; I just wonder how we can create a school culture where teachers feel comfortable asking colleagues for help coping with aspects of their secret lives, especially when they are in mortal danger. When I think of the role Teachers Who Pray could play in the lives of teachers, I also think about Jillian Jacobson, another California teacher, who in 2015 hanged herself inside her classroom during the school day. Her body was discovered by one of her students. By all accounts, Jacobson was a bubbly, happy-go-lucky teacher. She had even taught a weeklong unit on depression, revealing to students without much emotion that the illness had driven her own father to commit suicide. But she was obviously masking her own severe depression. Could a support group like Teachers Who Pray have helped her?
The Power of Prayer
Each school-based chapter is encouraged to pray before or after school or on a duty-free lunch break, actions that are permissible under the law as long as students are excluded. These times of prayer and spiritual conversations are held in confidential trust. Over time the participating teachers emerge with a deeper sense of community, job satisfaction and self-efficacy that might not otherwise exist. For too long, teachers have been treated like widgets, a means to an end. Education reform, in all its good intentions, created unsustainable expectations whereby teachers put in 12-hour days to maximize student outcomes, yet their workload only seems to grow. What gets lost in our efforts to improve schools is the realization that teachers are human, subject to the same human failings that any other person is subject to. While we are analyzing student data and aligning our academic assessments to rigorous standards, who is providing the teaching staff with professional development on the vital practice of self-care? I have witnessed the power of small group prayer to transform teachers' personal lives, renew their joy in the work, and set them on a path to transform their schools. You don't have to be a person of faith to know that teachers are under tremendous stress—just watch the news. Every time I read about a teacher taking his or her own life, sexually abusing students or doing something ridiculously reckless I wonder how the teaching profession could better police itself and prevent those things from happening. This post may be the most unconventional way to celebrate Teacher Appreciation Week, but giving teachers a safe outlet to be human is a profoundly loving thing to do (albeit unusual). Never underestimate the immense value in nurturing a teacher's heart, soul and spirit. For Teachers Who Pray, that's precisely where true school reform starts.

Marilyn Anderson Rhames is an educator, writer, thought leader and social entrepreneur. She is founder and CEO of
Teachers Who Pray
, a faith-based nonprofit that has more than 100 chapters nationwide. She is also the author of the upcoming book, "The Master Teacher: 12 Spiritual Lessons That Can Transform Schools and Revolutionize Public Education." ...