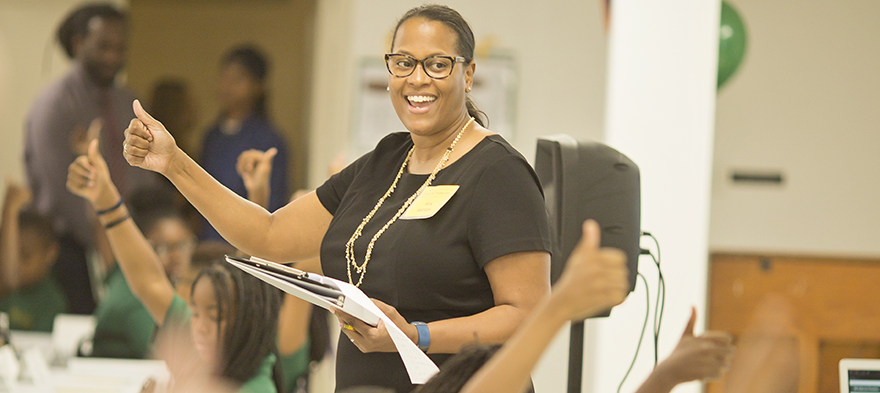 Mashea Ashton Talks Newark, Cory Booker and the Challenges of Launching Her Own School
Mashea Ashton tells the truth, even when it's hard. Almost three years ago, when she moved to Washington, D.C., to be closer to family, she initially rejected the idea of opening her own charter school. "It was too hard." But then she asked herself, "If I don't do this, why would anyone else do it?" Ashton comes to the task uniquely prepared. After starting her educational career as a middle school special education teacher, she became a well-known figure in the charter sector. She played a key role in KIPP's early expansion as head of recruitment, authorized charters in New York City and most recently led the Newark Charter School Fund's $48 million investment push. During her tenure, the share of Newark public school students served by charters grew from eight to 30 percent. Her years in Newark were capped by a Stanford University study that highlighted Newark as one of the highest-performing charter sectors in the country. Ashton now brings her expertise to D.C.'s Seventh Ward, where her new school, Digital Pioneers Academy, is the city's first middle school focused on computer science. "It is true that when I hit a problem, I can call 10 people who have already faced it," Ashton acknowledges. "But the work is still the same and it is very hard. I feel a responsibility to do it as well as I possibly can." Recently, Ashton spoke with candor and clarity about the mindset, realities and resources involved in successfully launching a school determined to catch kids up and surpass expectations. What drew you to education? I have an identical twin sister. We both failed kindergarten. Yes, it's possible. It wasn't until I did Efficacy Institute training that I was able to say, "Yes, I am smart." I always thought, if you work hard, you see the results. That inspired me to teach others. I wanted every scholar I worked with to understand they weren't born smart, but if they worked hard and achieved they could accomplish their dreams. What accomplishment are you most proud of from your time in Newark? When we started, the charter sector was somewhere around 8 percent and now it's getting close to 40 percent. Getting to 40 percent is not the accomplishment. But having 40 percent in pretty high-quality schools is a huge accomplishment. While it's not perfect, I tried to find that common strip of unity among the charter and the traditional public sector to make sure that all schools were excellent. We want the whole city to be excellent. The leadership of the charter sector during those times is something I'm proud of—we could have left it at, "Oh, the charter sector is great." But no one felt like that was what we were really shooting for. We were going to end the us-versus-them about charter versus district. We were going to serve all kids in the city. We were going to elevate the voices of parents. The hard work the charter sector did to lead for the city is something I'm particularly proud. We had a lot of the stars aligned. We had Cory Booker and $200 million dollars. That helps. But prior to that we had a quality charter sector. The charter sector has to be quality and committed to serving all kids. Charter schools needs equal funding and access to buildings. Charters also need to serve all kids and not kick kids out. What has been your greatest professional failure, and what did you learn from it? A couple things come to mind. One is that everything I said about Newark coming together and being collaborative and the compact is a great narrative, and no one really believes it. I still believe it, but I know some people have resorted back to old, survivalistic narratives. I wonder if that was all a waste. I consider myself an ed-reformer, which to my mind means we act with tremendous urgency because kids don't have a chance to do third grade again. But sometimes, when you do things fast, you leave people behind. Did we move too fast? Did we not bring people along? Did we not put things in place that could survive a new mayor, new governor? And still, I know for a fact that children's lives have been changed dramatically. My assistant was a North Star graduate. For her, that meant going to college on a track scholarship and coming back to a real job. I know firsthand that these schools are having a positive impact on the students and families they serve. What has surprised you about starting a school? Not much has surprised me. There has been one pleasant surprise and one I-really-wasn't-prepared-for-this surprise. The pleasant surprise is just how receptive the parents have been and how excited they are about computer science and robotics. It's our number-one favorite class from our students—girls and boys—and our parents. They know our scholars are digital natives and enjoy seeing them building games and apps. [pullquote position="left"]There's tremendous enthusiasm for a school that has this kind of model. It's overwhelming. The one reality of doing this work I think is just different is our scholars who are 11 and 12 years old who have adult responsibilities. In all the cases I'm thinking of, it's not out of neglect, it's parents working two or three jobs and they are caring for the siblings. They are picking up little brothers and sisters from school, making dinner, making sure they are cared for. These are 11- and 12-year-olds taking care of four or five siblings. We say, "Be a kid," and some kids say, "Well, I'm an adult." Having those conversations with some of our scholars was something I wasn't prepared for. I can't believe you will stop at just one school! What are your thoughts about scaling efforts to ensure low-income African-American students have access to STEM careers? We dream very, very big and set very big goals. We're going to get there by outworking everybody. Our approach has been give kids access to the curriculum at their grade level and interventions where they are. If your kid is in sixth grade and reads at first grade and all you do is meet them where they are, they never catch up and close the gap. That has been really hard. You have to stay the course with curriculum and give them the intervention support at the appropriate time. For the future, I have set a goal of 25 DPA schools across the country. It will only happen if: one, we do a good job at our first school, and two, if we keep the best talent in each city across the country.

Photo courtesy of the author.

Maureen Kelleher is Editorial Director at Future Ed. She was formerly Editorial Partner at Ed Post and is a veteran education reporter, a former high school English teacher, and also the proud mom of an elementary student in Chicago Public Schools. Her work has been published across the education world, from Education Week to the Center for American Progress. Between 1998 and 2006 she was an ...