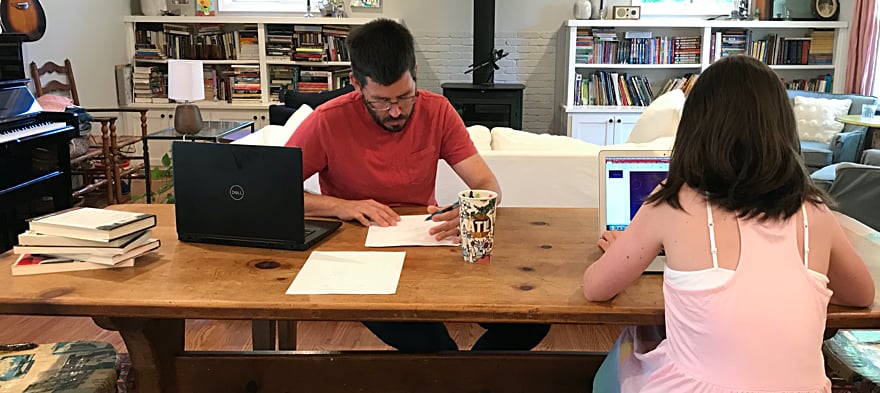 Today Should Have Been Our First Day of School
For 14 years I have taught math at the same high school. The entirety of my career—three thousand students, eighty classes, 13 preps, five rooms, four grade levels, two different buildings even—all at one school. Until today.
Since kindergarten, my 11-year-old daughter, Kira, has attended the same school. For six years, our daily rhythm has gone almost unchanged. We get out the door a little before seven and wait on the bus at the corner of our street; I say goodbye as she waves and boards, bound for our local elementary school. Then I jump on my bike and ride off to work, leaving my family behind as I switch into teacher mode. Over a thousand school days have been almost identical for the two of us. Until today.
Today my daughter and I were planning on walking together to the middle school across the street from our neighborhood. She is starting sixth grade. I am beginning the second phase of my career in education as an eighth grade teacher. For months we have talked, mostly excitedly but also a little nervously, about that first walk into our new life.
Today was supposed to be our first day of school together. Instead, I am in an extended, pandemic-imposed pre-planning and Kira is at home, waiting.
We Didn't Have a Chance to Say Goodbye
Like so many parents and educators, I had no idea when we left school in the middle of March that we wouldn't return. On that final day, I went over assignments with my students, sharing all the links and codes—but mostly we just sat around talking about how everything seemed so crazy. When we walked out to the buses together I assumed we would see each other again in real life—I thought it would be more than a couple of weeks, but it never occurred to me it would stretch out over three months past our final day of school. I didn't bother to get emotional about leaving my classroom "for the last time." I had no clue that it would be any such thing.
The next day we had a birthday party for Kira. Six of her school friends came over for pizza and ice cream, and they had a ball playing outside together, laughing and running around as if the whole world hadn't changed. And though a corner of our living room was piled with stacks of plans for the looming distance learning, the entire evening was strangely normal.
I spoke to several of the dads during pickup about getting together for a playdate in the coming weeks. We all chatted about the upcoming fifth grade trip to Space Camp, a rite of passage at our local school—along with several others, my wife was slated to be a chaperone. The thought that all of these plans would be canceled felt far-fetched, fantastical.
Internet rooms aside, Kira hasn't seen any of these friends in months. Eleven weeks after that final Friday I went to my classroom and cleaned it out alone, spoke only to a smattering of colleagues and no students. Kira didn't go to Space Camp; none of her friends got to sign her yearbook. I didn't see my last class of graduating seniors, didn't get to walk the halls on any kind of emotional last day.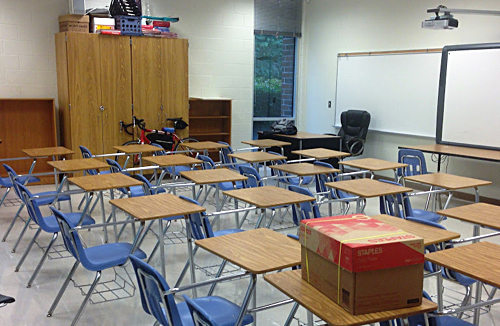 Neither of us got to say a proper good-bye to anybody or anything.
So Many Things Are Up in the Air
I have spent all summer on pins and needles, wondering what school was going to look like come August 3. Would I get that buzzy first day of class with a room full of students? Or would we be virtual? Might it instead be some crazy hybrid? Would we wear masks? Eat lunch together at our desks? Be able to do group work? Even a cursory thinking about the answers to my questions only led to further questions.
Eventually, of course, all my wonderings were rendered moot. After first pushing the start of school back two weeks our district made the decision to go entirely virtual until further notice. Today, instead of walking together to our first day of school, I am frantically planning for remote lessons while Kira sits at home with her younger brothers.
Though she struggled with losing the end of fifth grade, Kira seems to have settled into a good place about the start of middle school. Though sad not to begin on time—she is missing her friends, and my ad hoc math training is driving her crazy—she seems to be okay in this strange place we have found ourselves. Middle school is a huge thing, and maybe she reflexively knows that she doesn't need to rush it.
Although I am professionally disappointed in this strange virtual start, there is a part of me that is personally thrilled. It feels as if I have been given a gift—the ability to freeze my daughter in time right now, to capture this delightful child before she has a chance to step into middle school and all the drama that space brings. To hold her back from the cliques and the clashes, the false friends and the frenetic phones. And, I would be remiss to exclude, the imminent threat of all those stumbling romantic relationships. As a teacher, I am more or less terrified by all of the current unknowns, but as a father the news that school buildings are closed down suits me just fine.
Had Kira and I been able to walk to school today, it feels as if it would have been one of those hinge moments in her life, a turning point where she would leave in the morning a child and come back at night an adolescent. She might have held my hand on the way to school and yet not on the way home, maybe never again in public.
Is it so bad for that day to get delayed by a couple of weeks? A year? Forever?
Moving Forward With Much Gratitude and A Little Trepidation
In the grand scheme of things, COVID-19 has left my family all-but completely untouched. The losses Kira and I experienced at the end of our school years were small things. Yes, my newly-minted sixth grader is nervous about seeing her friends again after so long apart, and I am worried about teaching students over the internet while planning with unfamiliar colleagues. Yes, this pandemic robbed us of some closure in our previous spaces, left us a little rusty as we look out over this new world. But compared to so many others, we can't complain about too much.
All of us, however, are in more or less the same boat right now. Over the next six weeks schools all over the country will be opening back up in some form or fashion, and millions of students and teachers will be making huge transitions; they will enter into classrooms, both virtual and face-to-face, with more than a little trepidation. Students will have missed out on months of education and relationship—no small thing in the timespan of a child's life. Teachers will need to work our best magic against a kind of double clock—rushing to make up for lost time even as we worry about when the second wave will shut us down again for good. It will be a chaotic, exciting, terrifying time.
In all likelihood, you know more than a few people worrying about school and the way in which the year will play out. Teachers, students, parents, children—there are so many of us. Chances are you might find yourself somewhere on this list, too, stuck at home with little to do but wonder and wait.
Into the Unknown
At this rate it might be next year before Kira and I get that first walk to school. Sitting here writing from the safety of my computer screen, I am free to imagine the moment and simply be an amazing father, the extra year giving me the chance to say all the right things and make her calm as we get close to that opening bell. I can even imagine her giving me a hug as she pulls away in the hall and heads out into her unknown, alone.
This may be a bit optimistic, but a father can dream if he wants, right?
For now we'll be sitting at home together, plugged into computer screens and getting our work done. It might be a long year, one that will feel even longer to a harried teacher or a worried parent. I'd rather be working face-to-face in my actual classroom, but keeping an eye on my daughter for a little bit longer isn't the worst thing. COVID-19 has stolen so much from so many of us, but at least it gave me this one thing back.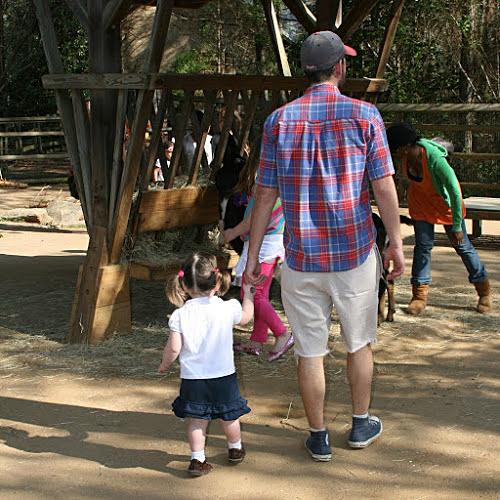 Today Kira and I were supposed to walk to school together. Instead, I will get to hold my daughter's hand for just a little longer. Here's hoping I can make the most of this time.

Jay Wamsted has taught math at Benjamin E. Mays High School in southwest Atlanta for fourteen years. His writing has been featured in various journals and magazines, including "Harvard Educational Review," "Mathematics Teacher" and "Sojourners." He can be found online at "The Southeast Review," "Under the Sun" and the "TEDx" YouTube channel, where you can watch his 2017 talk "