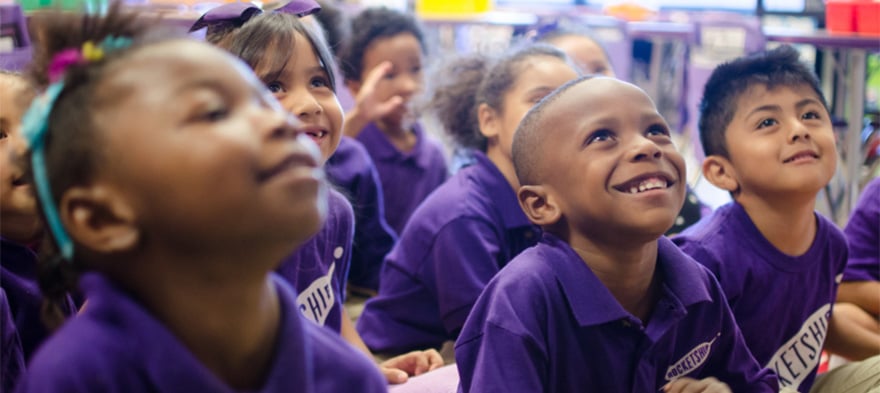 The Conversation We Need on Race Happens in Classrooms Everyday
Every August, I visit all of our schools across the country to meet with our teams, listen to their vision for the year ahead, and celebrate the start of a new school year with our Rocketeers and families. My annual back-to-school road trip is one of my favorite moments of the school year. But this year, my tour took on a different tone. The tragic events this summer in Baton Rouge, Minnesota, Dallas, Orlando and Milwaukee brought a new sense of urgency to our start of school conversations. The nearly 8,500 Rocketeers who fill our schools come from neighborhoods largely neglected by society until violence thrusts them into the spotlight. As this summer made clear, these communities need us now more than ever. Our teachers and leaders are starting the school year with an even deeper commitment to show our Rocketeers that their lives matter and all lives have equal value. That commitment starts with listening. The events gripping our country affect all of us, but in very different ways. It is important for all of us to share our own experience, no matter our race, faith, age, income, or sexual orientation. We must listen and learn from each other so that together we can grow as a community committed to social and racial justice.
Bearing Witness to Persecution
So as we begin the year, I want to share my story about why I do this work and how the violence of this summer shapes my outlook on our movement. I grew up in Rialto, California. A tough, working-class town just outside of San Bernardino. A lot of my friends in elementary school moved away before middle school. I later learned this was a time of rapid "White flight" in Rialto. Most of my friends didn't attend college. And many in my class got caught up in drugs and violence. The institutional racism made famous by Rodney King and more recently dramatized by Straight Outta Compton was common in my hometown. Gang violence was rampant and so was police brutality. When I was 18, a sheriff pulled his gun on me while I was just hanging out with friends in broad daylight outside an apartment complex. At the time, I didn't think much of it. It was almost a rite of passage in Rialto. What I witnessed as a child in my neighborhood continues to play out in disadvantaged communities across our country. Last week, the U.S. Department of Justice published the findings of a year-long investigation that details how African-Americans in Baltimore were targeted and abused by the police. Nationwide, research shows that African-American men are seven times more likely to die by police gunfire when unarmed than are White men. Law enforcement practices are rightly under intense scrutiny right now, but the problem our society must confront runs much deeper than our criminal justice system alone. Police are on the front lines dealing with the consequences of institutional racism that permeates everything from tax policies that have doubled the racial wealth divide in our country over the last 30 years to bias in the healthcare system where many minorities receive a distinctly lower standard of care than Whites. All of us are bearing witness to persecution in communities across our country. Of course, as a White male, I cannot begin to truly understand the experience of my Black and Brown friends. But I am united in their struggle. We all must do our part to fight for racial justice and "White silence" is tantamount to tolerance of the unjust status quo. There are lots of calls for a national conversation on race, but those only flare up in response to an event. After the news cycle fades away, even most well-intentioned citizens go back to business-as-usual. But in classrooms across the country the conversation continues. I believe teachers are our best hope to transform deeply ingrained cultural biases. By listening to our students and families, learning to see the world through their eyes and experiences, and by delivering an excellent education to all students, we can disrupt the destiny of demographics. The conversation that will usher in lasting change is made up of millions of moments that play out in classrooms across our country every day. Instilling in our kids the importance of social and racial justice is paramount to changing their future and our culture for the better. With culturally responsive pedagogy, parents who harness their power to bring better schools to their community, and teachers who relentlessly strive to understand and serve the unique needs of every student, we are raising a generation that can lead us to a more just and equitable society.
The Movement to Create Equity in Public Education
That is why I deeply believe that there is no more important, more urgent work in our country right now than the movement to create equity in public education. It has been over 60 years since the landmark Brown v. Board of Education decision yet the achievement gaps for our African-American and Latino students stubbornly persist at every level of education. Some call this an "opportunity gap" to focus our attention on the inequitable distribution of resources that underlies lower achievement results in disadvantaged communities. Indeed, achievement results are just one indicator of an unjust society. Nonetheless, the path to a more just society starts with ensuring all children have access to a world-class education. As I reflected on the tragedies of this past summer, I kept coming back to my favorite activist, Frederick Douglass. Douglass believed the struggle for equality demanded persistent and unyielding agitation. He said, "Power concedes nothing without a demand. It never did and it never will." In our current struggle to transform underserved communities across the country by confronting failing public schools, we have seen entrenched powers resist change and we have seen the power of a relentless community persistently agitating for the opportunities all children deserve. We should be wary of those who avoid agitation. As Douglass wrote, "if there is no struggle there is no progress. Those who profess to favor freedom and yet deprecate agitation are men who want crops without plowing up the ground." As we enter the 2016-17 school year, I look forward to a year where we continue to engage in uncomfortable conversations, listen closely to the signals we are sending our students, learn how to overcome the bias of our own backgrounds, persistently demand equality for all children, and continue to demonstrate how equal access to an excellent public education can lead the way to more a just society.

An original version of this post appeared on Rocketship blog.

Preston Smith is co-founder and CEO of Rocketship Education, a non-profit network of public elementary charter schools serving low-income communities in California, Tennessee, Wisconsin, and Washington, D.C. He began his career as a teacher, later becoming a principal in San Jose, California. Preston graduated Phi Beta Kappa from the University of North Carolina at Chapel Hill, earned a master's ...