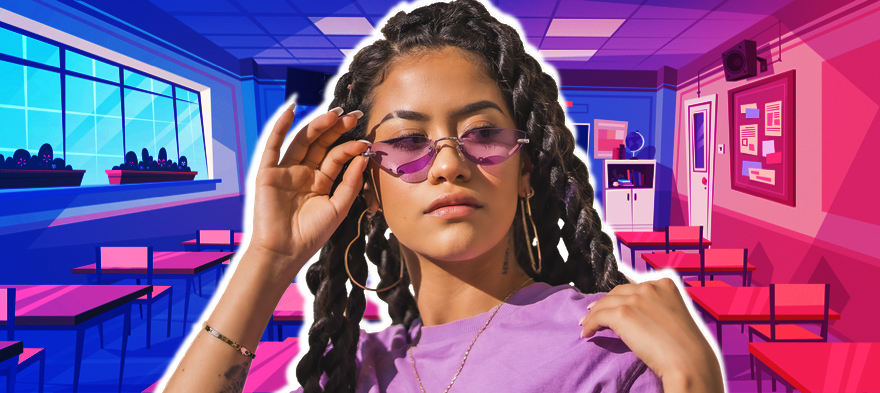 How Criminalization Impacts the Mental Health of Black Girls
From Ruby Bridges to Sha'Carri Richardson, the criminalization of Black girls and the policing of Black Women's Excellence has historically been woven into the fabric of America's dominant culture. Black women, more than any other group, are expected to be exemplary at EVERYTHING they do! On top of being the most educated group in America, they still have to birth life, be the matriarchs of their families, overachieve in their professions, and be forgiving and faithful partners to us Black men who are given more grace to be imperfect—all while combating pervasive misogynoir.
Can we please discuss how adultification, criminalization, hypersexualization and misogynistic messaging impact the mental health of our Black girls in schools and beyond? Frankly, this is a harsh reality that doesn't get centered enough within our conversations around antiracism and requires deep unpacking.
ADULTIFICATION BIAS
The adultification of Black girls is driven by implicit bias. A recent study by the Georgetown Law Center revealed that teachers singled out and severely punished Black girls for displaying normal child behaviors for their age. For instance, it's not unusual for adolescent girls to have mood swings or engage in disrespectful backtalk, but when it comes to Black girls, they are automatically viewed as always being "angry" and having an "attitude problem".
Adultification bias also causes educators to view Black girls as being less innocent than their white counterparts. This was the case for Kiera Wilmot, who found herself on the wrong end of her school district's zero-tolerance policy after conducting a science experiment that accidentally caused a minor explosion on school grounds. A temper tantrum led to six-year-old Kaia Rolle being arrested and charged with misdemeanor battery. These are just two examples, but I could go on and on. This alarming trend of adultification bias is deeply rooted in anti-Blackness and strips away the innocence of Black girls.
THESE DRESS CODES ARE IN-HAIR-ENTLY RACIST
Black girls, compared with their white counterparts, are issued dress-code violations and suspended at disproportionate rates due to discriminatory enforcement. Four years ago, Summer, a North Carolina high school senior and honor roll student, was suspended from her high school graduation and even threatened with expulsion for wearing a shirt that showed her collarbones. Over the years, we have seen Faith Fennedy, Vanessa VanDyke, twin sisters Mya and Deanna Cook, and countless other Black girls threatened with punishment for wearing natural hairstyles in school. The racist policing of Black hair and physical appearance, by far, has greatly contributed to high suspension rates for Black girls in recent years.
BLACK TRANS GIRLS UNDER ATTACK
We cannot silo the individual components of our intersectional human identities. Therefore, the fight for justice and liberation cannot be limited to Black cisgender girls. The antiracism movement must also be inclusive of Black transgendered girls who, according to GLSEN's Erasure and Resilience report on Black LGBTQ+ youth, experience significantly higher levels of victimization in school based on their gender identity and sexual orientation compared to their Black cisgender female counterparts. With the aggressive push for anti-trans legislation taking place nationwide, the targeted bullying and violent attacks on Black transgendered girls in schools will only get worse.
BLACK GIRL SCHOLARS ON TRIAL
There has been a recent history of Black girls graduating from high school with valedictorian or salutatorian honors only to be forced to share their honors with white classmates after public complaints and further investigation by their school districts. This happened in Cleveland on two instances where Jasmine Shepard and Olecia Adams fell victim to this fate. A similar case took place just last month when a Mississippi high school broke their "longstanding tradition" to have Ikeria Washington and Layla Temple share their valedictorian and salutatorian honors with two white classmates after an alleged computation error was made when calculating the student's GPAs. So let me get this straight … a school essentially broke a longstanding tradition to prioritize white comfort? Got it. You can call me biased, but the frequency at which this injustice keeps on happening is far from coincidental.
WHAT CAN BE DONE?
As I shared in the beginning, we must be more intentional in combating the criminalization of Black girls in our schools. We're so quick to yell out and celebrate #BlackGirlMagic, but what specific measures are we taking, as educators, to protect our Black girls? As a starting point, we can proactively decriminalize Black girls by engaging in the following actions:
Sign the petition for the Ending PUSHOUT Act to help stop the criminalization of Black and Latinx girls in schools.
Sign the petition for the Crown Act to support the fight against discrimination of race-based natural hairstyles such as braids, knots, twists, and locs in public schools.
Read the following books and publications:
Kwame Sarfo-Mensah is the founder of Identity Talk Consulting, LLC., an independent educational consulting firm that provides professional development and consulting services globally to educators who desire to enhance their instructional practices and reach their utmost potential in the classroom. He is the author of two books, "Shaping the Teacher Identity: 8 Lessons That Will Help Define the ...