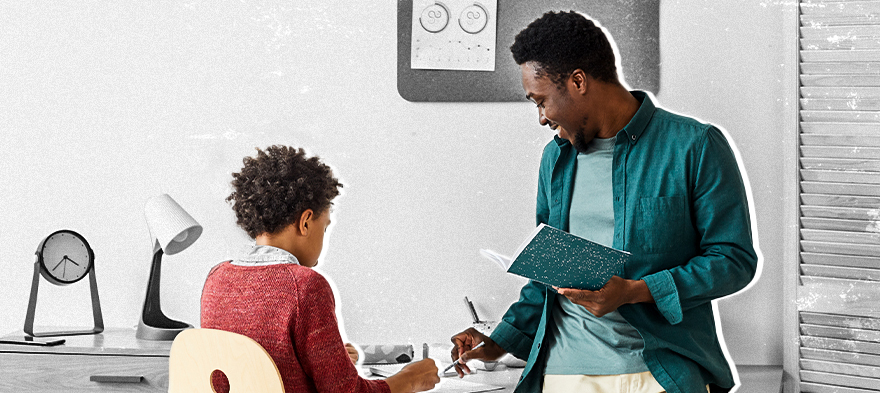 Black Boys and Men Need More Appreciation and Less Stereotyping
For those of us who've been educators for decades, social media can reveal the reverberating impact of our efforts, and sometimes the work that remains to be done. It is inspiring and poignant to bear witness to students who are now professionals and parents, and sometimes painful to read of losses and struggles. Occasionally these connections affirm what I've learned both as a Black male student and Black male educator: It matters if students see themselves represented in the faculty.
"You remember Antwuan Kouadio?" a colleague, Gary, recently messaged me.
Gary is a superb teacher who forges strong connections with students. He went on to relay that he's Antwuan's uncle. Antwuan had been a student in my first year as an elementary principal. That year is a blur, but Antwuan's face came clearly to mind when he said, "Antwuan used to get in trouble." I smiled because I remember the look on Antwuan's face back then. It was a look that every educator recognizes—the one that tells you not to bother asking, "What were you thinking?" because the kid really is wondering the same thing.
"What's up?" I asked warily.
"Nothing. He's on his way to college. We realized we both knew you and he said, 'Pinkard was my guy. He rode with me to the hospital when my mom passed. He looked out for me.'"
Any number of the teachers in our school would have done the same—it was that kind of place. But even in places that make a habit of love, we sometimes forget how much that stays with the children. At the time, a model of someone who looked like him might have been the support he needed.
The importance of this connection is borne out in research: Black students taught by at least one Black teacher in grades K-3 are more likely to graduate from high school and more likely to enroll in college than their same-school, same-race peers. Black students of both sexes who had a Black teacher scored three to six percentile points higher on standardized tests in reading than those who didn't.
I recently attended a virtual convening on recruiting Black male teachers. The majority of participants acknowledged they had very few or, in some cases, no Black male teachers in school.
Coincidentally, one of my former students posted about the same conference: "Growing up in DC I had privileges, like Black male teachers, that I took for granted," he wrote. "I had no idea so many people didn't have them. I had nine Black male teachers in high school alone."
His principal had hired me, eager and green, onto a faculty where I was one of a cohort of nine Black male teachers. It was my privilege to grow as a teacher among peers. These teachers in multiple content areas, administrators, counselors, coaches, could each select a unique professional path rather than be pigeonholed into a single archetype, as is all too frequent. It meant that when I started a group for the Black boys in the school, it wasn't about "trouble," and I wasn't alone.
From the responses to that post, it is mutually cherished by our students. "Thanks for letting me wander into that warm, loving memory for a bit," said one reply.
We have constricted pipelines for Black men who exhibit a penchant for pedagogy or leadership. Nationwide, only 2% of the teaching force are Black males. Isolation as a Black educator is emotionally draining, especially when simultaneously playing the role of mentor and disciplinarian for all students of color and consistently having to prove your worth against common stereotypes.
It is no wonder why turnover among Black teachers is especially high when they are racially isolated from other Black colleagues. Creating a community of Black educators to mitigate the invisible tax on teachers of color, is critical to supporting and retaining Black male teachers. One example is the Black Teacher Project (BTP) who's 2018 pilot study found that racial affinity-based professional development decreases isolation and increases retention for Black teachers.
These moments underscore the latent potential of what might happen if we intentionally design these experiences rather than just leaving them to chance occurrences in the midst of systemic inequity. The Center for Black Educator Development's recommendation to introduce K-12 students to postsecondary teacher prep programs, so they see their own professional potential might be a start. More systems could emulate DC Public Schools' Male Educators of Color Collaborative, designed to create a supportive professional learning community for Black male teachers. Researcher Dr. Travis Bristol has several recommendations, including investing in minority-serving institutions' teacher preparation programs as an investment in an untapped talent pool that can accelerate achievement for all students.
After that exchange about Antwuan and a few texts, I caught up with Antwuan. He's graduating from high school this year, and heading to a historically Black college in Virginia. I asked him about his decision. "It's a top HBCU, and they have a Fine Arts program I like," he said. "And I wanted to go to an HBCU, where I know people will appreciate me as a young Black man, you know? Like, this is a place where they really care."
"Yeah, Antwuan, I know."

Gene Pinkard serves as Director, Practice and Leadership. A longtime educator and leader, he leads the Aspen Education urban district networks, supporting superintendents, chief academic officers, and other leaders as they deepen their learning and refine their improvement strategies. Gene was most recently the Chief of School Design and Continuous Improvement at DC Public Schools, where he led ...