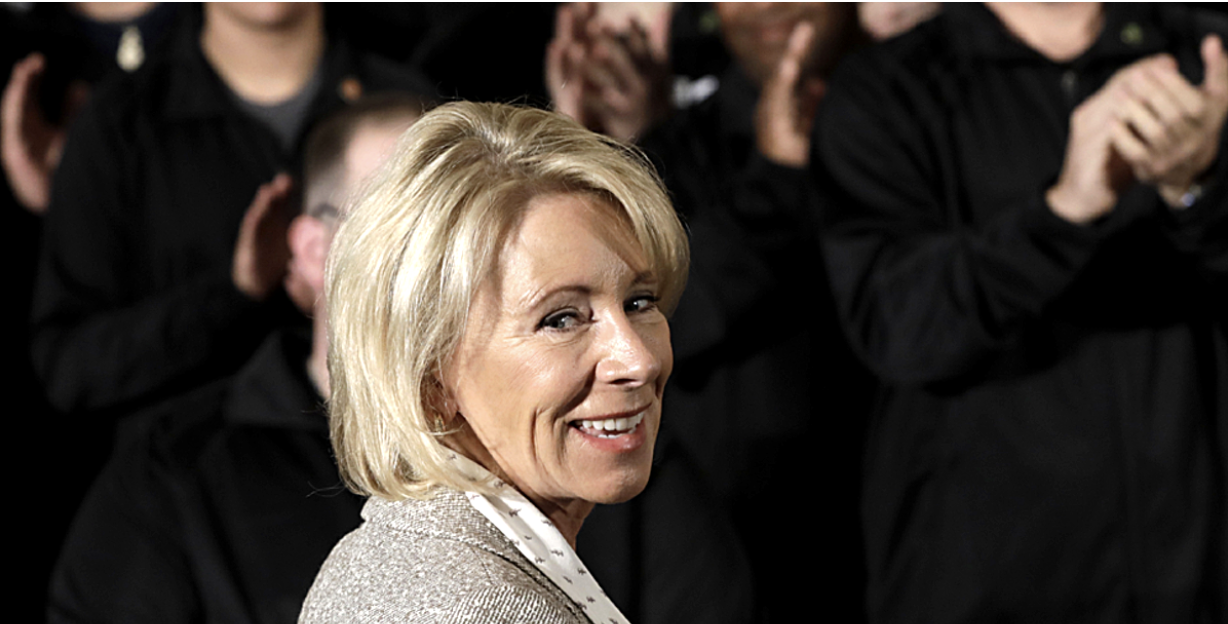 The Ghost of Betsy DeVos Still Hangs over Title IX. Here's How the Feds Can Do Better To Protect Students From Sexual Harassment and Assault.
The U.S. Department of Education recently released its proposed changes to the rules that determine how schools enforce Title IX, the 1972 civil rights law prohibiting discrimination based on sex in education programs or activities that receive federal financial assistance. When the public comment period for the proposed changes ended in September, more than 240,000 comments had been submitted to the Regulations.gov website.
Why so much public interest?
According to the U.S. Department of Education, Title IX has been "eroded by controversial regulations implemented during the previous Administration," under Secretary Betsy DeVos. Under her rules, school administrators–already struggling with how to handle complaints of gender-based discrimination and sexual assault–have found the process so cumbersome as to be "unworkable."
Making Reporting Easier
The comment from our organization, Stop Sexual Assault in Schools, notes that the proposed regulations would help schools learn more quickly about incidents of sex-based discrimination, including sexual harassment and assault, when they occur. The new regulations would require all K-12 school employees, except those designated as "confidential employees," to report incidents to the Title IX coordinator.
This would make it easier for K-12 students to report sex discrimination, harassment and assault, because they would not have to go directly to their school or district Title IX coordinator to report a problem. Many K-12 students do not know which school staff have authority to address sex discrimination.
Overall, many students do not report incidents because they fear being ignored, disbelieved, blamed, or retaliated against. They are often unaware of how schools should respond when they do report. The proposed rules require the Title IX coordinator to identify and eliminate all such barriers to reporting.
Lack of proper training for Title IX coordinators is a serious problem nationwide. The proposed regulations require that district level Title IX coordinators be well-trained to ensure schools comply with federal and state education laws. Because many school districts lack a full-time Title IX coordinator, they appoint a staff member who has other full-time duties to take on this role. The proposed regulations help correct this situation by allowing district Title IX coordinators to appoint one or more school-level staff members to carry out some of the Coordinator's responsibilities.
Our comment also notes how the proposed rules would better protect students by restoring the broader definition of a "hostile environment" so it is consistent with the definition that many state education laws and district policies use. The proposed rules would cover all forms of sex-based harassment that limit a student's participation in a school's education program or activity. They would also protect LGBTQI+ students from discrimination based on sexual orientation, gender identity, and sex characteristics.
Many of the proposed regulations simply clarify and strengthen decades of federal guidance regarding discrimination based on sex. Although the proposed rule is one means for enforcing Title IX, it is a single tool in a much-needed, comprehensive toolbox.
Next Steps
Addressing sex discrimination in K-12 education programs has become more complicated over the last 50 years. The department should therefore take further steps to support K-12 schools in their enforcement of Title IX:
Require schools to ensure employees know their reporting obligations, how to respond appropriately to reports of gender-based harassment and retaliation for reporting, and how to notify appropriate school officials.
Develop training for employees with practical information about preventing and identifying sexual violence, including same-sex sexual violence, behaviors that could result in sexual violence or revictimization, and trauma-informed methods for responding to students who report harassment or assault.
Develop resources including best practices for all employees involved in Title IX investigations and other forms of resolution.
Develop technical assistance to help schools provide age-appropriate instruction for students about Title IX and gender-based harassment, including the school's process for reporting and responding to complaints.
Assist schools in conducting surveys that reveal how frequently students experience sex discrimination, what barriers exist to reporting, and specific examples of the steps schools can take to eliminate those barriers.
Provide guidance clarifying how Title IX intersects with federal laws regarding privacy, students with disabilities, and Individualized Educational Programs when a Title IX complaint has been made.
The proposed Title IX regulations restore and strengthen federal civil rights protections, drawing us closer to the promise of educational environments free from sex discrimination. We should applaud the Department of Education's continued commitment to ensuring that all students have an equal opportunity to participate in and benefit from their schools' educational programs and activities.
To Learn More
You can read the Stop Sexual Assault in Schools complete comment here and joint comment with Girls Inc here.
Related articles:
Related resources:
Title IX at 50

a concise guide for education policymakers, families, and advocates from the National Coalition of Women and Girls in Education.
Take Action

Joel Levin, Ph.D., is cofounder and Program Director of Stop Sexual Assault in Schools, a nonprofit addressing rampant K-12 sexual harassment and assault.