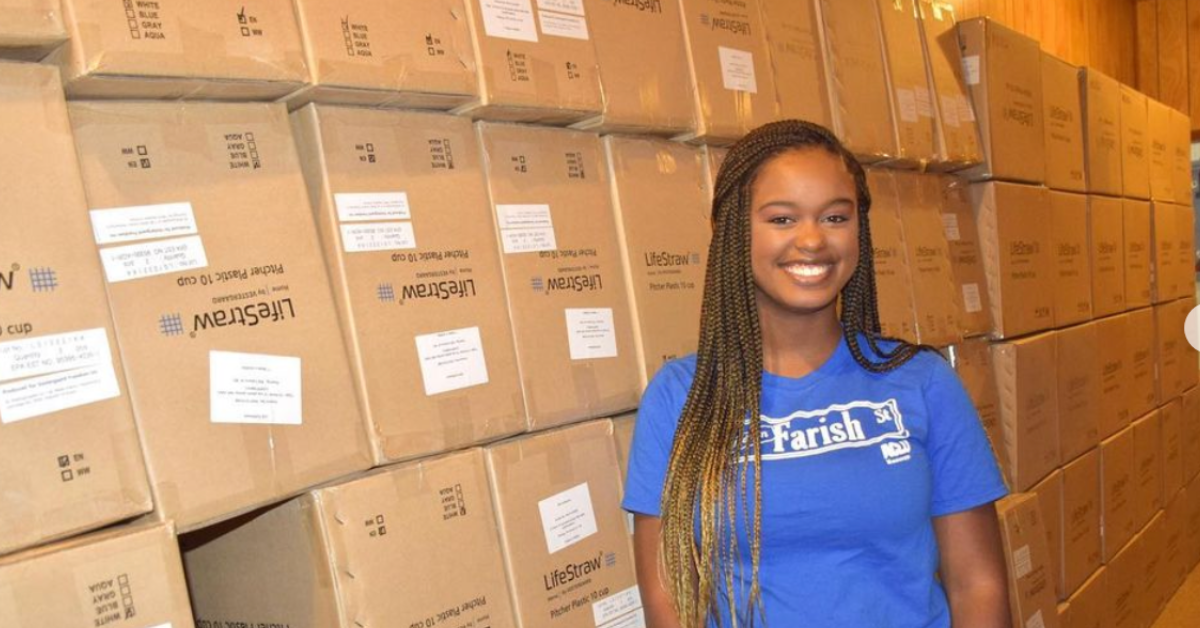 Jackson's Maisie Brown Links Social and Environmental Justice
Since her early teens, Maisie Brown has been using her digital media savvy to fight for racial equity: from joining the campaign to remove a Confederate emblem from the Mississippi state flag to supporting voting rights. In 2020, she joined the ACLU of Mississippi as their advocacy coordinator.
But last August, when heavy rainfall and Pearl River flooding damaged Jackson's already-faulty main water plant, her attention began to turn to environmental justice.
Brown put her social media presence to work, telling residents how to get help and raising awareness about the problem beyond Mississippi. She quickly organized the Mississippi Students Advocacy Team and they began delivering bottled water to elderly, disabled, and low-income residents who were unable to travel to local water drives.
Within a few days, Brown and her team of about two dozen volunteers received thousands of dollars to purchase pallets of bottled water. The team quickly expanded their efforts to include water filters for households affected by the lack of running water and boil notices.
The success of Brown's online coalition is a testament to the power of digital activism.
Connecting the Dots Between Poor Schools and Environmental Racism
Given her prior experience with civil rights advocacy, Brown quickly saw the common denominator among education inequality, police brutality, and environmental damage: a racist and classist disinvestment in poor communities of color, especially Black communities.
Political negligence and flawed infrastructure permitted residents of the nation's poorest state to have water issues for years. But it's not a problem confined to Jackson. As Brown told Glamour, "What's happening in Jackson is a mirror to many places across the country that haven't made maintaining infrastructure or their water systems a priority."
Deferred maintenance on water systems especially prevails in poor Black and Brown communities. Declining population leaves fewer taxpayers to pay for maintaining infrastructure. Experts in water and environmental justice told the Associated Press that other cities from Baltimore to Benton Harbor, Michigan, also lack reliable supplies of safe, clean water.
That's not news to Brown. "This issue of clean water is not unique to Jackson and it's still a problem today," she said.
The Disasters Just Keep on Coming
Beset by crumbling infrastructure and the prevalence of climate-worsened disasters on and near the Gulf Coast, Jackson continues to sustain heavy damage.
In January, Jackson residents faced low-or-no water pressure. The lack of water forced all 33 public schools to resort to virtual learning for two days. To keep free breakfast and lunch flowing to hungry children, the district organized morning meal pickups for parents.
Given the dire state of Jackson's water system, parents and students can expect years of more crises, forcing them to toggle between in-person and virtual learning.
Brown also discovered many of the homes had connected with the student advocacy team thanks to middle and high-school-aged children filling out forms or calling on behalf of elderly grandparents they lived with.
As of early March, Brown and her team had donated over 100,000 water bottles and 250 water filters to roughly 600 households, using a simple Google form for residents to include their address, the number of individuals in their household, and the best time to have their water delivered.
But the disasters just keep on coming. In late March, the water-relief team shifted gears, collecting donations and aid for victims of the EF-4 tornado that struck Rolling Fork, Mississippi, and surrounding areas on March 24.
Besides water, the team is delivering blankets and hygiene products to residents along the Mississippi Delta.
The continuing environmental challenges have not deterred Brown from pursuing her personal and community goals. Recently named a 2023 Truman Scholar, she is the first Jackson State student to win the prestigious award, which includes up to $30,000 for graduate school.
Her career plans include both advocacy and education. As she told local station WJTV, "I do want to be a pioneer and a teacher and a learner in the education field."
Editor's Note: To support Brown and the student advocacy team's relief efforts in Jackson and beyond, click here. For more on environmental justice leaders around the country, read this piece on a young Louisiana Indigenous chief working to save his people's land.
Photo courtesy of Maisie Brown
Sierra Lyons is a Florida-based freelance journalist covering race, politics, education, and Christianity. Her work has been featured in The Washington Post, New York Magazine, and the Huffington Post.