I Knew I Wanted to Teach Kids Whose Backgrounds Looked Just Like Mine'
Nylah Newkirk, Da´Montae Neclos and Dionte Edmonds fall out laughing while describing the unforgettable morning when their math teacher taught them about quadrants. There's nothing particularly funny about Cartesian graphs, but these sixth graders are quick to tell anyone who'll listen that this teacher knows how to make boring things exciting.

"His personality is one of a kind," Da'Montae says with a smirk. Dionte chimes in, "Mr. G. expects 100% from us, so he goes all out when he teaches."

Mr. G. is Michael Gilchrist, a 28-year-old native of Virginia's Tidewater region who found himself in the nation's capital after taking a leap of faith into teaching. On the morning in question, he literally took a leap.

Gilchrist was explaining to his math class that the x-axis extends horizontally and the y-axis vertically. He taught them that graph coordinates are expressed as two numbers in parentheses—the first number is for x, and the second is for y. And then, to the students' surprise, he launched into a sprint across the room and leapt onto his desk! Standing atop it, he told the class that he ran along the x-axis and his jump in the air was along the y-axis. Using this mnemonic device, he was sure the students—their astonished gasps now full of giggles and playful banter—would never confuse the two axes or the order of the coordinates.

With the initial mathematical concept explained, it was time to teach the associated life lesson. Nylah recalls, "He told us, 'Sometimes, in life, you have to run before you can jump.' This is why he's my favorite teacher—his lessons help us to be great in math and in life. Some people don't think we can be either one, but he does."

This is math with Mr. G.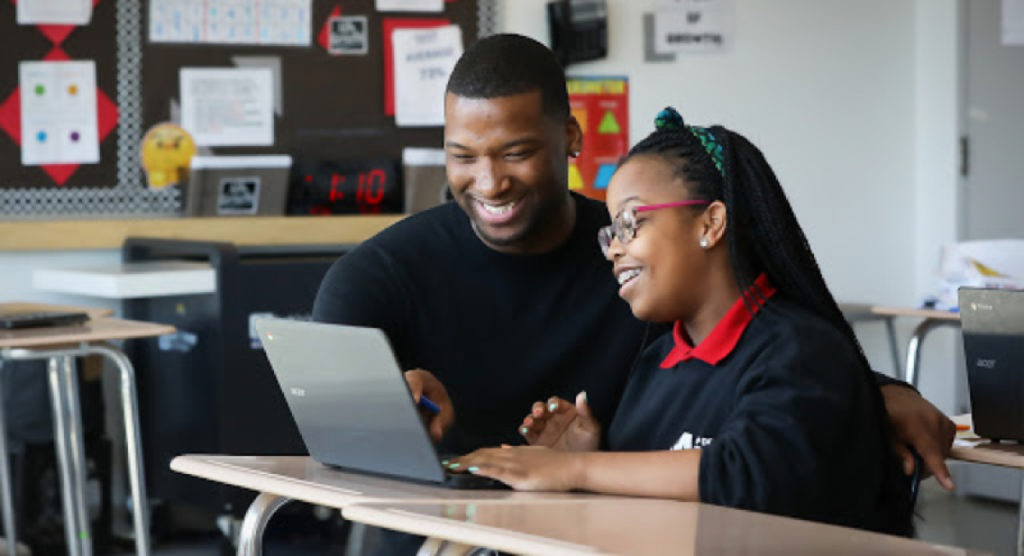 Several weeks later, Gilchrist is reviewing how to find the value of a cube's surface area. He quickly reminds the class that this calculation requires finding the area of each side and then adding them together. When he finishes, he says quite matter-of-factly, "Capisce?" The class replies in unison, "Capisce!"

In an instant, Gilchrist is drawing a three-dimensional cube in blue dry erase marker and putting numbers along the sides. Turning to face the class, he gives them some time to come up with the answer, and then begins counting down. When he finishes, the sound of pencils hitting desks bounces around the room. Mr. G. lets the silence hang for a beat or two. "OK," he says, "Who wants to tell me their value?" Every hand in the class shoots into the sky.

The special connection that Gilchrist shares with his middle school students at KIPP's AIM Academy is due in large part to his own upbringing. He grew up in one of the tougher sections of Suffolk, Virginia where children often wrangled with adult-sized problems. For these students, issues at home weighed on them at school—it's hard to focus on long division when unemployment, crime, and incarceration are taking a major toll on your community.

His students know something about this life, too. They are from the more economically challenged Wards 7 and 8 in the southeast quadrant of Washington, D. C.—two of the predominantly Black sections of the city. Gilchrist understands that a student's incomplete homework or frustration in class sometimes has less to do with what's happening in the classroom than what's happening outside of it.

[pullquote position="left"]"I knew I wanted to teach students whose backgrounds look a lot like mine," he says. "I'm able to build relationships with them and their parents because our stories are the same."

Growing up, Gilchrist always knew he wanted to work with kids. For as far back as he can remember, teachers would tell him his charisma, smarts and way of communicating had all the markings of an educator. He went off to college with hopes on helping children who'd gotten tangled up in the criminal justice system, but he left after a couple of rocky years to pursue a career in restaurant management followed by another in real estate.

And yet, he just couldn't shake the calling to teach. So, one morning, after several years away from college, he decided to quit his job and re-enroll in school—this time pursuing a degree in elementary education.

It wasn't long before he knew he'd made the right call. Working as a dedicated aide in a third grade class in Southeast D.C., he met a student whose father had just died. "My brother and I lost our father at a young age, too," Gilchrist says. "And my younger brother was about the same age as the student when it happened. I recognized some of the same signs and immediately knew what to do." The shared life experience helped Gilchrist support the student through the crisis and confirmed he was exactly where he was supposed to be.

Back at the AIM Academy with every student's hand stretched to the sky, Gilchrist selects one to share her answer for the cube's surface area. She nearly gets it right but multiplies where she should've added. Gilchrist gives her one of his signature looks and asks, "Are you sure about that?" Da'Montae says, "He always asks if we're sure of our value, whether our answer is right or wrong, because he wants us to have confidence in our solutions and confidence in ourselves."

When the student nods that she's sure, he turns to the class and asks, "Did she get this right?" The class responds that she made one mistake, and he chooses a student to explain what was done incorrectly. "If a student gets a problem wrong, another student reteaches the concept. I want each of them to be accountable for what their peers know. They should think, 'If I get it, I want everybody else to get it, too.' We are all accountable for one another in my class," Gilchrist says.

This is a word that comes up repeatedly among Gilchrist and his students: accountability. They are all aware of the stereotypes about Black kids from Southeast D.C. Some believe these students lack the discipline and work ethic to excel in math. Others question their commitment to education. But Mr. G. and his students know better. Gilchrist's mother always stressed the importance of education to him, and it's a message that fills his classroom. They know if they want to be the best, they all must be 100%.

"He knows what we're capable of, so he pushes us to be number one," Dionte says. "When he says 100%, it's not about our score; it's about putting hard work and effort into everything we do. No matter what happens, at least we tried our best."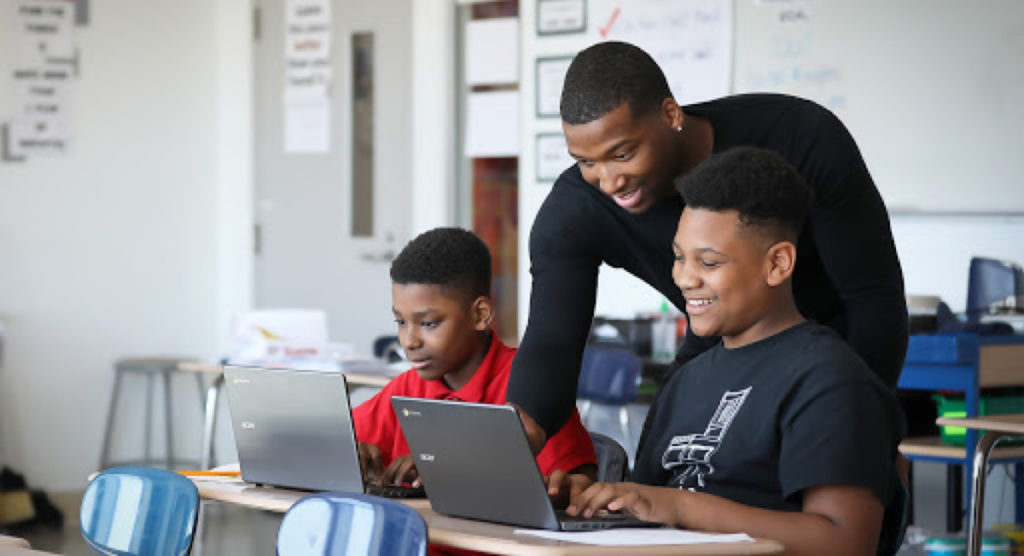 This approach has been successful—Gilchrist's math students routinely get the best scores in the school's network. They also get a heavy dose of his humor. In their nominations to Honored, Nylah, Dionte, and Da'Montae talked about how Gilchrist uses humor to keep the students engaged, help explain some of the harder concepts and show them that math can be fun. Nylah beams as she says, "Mr. G. always puts a smile on my face, and he makes math easier for us by making us laugh while we learn." Dionte adds, "He is cool and funny, but he is serious when it comes to learning."

He is also serious about his kids holding him accountable in a different kind of addition and subtraction—his goal of losing weight. They remind him to avoid junk food at home and drink lots of water. If the class scores higher than 90% on a test, he exercises for two minutes. If everyone gets a question right, they have a quick dance-off. They even hold him accountable for what he eats over the weekend. And it's working—Gilchrist has dropped 20 pounds. It's as much the students' success as it is his.

"In this room, we're a family," Gilchrist says. "At home, you have struggles. At home, you laugh and you have fun sometimes. At home, you have to have serious conversations. We're going to do all of those things in my classroom, and on top of all that, we're going to master the content and learn lessons as well."

The lessons about life are sometimes more important than the ones about math. And as a Black male teacher, Gilchrist wants to ensure his students, nearly all of whom are Black, will learn from his mistakes. Da'Montae says quite earnestly, "He tells us about his life lessons because he's experienced some things that he doesn't want us to have to go through."

Only 2% of teachers in the United States are Black men. Dionte and Da'Montae are especially glad that they are able to learn about math and life from one. In addition to being their math teacher, Gilchrist is also their mentor. Both students cite instances when they were getting mixed up with the wrong crowd or responding to stress with anger as adolescents sometimes do, and Gilchrist was there to talk to them about brotherhood, being respectful young men and to remind them of their mantra: 100%.

Gilchrist chose to teach middle school for this very reason: he believes it's a crucial time in these students' lives. "This was the age for me where I could go either way. This was the age where I started to get in trouble and was at risk of getting on the wrong path."
Nylah recounts how Mr. G. was there for her when she had her first encounters with bullies. "He taught me to always advocate and speak up for myself. And also, that I should never be afraid to be myself. He teaches me life lessons for school and outside of school."

Parents are fans of his, too. When he holds after-school tutoring sessions, he invites them to attend, and they often outnumber the students. "Sometimes the hurdle for parents in checking their child's homework is that they don't remember the material from so long ago or they aren't sure what to check for," Gilchrist says. "So, the tutoring sessions give them confidence to engage their student and reinforces the fact that it takes all of us to help our children be successful."

A line in the nomination sums it up: "He is my favorite teacher, my mom's favorite teacher, and if he taught you, he'd be yours, too!"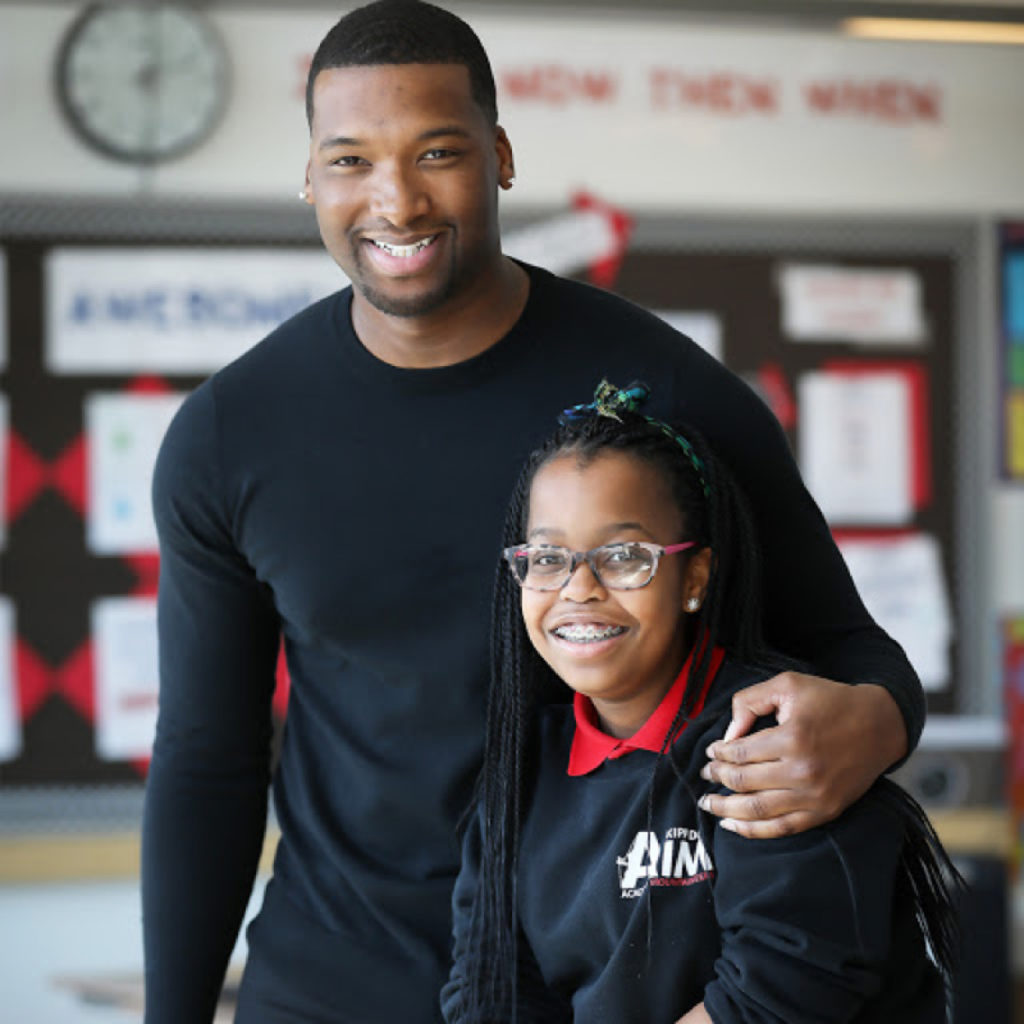 Gilchrist's classroom at the AIM Academy sits at the top of a hill in the historic Barry Farm neighborhood, a community founded in 1867 to help newly freed African Americans to begin life anew. There are only two ways to get to the school–either ascending Douglass Place or traveling southeast on Douglass Road. Both streets are named for Charles Douglass, the first employer of Black teachers in the city's schools and the son of famed civil rights activist Frederick Douglass. Gilchrist carries on the tradition of Black educators in Southeast D.C. that's as old as the city itself.

When students step out of AIM, the Washington Monument greets them from off in the distance. The view is so clear that it's almost as if you could leap onto it from the AIM hilltop. But students in this quadrant of the city know sometimes they have to run before they can jump, and they know education is the key to both.

Mr. G. taught them that.

Once each student is clear on how to calculate the surface area of a cube, every hand in the air goes down. Nylah explains that everyone in class always raises a hand when Gilchrist asks a question, whether they know the answer or not. It's another way that teacher and student hold each other accountable. "It's ok to get an answer wrong, but it's not ok for us not to try or not participate. If you get it wrong, it lets him know that we need to spend more time on the concept." Gilchrist adds, "Our kids deal with enough already. It's their job give me 100%, and it's my job to get results."

But a good result in math with Mr. G is not nearly as much about getting the right value for every equation as it is about every one of his students recognizing that they have value. That lesson is more important to him than any math problem.

"When you leave my classroom, I still need you to be great out there. I want you to carry what you learn in here everywhere," he says. "It's not just a question of whether you can do a fraction—but being able to take a value that you learned in here and take it to other classrooms and take it home. That's when I know I've done my job; that's when I know I've made a difference."

In Gilchrist's class, students leave having learned the most important kind of math: making a difference and knowing your value.
Michael Gilchrist, a middle school math teacher at KIPP AIM Academy in Washington, D.C., won the national Honored teaching award. This post originally appeared on Honored as Michael Gilchrist.
Photos by Tony Powell

Theodore R. Johnson is a Senior Fellow at the Brennan Center for Justice. His research and writing are focused on black voting behavior, racial justice and the role of national solidarity in addressing racial inequality. He also teaches graduate courses at Georgetown University and Northeastern University. Prior to joining the Brennan Center, Dr. Johnson was a national fellow at the New America, ...