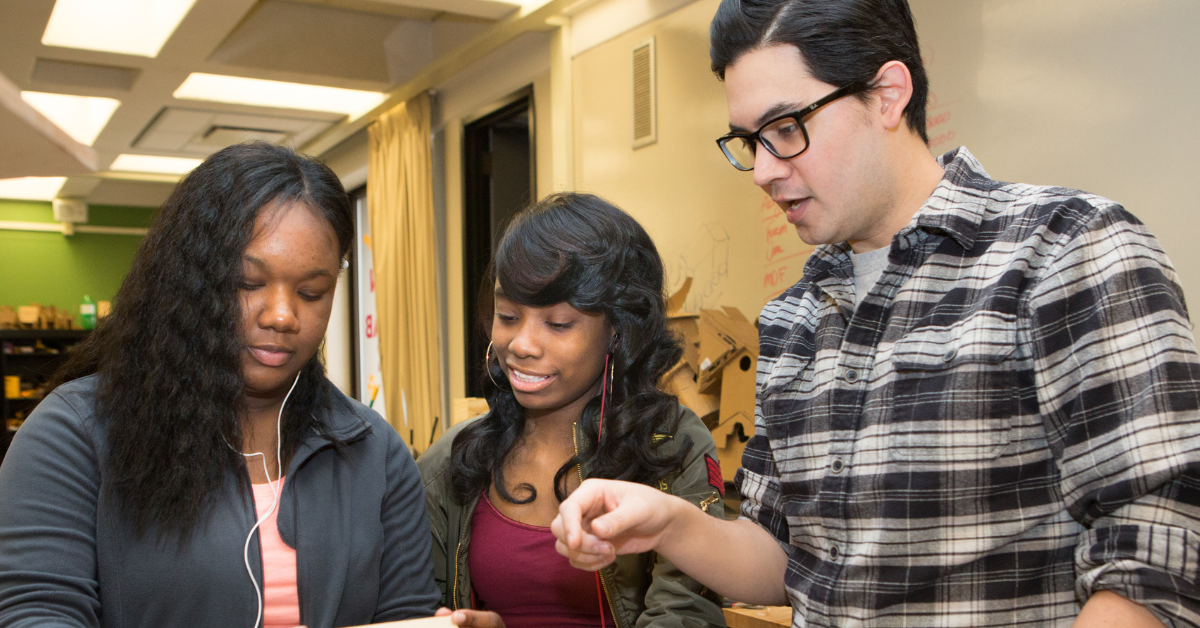 How Northland Workforce Training Center Breaks Down Barriers to Career Success
First-generation college students who lack a support network are more likely to drop out than are continuing-generation, higher-income students.
Take 21-year-old Charles McCain, the second oldest of nine siblings raised by a single mother in East Buffalo, New York. McCain graduated from Hutch Tech full of promise for the future. Following graduation, he enrolled in community college but, unfortunately, he failed shortly after that.
He heard about Northland Workforce Training Center (NWTC) through his grandmother. He was determined to succeed, so he applied and was accepted into the mechatronics program offered by SUNY Erie Community College. Upon graduating with a certificate in mechatronics, McCain was placed with an NWTC partner company and began making $52,000 a year, with benefits and stock options.
"The training I received at Northland gave me an opportunity to transform my life," McCain said. "When we got the call that I was hired, my mother and I cried. We are both so thankful for the opportunity Northland has given me to find a career path that will help my entire family thrive."
Northland Workforce Training Center (NWTC) is a robust partnership among government, education and nonprofit participants. NWTC helps those who may not have access to secondary education establish a pathway to a degree and a job with family-sustaining wages. By offering intensive wraparound services and a continual coaching model, NWTC is seeing high retention, graduation and job placement rates that provide successful paths for low-income, first-generation college students to break the cycle of generational poverty.
NWTC's training approach combines evidence-based best practices regarding awareness, recruitment, assessment, career planning, education and training, job placement and retention services with intensive wraparound support to ensure student suitability, preparedness, persistence, placement and career advancement. When considered longitudinally from NWTC's inaugural semester, NWTC has now successfully graduated 320 students, 152 from the one-year SUNY Erie mechatronics certificate program, and 168 from Alfred State's three associate of occupational science programs.
NWTC's graduation rate of 63.9% is positively trending toward its goal of 80% of enrollees completing technical training. This is almost three times the national average for community colleges, which is a 22% graduation rate in three years.
NWTC offers a state-of-the-art facility providing for-credit, certificate and degree programs through its educational partners — SUNY Alfred State College and SUNY Erie Community College. Now in its fourth operational year, NWTC consistently reaches its annual enrollment goal of 300–400 students. During the spring 2022 semester, NWTC had 257 students enrolled. Minority representation amongst its student population was 60.3% and 6.6% female. During Fall 2021/Spring 2022, the official total paid enrollment during the academic year was 316 students.
NWTC's current in-industry placement rate for employment is 87%, with an average starting salary of $19/hr. These placements have a combined impact of more than $5.9 million in wages added into the local economy. In addition to wages and benefits, NWTC graduates have career pathways that lead to the middle class and economic stability.
NWTC's professional staff creates a welcoming culture for diverse populations that intentionally focuses on student success. NWTC approaches all its programs in this same comprehensive, holistic manner.
For example, NWTC partners with Mayor [Byron] Brown's Summer Internship Program and Buffalo Public schools to offer a fully paid, six-week immersive experience for youth interested in careers in advanced manufacturing and clean energy. The program runs throughout July and August and includes breakfast and lunch, free public transit and onsite access to a nurse if needed.
Now in its third year, the program's inaugural year — summer 2020 — took place remotely due to COVID-19. The up side of that launch: 76 students from Buffalo remotely completed the 4-week program and were exposed to advanced manufacturing while earning $11.80 per hour of training.
The down side? Unfortunately, the students did not have the fully immersive, hands-on experience that was intended.
By 2021, NWTC Summer Youth Academy students experienced the program as intended. All 60 students that began the program during summer 2021 successfully completed the program, averaging less than one absence per student. Minority representation was 90% amongst the program's participants. The gender distribution was 25 female students (42%) and 35 male students (58%).
This year, summer 2022, 100 students were divided into five groups. Each group was assigned a color–red, orange, yellow, green and blue and introduced to their success coach, who took responsibility for the students throughout the program.
After the entire group completed OSHA 10 General Industry training, the hands-on component of the program began. The students rotated through five week-long modules, each representing the programs offered at NWTC: electrical, energy, machine tool technology, mechatronics, and welding.
Each five-day module began with safety training and an overview of the personal protective gear, tools and processes that will be utilized. Students spent approximately ½ to 1 full hour in the classroom daily, learning the basic concepts that they put into practice that day.
The students then spent about three hours working on projects in the lab. These projects varied based on the interests and ability levels of the individual groups.
Each weekly module concluded with the students, wearing their NWTC T-shirts and accompanied by that week's instructor and their success coach, being bussed to onsite presentations and tours with NWTC's industry partners such as Linde/Praxair, Tesla, Casey Machine and MOOG.
NWTC has proudly evolved from a theoretical model to a vibrant and diverse organization embodying inclusivity and access to equitable resources and opportunity, regardless of race, gender or socioeconomic status.

Dr. Carolyn Storms-Stoltman is the vice president of enrollment and organizational advancement at NWTC; Stephen Tucker is the inaugural president & CEO of the Northland Workforce Training Center responsible for the management, oversight and day-to-day operations of a new 90,000-square-foot facility.