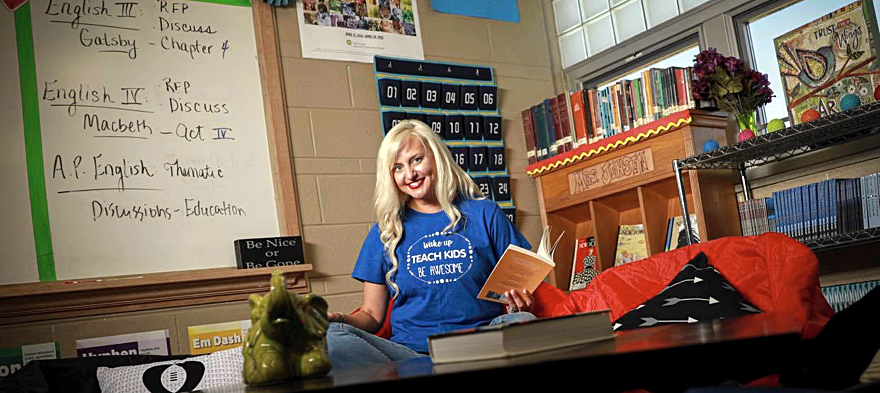 COVID Changed Everything About My Classroom
I cried as I set up my classroom this year.
This was no dainty, politely fighting-back-tears kind of cry. It was a violent, sobbing, heaving cry that started as an ache in my chest and climbed its way up to the back of my throat, eventually emerging as uncontrollable weeping.
What induced this full-on meltdown of epic proportions?
My classroom.
Let me explain.
Preparing my classroom at the beginning of each school year is one of my favorite tasks as a teacher. I take tremendous pride in making our room a space where teenagers actually want to be.
A Warm and Inviting Classroom Matters
If you were to visit 'Room 26' pre-pandemic, you would witness an explosion of color upon arrival. In recent years, students have pointed out that our room actually mirrors my personality, which they've labeled as "loud, busy, extremely happy, spontaneous and bold."
Paper fans of every color hang from each ceiling tile. Banners with quotes from all of my favorite authors line the classroom walls, as well as AP English T-shirts created by students in previous years. In fact, there isn't an inch of wall space untouched by additional posters filled with grammar and writing tips, resources for spotting fake news, not to mention my most prized pieces of wall decor—student art work.
A large coffee table is the center focal point of our classroom, and it is surrounded by a plethora of colorful bean bag chairs and yoga mats where students gather comfortably as we engage in conversation. In the center of this coffee table is a large mug—a gift from my husband—with the phrase "#1 Teacher." I fill this mug with all of my students' favorite allergy-free candy. (Admittedly, they frequently have to remind me to do so, which is something we often joke about.)
The standard desks that remain in my room are not arranged in militant rows. Oh, no! They are grouped as tables of four in all corners of the classroom, which provides me the space I need to move about and teach in the round like Shakespeare. When we're not gathered around the coffee table, students can collaborate for group projects and activities at these desks, capitalizing on one another's strengths. It's beautiful to witness them come together at these work stations to problem solve collectively. And when we debate, there are two mobile podiums that students can access and move freely about the room while crafting their arguments.
Colorful rugs with large, metaphoric light bulbs adorn the floors to break up the infirmary feel of the white concrete tiles. There are two large lamps in opposite corners of the room controlled by a remote, which students can access if they want to replace the bright, fluorescent lighting with something more soothing when we engage in student choice reading time. In these moments, it's not uncommon for students to grab a yoga mat and sprawl out to recline on the floor.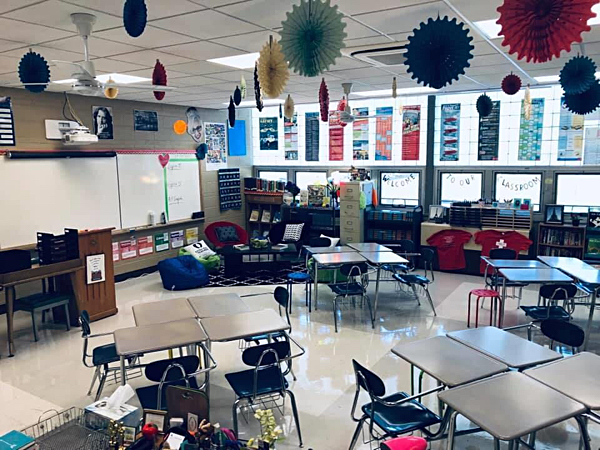 There is a long row of books on display that line the back of my room, where students can borrow and share their favorites with one another as they please. They don't have to ask permission to do so. They just do it, recommending and swapping books with one another at will.
All of this helps to build our classroom culture at the beginning of the year—one of respect, love, community and acceptance. When students enter our classroom on the very first day of school, more than anything, I want our room to be warm and inviting. I want it to scream in bright, bold, neon letters,
Welcome! Come on in! You matter! Let's have some fun!
I want it to be a space where students feel safe and supported to take risks, and I believe such has been the case … until this year.
My Classroom Feels Frigid and Sterile This Year
As I begin the year with full-time, in-person instruction, my classroom looks very different. Truth be told, it resembles a frigid, sterile hospital room.
The room is required to be "sprayed down" each night—which I envision, perhaps inaccurately, to be akin to fogging for mosquitoes—in order to disinfect it for the following school day, which is one of the countless, but necessary, safety precautions that has made my classroom unrecognizable. The bright, colorful fans will have to be removed from the ceiling, and the rugs are rolled up for the foreseeable future.
The coffee table and the bean bag chairs are currently stacked in a closet that houses old textbooks, and I will have to remove over 40 posters from the walls (because of the necessary spraying). There is no oversized coffee mug. There is no candy.
No physical group work can occur when students return; consequently, all of the desks are spaced in militant rows—six feet apart—and they face the same way. There isn't enough space for me to teach in the round anymore, so I am stationed at the front of the classroom behind my desk. This produces a "lecture" vibe—one where I am distant from my students, one which is chilly and unfamiliar.
The most sobering change? There are no yoga mats for students to relax on while diving into a new book. They, too, are stacked in a closet. Oh, and the books? Students can't share them freely like they have done in previous years. In fact, I've heard something about an incubation period for library books to prevent the spread of germs when students return.
I folded up all of the AP English T-shirts, and the mobile podiums had to go to allow for the spacing of the desks. The two lamps remain, but students can't touch the remote for them. And really, will they even want to turn the lights down if they can't relax and curl up in a bean bag chair while reading their favorite book? I'll add that to my list of unknowns.
Other unknowns? How will I build the classroom culture I've come to be so proud of? Can I do it? After all, this culture was already established last year when we were forced to go remote in the spring. Starting the school year in the middle of a pandemic presents very different challenges, and I question my own ability to build the unique sense of community my students deserve under these new conditions.
Will students know that my room is typically more inviting? Will they know that I hate how bare the walls look? When they're wiping down their desks with disinfectant at the end of each class period, will they know that my pre-pandemic classroom only required that we disinfect the yoga mats after reading time?
Will they know that I'd rather be working in groups or gathered around the coffee table when they're working individually at their desks and social distancing? And when we go outside for "mask breaks," will they know that I want better for them? That they deserve better? Will I be able to subdue my emotions in these moments of what has been christened "our new normal?"
These were all of the variables that flooded my mind while setting up my classroom. Like so many teachers throughout the country, I felt overwhelmed by so many questions, many of which are unanswerable because guidelines and stipulations and recommendations are changing daily. None of this makes it easy to do what we do best—build relationships with kids.
COVID-19 Won't Stop Me From Trying
Nevertheless, I am determined to approach this unconventional, unpredictable school year with optimism because I know students will respond to these new conditions in the same way that I do. When students return to my classroom, I will wear a smile even if they can't see it under my mask, and I will continue to be their biggest cheerleader ... from a distance.
But just for a moment, I needed a good cry. I needed to briefly surrender to the overwhelming uncertainty. My classroom looks different, and I question if I can be the teacher I want to be—the teacher my kids deserve. COVID-19 certainly won't stop me from trying. One thing I do know: None of this is what's best for kids.

Lindsey L. Jensen is the 2018 Illinois Teacher of the Year and the 2020 National Education Association Foundation for Teaching Excellence Illinois Awardee. She is Vice-President of the Illinois State Teachers of the Year Chapter, and she serves on the Illinois State Board of Education State Preparation and Licensure Board as an Illinois Education Association Representative. Lindsey is a Teach ...