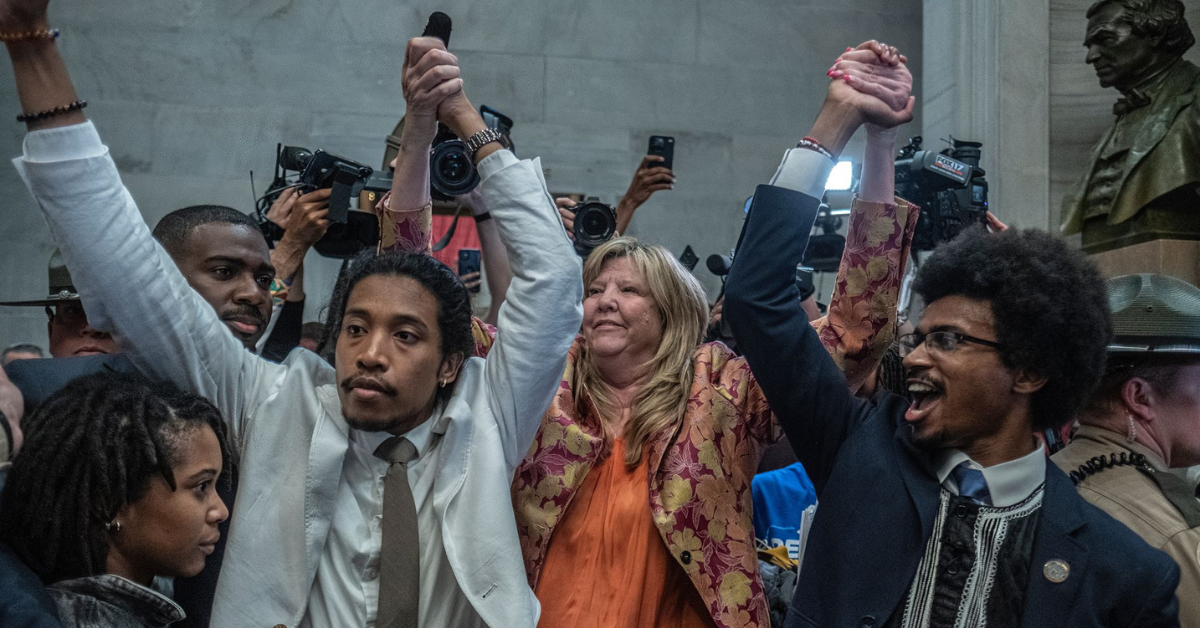 Black Students, Expelled Tennessee Justins face Same Struggle
In his classic book The Miseducation of the Negro, Dr. Carter G. Woodson stated:
"When you control a man's thinking you do not have to worry about his actions. You do not have to tell him not to stand here or go yonder. He will find his 'proper place' and will stay in it."
If the antithesis of this quote were two people, it would definitely be Justin Pearson and Justin Jones, the two representatives who were recently expelled from the Tennessee Legislature for simply being unapologetically Black.
Although their bold pleas for gun reform, in response to the Covenant School shooting that left six people dead, was the attention getter, it was their Blackness that ultimately cost them their seats in the legislature.
When looking at this situation, it is not only a microcosm of the current sociopolitical climate that we find ourselves in, but it should serve as a reminder how our society, by and large, still views Black males. When you think about the current state of our education system and its historic foundation, it was never designed with the thought of producing confident, intelligent, thriving Black males who were beaming with knowledge of self.
James Baldwin knew this when he said that Black people "were not expected to aspire to excellence" but rather "expected to make peace with mediocrity." Ralph Ellison also knew this when he said, "When I discover who I am, I'll be free." This is also the main reason why the Freedom Schools movement emerged in Mississippi at the height of the Jim Crow era.
Systems Not Designed for Black Boys
Pearson and Jones are products of an American education system designed to make Black boys compliant and acquiesce to the ideals of whiteness that govern how we view intelligence, attire, behavior, and decorum. Black boys are supposed to adhere to dress codes that police their hair and erase any forms of cultural self-expression.
We have Black boys, like Latrell Taft, whose teacher called him 'racist' and criticized him for wearing a "Black King" shirt in the same way Pearson was criticized by his fellow Tennessee house members for wearing a dashiki to work.
Yet, both of those gentlemen don't fit the profiles of individuals who have been through that system. The main reason is because they both discovered who they are and, therefore, they are free…….psychologically free from the shackles of mental captivity.
They know their history. They know the activist and community organizing work that their ancestors have done before them. They're simply following their blueprint and carrying on the traditions of Malcolm X, Marcus Garvey, Martin Luther King Jr, Kwame Ture, and other Black revolutionaries who have traveled down this very path they're on for liberation and justice.
Taking a Stand for All Black Boys
The image of strength and determination that these two men are presenting to the world is what my son, Thaddeus, and every Black boy should witness. Right now, Thaddeus is at this current stage where he's very opinionated and curious about everything. He has a healthy thirst for learning and is super confident in his ability to learn.
As his father, it has been beautiful to witness but then, as Thaddeus gets older, I can't help but wonder if his future teachers will value and embrace his intellect and inquisitiveness in the same way that I do. Will he get silenced and punished for speaking his mind or being too smart?
Now if he continues to have awesome teachers who see him for the brilliant child that he is and nurture his qualities, will that alone be enough to counteract the negative forces that come with learning within an education system that's very foundation is rooted in whiteness? I honestly don't know the answer to that question. Only time will tell.
In the end, we have future Justin Pearsons and Justin Joneses who are silenced, marginalized, disproportionately suspended and, even at times, expelled from their schools for using their voice, and being authentically who they are.
If there is anything positive that we can draw from what has transpired in the Tennessee House, it is that Pearson and Jones are two brothers who our Black boys should aspire to be…………confident, brilliant, secure, inquisitive, intelligent, and most important, unapologetically Black.
Photo by John Partipilo/Tennessee Lookout.
Kwame Sarfo-Mensah is the founder of Identity Talk Consulting, LLC., an independent educational consulting firm that provides professional development and consulting services globally to educators who desire to enhance their instructional practices and reach their utmost potential in the classroom. He is the author of two books, "Shaping the Teacher Identity: 8 Lessons That Will Help Define the ...