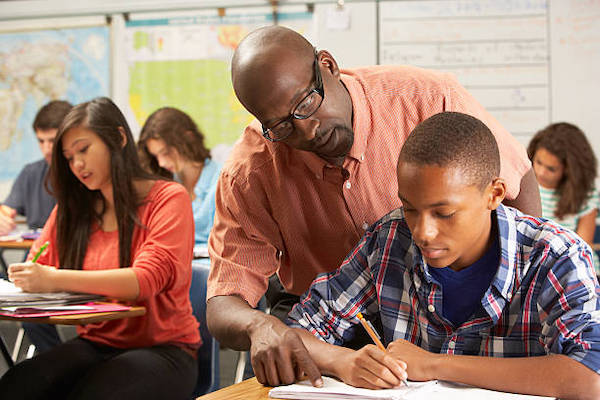 Black Excellence Must Come Home To Teach
Recently, my daughter, a high school freshman, attended a citywide HBCU college fair with her school's Black Student Union. Over 20 HBCUs were represented, but only two had long lines: Howard University and Jackson State University.
This came as a surprise to her. After years of gentle encouragement from her parents to consider HBCUs, she was expecting big lines at the "big four" of HBCU fame and historical reputation: Howard, Spelman, Morehouse and Fisk. She quickly texted me, asking what sparked the buzz around Jackson State.
To sports fans, the answer will not surprise: it's all about Deion Sanders, the "electrifying athlete" who played both pro baseball and pro football before moving into football coaching. Now known as "Coach Prime," has done far more than give Jackson State's football team an undefeated season and its second consecutive conference title. The "Coach Prime" effect has made waves in every direction, from launching a new viral song and dance to generating millions in much-needed, new revenue for the impoverished, majority Black city of Jackson, Mississippi.
In mid-August, river flooding plus pre-existing infrastructure problems caused a crisis in Jackson's water systems. The lack of clean water was a stunning indictment of the nation's lack of commitment to maintaining infrastructure, especially in areas where many Black Americans reside.
"Coach Prime," along with the students, staff and residents of Jackson State, were without clean water! And he wasn't afraid to talk about it to thousands of people via YouTube:
Deion Sanders on Water Crisis Jackson State #shorts #coachprime #jacksonstate #water #HBCUGrad 🎓
His national platform brought media attention, resources and donations to the Black community that didn't happen in the comparable crisis in Flint, Michigan.
In Black Culture, Deion Sanders Is Upholding Tradition
To many Americans, the story of Coach Prime, a Hall of Fame NFL player, a successful and super-rich Black American coming "back" to work in a low-income, predominantly Black, under-funded school may seem unusual. But the truth is, Deion Sanders is following in the tradition of Black American culture.
For most of American history, once individual Black folks became "successful," their returning to teaching and serving in Black schools was a common occurrence. Many well-known folks in the #BlackExcellence community, like Rev. Dr. Martin Luther King Jr, Supreme Court Justice Thurgood Marshall and math genius and NASA computer, Katherine Johnson, to name a few, were all first taught by Black educators, then became "successful." They then completed the circle and went back to teach in low-income, underserved Black schools.
While most Americans are familiar with the individual successes of the folks on this list, they are missing a critical piece of their legacy and cultural contribution to the Black community: their role as educators. This omission matters because a critical principle of Black culture is when a Black person becomes "great" or excellent, that person has an obligation to serve the Black community.
For most of American history, this service to the community meant you were required to come back to your community, specifically to teach what you know in underserved, majority-Black schools. Here are some examples of #BlackExcellence who completed the cycle.
Today we have a massive shortage of Black educators, and it is harming the entire Black community. Though there are many things that need to be done to fix this problem, here's a key one: we need a return of our #BlackExcellence to our schools to teach and serve our Black students like Coach Prime did by coming to Jackson State University.
Expanding the "Coach Prime effect"
Could you imagine a school where Oprah Winfrey taught public speaking? Or a school where Puff Daddy taught K-12 school students about music production? Or a school where former President Barack Obama taught political science? We need our #BlackExcellence to come back to schools for Black youth who are in our underfunded, low-income public K-12 schools and HBCUs.
To be fair, there are a lot of individuals who represent #BlackExcellence who are committed to helping Black students and schools. However, this help mostly comes in the form of financial donations and scholarships. Oprah Winfrey and LeBron James are examples of people who took the role of improving education even more seriously, by starting schools for Black youth. But, in addition to funding schools and scholarships, we also need those same Black folks to come into the schools and work as educators, too.
Like Deion Sanders, another example of #BlackExcellence coming back to serve our underfunded Black schools is my favorite contemporary author, Kiese Laymon. Kiese Laymon is an award-winning author, son of Jackson, Mississippi, and recent MacArthur Foundation "Genius Grant" recipient.
While many would think Laymon's success lies in being named a "MacArthur genius" or his publishing successes, to the Black folks who know and love him, Kiese's genius is in his commitment to serving and working directly with Black folks.
Laymon's #BlackAbundance is a continuation of the tradition of fugitive pedagogy, in which Black individuals educate themselves and others as part of a collective, liberatory struggle.
#BlackAbundance requires the individual person demonstrating #BlackExcellence to join in the collective struggle of Black healing, helping and love. On the same day that it was made public that Kiese was a MacArthur recipient, Kiese announced he would be donating his award money to fund the Catherine Coleman Literacy Arts, Food, and Justice Initiative at Jackson State. The center is named after Laymon's primary educator, his grandmother, and will continue the legacy and lessons of the Black freedom fighters in Jackson.
The Coleman Center, like the Coach Prime effect, is showing the power of our #BlackExcellence working directly in Black schools. I stand with Kiese Laymon; let's aim for the more collective goal of #BlackAbundance, not just individual #BlackExcellence.

ShaRhonda Knott-Dawson is the mother of two free-spirited, strong-willed girls and has a husband who should be appointed a saint for co-existing in the madness that is their life. She writes on politics, education, current events and social justice. She is also a taco enthusiast, a proud member of the Bey-hive, and truly believes that she will be receiving her letter from Hogwarts any day now.