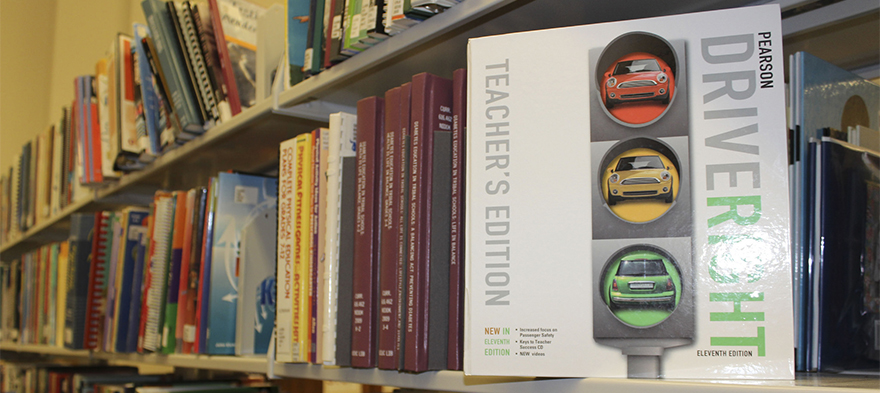 Why Teachers Win When Textbook Giants Fail
Teaching geometry changed my life. As a first-year math teacher at Exploris Middle School in North Carolina, I was dependent on my textbooks. My lessons followed the books. It was a constant cycle of explaining the concept of the day then having students practice it back to me. My students could parrot back the process, but it was difficult to determine what they were really understanding or if there were things I could have done better. It didn't take me long to realize that this was an ineffective way to teach. Textbooks were intended as a guide for teachers, not to be responsive to student learning needs. This isn't a unique challenge. Fifteen years later, teachers nationwide still have the same frustrations over the traditional textbook-reliant teaching model. Under the guidance of Goliath-like publishers—to whom districts around the country invest over $8 billion per year—teachers are disconnected from students and their real-time progress; classroom engagement is nearly non-existent. Assessments are available but normally through separate vendors—which takes more time and money. And neither of these investments provide information to give teachers the support they actually need to be more effective in the classroom. These important pieces—curriculum/content, assessment and professional development—work independently of each other rather than together.
Asking the Right Questions
Later, as a principal at E.L. Haynes Public Charter School in Washington, D.C., I pursued my questioning further: What are students actually learning from lessons? What is the best way to support our teachers to be more effective today? To gain insight on how to support teachers and students, we put in place an interim assessment process every six to eight weeks, where teachers would reevaluate their approach and recalibrate lesson plans. That timeline is better than most schools have; but it's still not fast enough. That's six to eight weeks of possibly not addressing student needs, spending time and energy on the wrong type of support and training for staff, and potentially making things more challenging for both teachers and students. Why do we continue to invest in a system that isn't meeting the needs of our teachers and students? If we're going to invest billions in our schools, it shouldn't result in more work for teachers—it should make their lives easier and more enjoyable. Since my first experience teaching, I've been invested in finding a better way. In practice, what would such a change in approach look like?
An Alternative
At Guilford Elementary School in Columbia, Maryland, Principal Jonathan Davis is encouraging teachers to use open-ended tasks. Doing so will enable students to understand the reasons behind a lesson rather than memorizing the answer. While teachers agree with the idea, this is a challenging shift to make. Using LearnZillion, an open educational resource (OER), teachers are starting to explore lessons in a deeper way. Teachers can then utilize a manageable number of alternative lesson paths—a "choose your own adventure" in learning—based on where the students are in their understanding of the topic. This work is just starting at Guilford, but Davis is encouraged by the new conversations and lessons teachers are leading since starting to incorporate OER. Essentially, his teachers are building an environment that's responding to students, challenging a deeper understanding of the topics, and supporting teachers. This is the experience I wanted in North Carolina. That's why I believe in David, the OER dreamers, to help address the many shortcomings to the widely used silo'ed system.
David and Goliath
OER is changing and growing every day. The dreamers, like our team at LearnZillion, are working to fine tune the responsive nature that will be an essential element to eventually make David stronger than Goliath. A one-size-fits-all system doesn't work for our students or our teachers. Segmenting curriculum, ways to assess student understanding and support for teachers isn't just expensive, we're also talking about precious time, something teachers already have so little to spare. Once David has fully matured, it will topple Goliath through not only increased classroom efficiency but also a low- or no-cost investment. These are cost-saving benefits that will empower districts to put more resources toward supporting teachers in other areas and meeting student needs in other areas. It's time to recognize that the needs of our students, as well as our teachers who want to inspire them, is best met by flexible tools that bring together a responsive curriculum that supports teachers in quickly identifying what students' understand and don't—and gives them guidance on what to do about it. It's time we paid attention to what teachers really need when deciding how to spend billions in public money. And, it's time we used data from our students to make these decisions. Instead of Goliath's business focus on content, David is offering a teacher model focused on learning. It's a model a growing number of people in education support. A recent survey revealed that 20 states across the country are already planning to adopt initiatives to bring open educational resources to their classrooms. The same survey found that 84 percent of district leaders would like to learn and collaborate on implementing these resources. In fact, some districts are already seeing great results from the potentials of their investments. If I could go back to teaching geometry with the OER tools available today, I'm confident I would be a better teacher. I've seen how frustrating the established Goliath ways are for teachers and principals. It will take time to shake off old habits and adopt new. But this is a fight that benefits all now—certainly a worthwhile cause. Who will join David to rise up against Goliath?

Eric Westendorf is CEO and Co-Founder of LearnZillion, which he incubated at E.L. Haynes Public Charter School, in Washington D.C., where he was chief academic officer and principal. Prior to leading E.L. Haynes, Eric founded a nonprofit focused on teacher leadership development; was the assistant principal of St. Joseph's School in Harlem; and, taught for seven years in North Carolina, New York ...