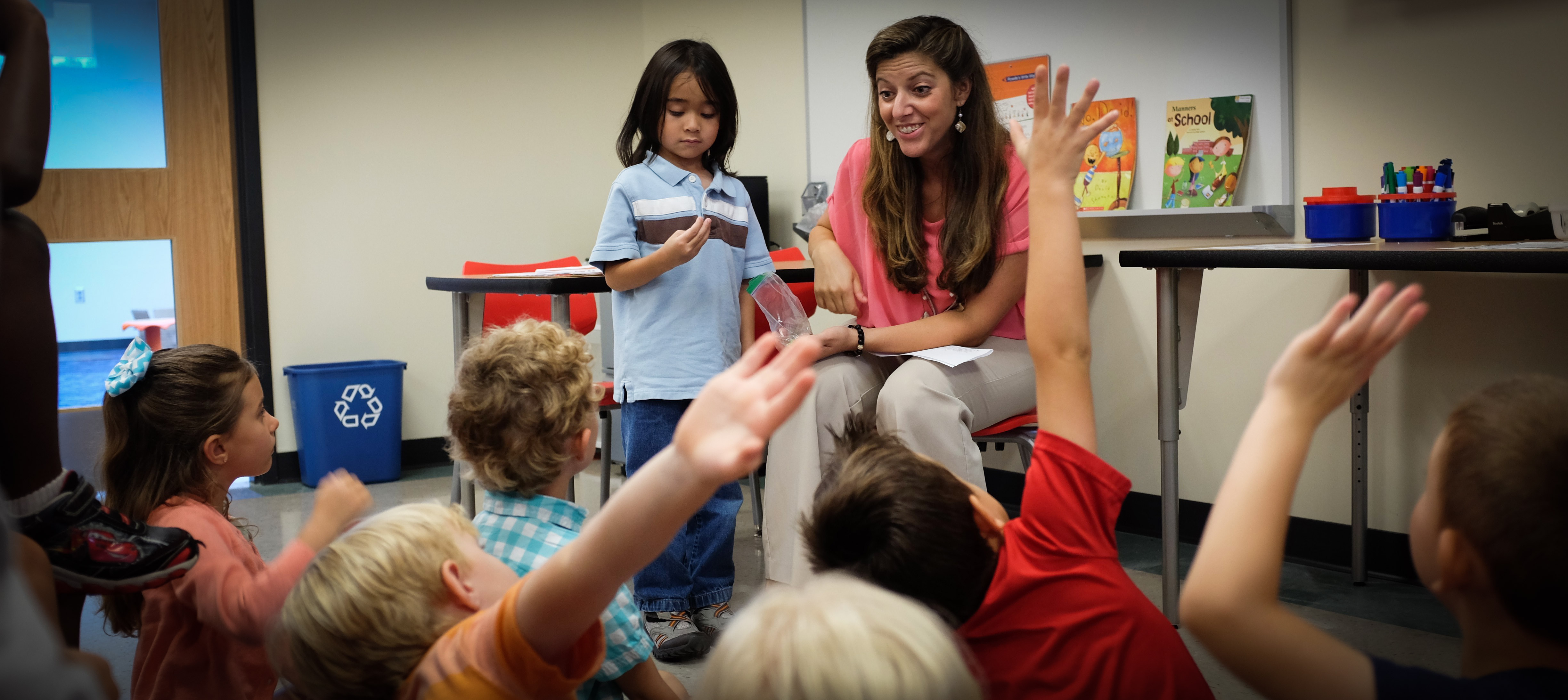 Unexpected Allies Working To 'Modernize and Elevate The Teaching Profession'
Last week, a campaign coalition organized by the Center for American Progress called #TeachStrong was announced. As reported by Lyndsey Layton in the Washington Post:
A coalition of 40 education groups—including some strange bedfellows—is starting a national campaign aimed at "modernizing and elevating" the teaching profession. The groups, organized by the left-leaning Center for American Progress under the banner TeachStrong, want to make the status of teachers an issue in the 2016 presidential race and in policy discussions on the state and local levels.
There were those you might suspect among the participants. Teach For America, the New Teacher Project, education reform news and opinion site Education Post, RELAY Graduate School (which has many TFA alums on its faculty), Educators 4 Excellence (founded by TFA alums), and the reform-minded National Council on Teacher Quality were there. These groups have been on this issue for quite some time. Also among the participants? The national teachers unions of the NEA and the AFT. It's a group of partners that surprised not only the Washington Post, but also many reformers and traditionalists when it was announced; some of the organizations that have been most deeply vested in education reform over the past ten years working arm-in-arm with the unions. But that surprise underscores the fact that the vast majority of discourse in the education sector currently is focused on the relative minority of issues that divide people rather than the vast majority—perhaps 90% or more—where there are similarities and room for compromise. Make no mistake, there are a group of individuals, many from the militant fringe wing of the union membership, who have done their very best to create a narrative that the unions and many reform groups (and, for whatever reason, most prominently Teach For America) stand in stark opposition to each other on every issue including the value of great teaching. But that simply ignores the reality on the ground. The majority of Teach For America teachers are unionized teachers with a classroom in a traditional public school. And in one charter school in Detroit, recently, Teach For America corps members fought for their right—with the support of, ironically, AFT president Randi Weingarten—to vote on allowing the school to be unionized. And many TFA alums are active in their unions or even work or have worked in union leadership positions. Take TFA alum Ben Spielberg, for example, who writes on education and other policy issues and simultaneously backs both union-supported policies—he makes impassioned defenses on tenure, for example—while also supporting Teach For America, including penning a piece for "One Day" the TFA alumni magazine on the intersection of unions and social justice work. (Side note—if you click through to the link to Ben's article, check out whose mug is featured on the next page.) Teach For America is an organization that mirrors this duality about change. It's an organization that is producing both Michelle Rhee and also Ben Spielberg. John White and Camika Royal. There is a clear nuance and diversity of perspective in the alums, with the common similarity being: they all care deeply about students and our education system, and they all see different roads toward equity. So suffice to say, I was neither outraged or surprised when I read the news of the #TeachStrong coalition, and as I dug deeper and explored the policy goals that they are trying to infuse into the presidential debates happening across the country, I was impressed. Take a look at #TeachStrong's nine policy principles to modernize and elevate (and the word elevation is key here) the teaching profession: 1. Identify and recruit more diverse teacher candidates with great potential to succeed, with a deliberate emphasis on diversifying the teacher workforce. This has been a focus for both Ms. Weingarten and Lily Eskelsen Garcia (President, NEA) for some time, and has been a priority for Teach For America for decades, but has become a primary focus in the last five years—resulting in the program being among the most diverse teacher preparation pipelines in the country. As Amanda Ripley writes in the New York Times, "Teach For America is our nation's most selective teacher preparation pipeline—and also one of its most diverse. That's because Teach For America's leaders have prioritized diversity and worked hard over time to recruit minority candidates ( something many deans in U.S. colleges have not done.)" 2. Reimagine teacher preparation to make it more rooted in classroom practice and a professional knowledge base, with universal high standards for all candidates. Another major focus of Ms. Weingarten over the past few years (she's given several speeches on the topic about the need to address the preparation provided at schools of education), this has been a similar focus at Teach For America, which has invested millions to build out a full professional knowledge base on classroom practice—documented in " Teaching As Leadership: The Highly Effective Teacher's Guide to Closing the Achievement Gap." 3. Raise the bar for licensure so it is a meaningful measure of readiness to teach. Ms. Weingarten has been beating this drum for a while, as has the National Council for Teacher Quality, and it's one that makes sense. Her call for increased college GPA requirements and a rigorous "bar exam" for teachers is something that Teach For America has done since its inception—with an interview process that leads to an acceptance rate that hovers between 10 and 15% of applicants. 4. Increase compensation in order to attract and reward teachers as professionals. While this has always been a focus for the unions, it doesn't surprise me that Teach For America would sign on to this proposal—everyone I've known at the organization over the years has supported vastly higher teacher salaries, and I'm sure that Teach For America has its own internal data suggesting that higher salaries, coupled with leadership opportunities (see #9 below) would keep even more corps members in the classroom. 5. Provide support for new teachers through induction or residency programs. There have been those on social media that have quirked an eyebrow at Teach For America's support of this proposal, which indicates to me how little they actually know about the program. In most regions, Teach For America's programming looks remarkably similar to a residency—teaching during the day, with weekly support from a mentor teacher and coach provided by the organization, and additional classes—focused on pragmatics and pedagogy—during evenings or weekends. That isn't to say that Teach For America's teacher support and development can't improve—every alum knows that it can, as with any preparation program—but there are certainly lessons that TFA has learned (along with other certification programs) that will be worth consideration by the #TeachStrong coalition. 6. Ensure tenure is a meaningful signal of professional accomplishment. Some Teach For America alums are strong supporters of tenure, and some stand in strong opposition to it, but I believe the vast majority agree (along with the vast majority of teachers in many states, including California which has been at the epicenter of the tenure reform debate—that tenure should be a meaningful accomplishment. 7. Provide significantly more time, tools, and support for teachers to succeed, including through planning, collaboration, and development. This is a no brainer—Teach For America has seen that corps members grow the most when they have the time, tools and support to do so. And having that support come through collaborative planning and development isn't just a good idea, it's a best practice for adult learning. 8. Design professional learning to better address student and teacher needs, and to foster feedback and improvement. While there are districts—such as Washington DC—who have made giant steps forward in providing strong professional learning and development, the PD being offered in schools across the country is, by and large, substandard—or not directly applicable to what would be most beneficial to the school, teacher or their students. This needs to improve drastically. 9. Create career pathways that give teachers opportunities to lead and grow professionally. I've heard rumblings from friends on staff at Teach For America that, when they speak to corps members about the reasons that they choose to stay or leave the classroom, the number one reason is a lack of growth opportunities at their school. This is widely consistent with studies that have been done on the teaching profession as a whole. The bolder the #TeachStrong coalition is here, the better. What isn't included? There's nothing on standards, nothing on teacher evaluation and accountability, and nothing on assessment. Those are the hot button issues that create the major divide between reformers and traditionalists—and often between individuals within those factions. Their lack of inclusion here isn't to say that those debates don't matter, rather it's a signal that there isn't going to be agreement on those facets, so instead let's focus on the 90% that we do agree on. And believe it or not, reformers agree on most of these things. This is an impressive group of partners, with a bold set of proposals—and while there will likely be significant debate amongst them about the best way to attain and implement these principles, the fact that we've arrived at the nine proposals at all is an incredible and optimistic sign. Well, for most of us. The extremists of Diane Ravitch, her followers, and the BATs are pissed off. Really pissed off. Which at least for me, is a sign that #TeachStrong is doing something right.

Ned worked for several years on Teach For America's national team evolving "Teaching As Leadership," the organization's central pedagogical and teacher evaluation framework. Ned currently serves as deputy director on the Corps Knowledge project.