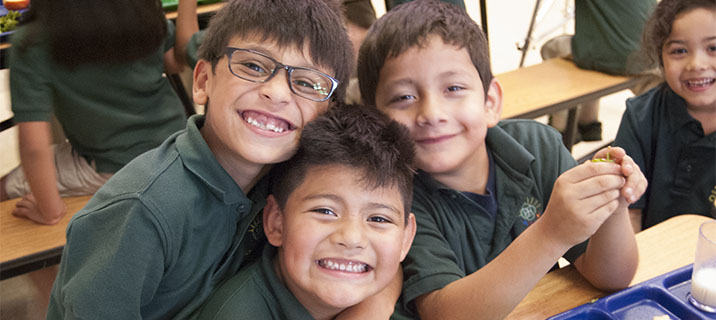 To the Millions of Juans: I Hope Your Teacher Doesn't Fall Into the Belief Gap
I once heard a teacher say rather matter-of-factly that she hoped her fourth-grade student, let's call him Juan, would one day get a job as a mechanic. I quipped, "I hope he gets a job as a mechanical engineer." Juan was not what most people would define as "smart." His parents might have crossed the border from Mexico illegally. He had been in the U.S. since he was at least in kindergarten, but he lived in a Spanish-speaking only home and still struggled to speak English fluently. A hardcore soccer fan, Juan would rather chat with his friends in class than to sit still and learn. There's no doubt that the odds were against Juan going to college and becoming a mechanical engineer. Poverty. A language barrier. Bad study habits. It didn't help that his bilingual, white classroom teacher had low expectations, as well.
First We Have to Believe
More troubling than the achievement gap between black and brown students and their white and Asian peers, is the belief gap that exists. Research shows that non-black teachers of black students have significantly lower expectations than do black teachers. I believe this is probably true for Hispanic students, as well. It's hard for a teacher to inspire kids to want to go to college and seek a professional career if that teacher doesn't believe in it first. Compounding this problem (or because of it), federal data shows that too many school districts are expelling and suspending black students, as much as five times or more than blacks are represented in the student population. This is fueling the school-to-prison pipeline, in which students of color are treated more like criminals than potential scholars—this is a belief gap with even more serious consequences.
An Unintended Consequence
While I had been taught to celebrate Brown vs. Board Education, which aimed to desegregate American schools as a civil rights victory, I'm starting to see the ruling's unintended adverse effects for black and brown communities. Thousands of African-American teachers ended up losing their jobs because white teachers could teach black children, but it was socially unacceptable for black teachers to teach white children. As a result, both segregated and integrated schools were run by almost all-white staffs, a trend that still persists today. In a guest post on my Education Week blog, Peter Meyer quoted Martin Luther King, Jr.'s, concern that Brown would put white teachers who may have a low view of blacks in charge of educating them. Meyer—a white man who served five years on the school board in Hudson, New York—witnessed King's fears played out. Meyer, a contributing editor for Education Next, recalled the racism of his fellow all-white district leaders and school administrators that, when paired with watered-down curricula and low expectations, resulted in dismal academic results for students of color. At one point, Meyer sought federal and state oversight of his district by filing a complaint with the U.S. Department of Education's Office for Civil Rights and hand-delivering a petition to the office of the New York State Education Commission that had 200 signatures from parents and community members. Meyer said his calls for intervention were ignored. W.E.B. Du Bois smartly said, "To sum up this: theoretically, the Negro needs neither segregated schools nor mixed schools. What he needs is education."
Lowering Expectations
In a nation where 82 percent of all public school teachers are white, yet so-called "minority" students have become the majority, we have to address the uncomfortable topic of what these district leaders, teachers and administrators really believe about the intellectual capacity of their students of color. I wrote about this difficult issue in an op-ed for Education Week and in a follow-up piece. While I received a massive amount of support, there was also a heated backlash against me asking teachers if they could possibly—even subconsciously—hold racist beliefs. The belief gap that causes teachers to have low expectations for students can exist within any educator—not just white teachers. However, it's more likely that a white teacher would struggle with a belief gap because:
White teachers far outnumber any other race of teachers.
Historically and economically, white people have self-defined what success looks like, and they have been the gatekeepers to that success.
The cultural and social disconnect that exists between many white teachers and their students of color only tends to perpetuate negative racial stereotypes and misunderstandings about students.
What If?
I honestly can't remember Juan's real name. It's been nearly 10 years, and I can't even place his face. I only remember his teacher's comment and how angry it made me feel. My reply to her was the only professional response I could come up with in that split second. I'll never know whether Juan overcame his disadvantages. It would be great if he were taking AP classes in high school or in his first year of college. That's the reality of teaching: We lose touch with the majority of our students. But what if his fourth-grade teacher taught Juan as if he were her own child? What if she regarded him in a way that held herself and others accountable for meeting his academic and behavioral needs? What if she believed that Juan could, over time, reach high academic expectations that would have made him college material? There are millions of Juans in our public schools, and each of them deserves the chance to live out the answers to those questions. First we, his teachers, must be willing to ask.

Marilyn Rhames has taught in district and charter schools in Chicago for the past 11 years and currently serves as alumni support manager at a K-8 charter school. A former New York City reporter, Rhames' award-winning education commentary is featured in Education Week and on Moody Radio in Chicago.

Photo of academy for global citizenship.