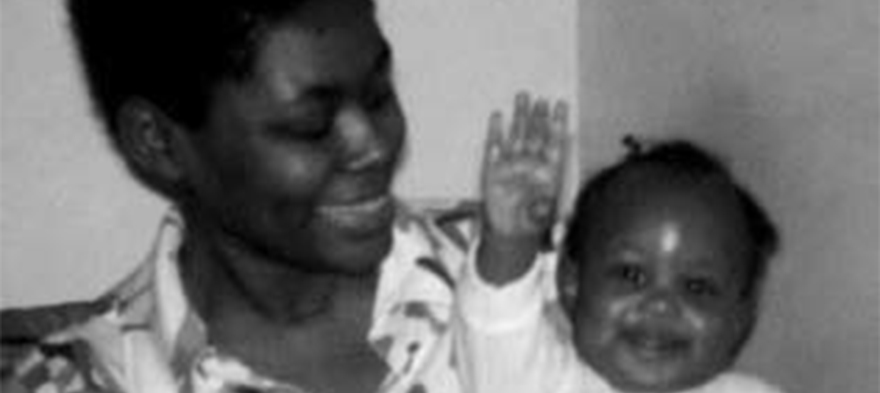 The Stories We Miss by Having Too Few Leaders of Color at the Table
My path to work in education wasn't a traditional one. It wasn't even rooted in a desire to be an educator. But it has been shaped by a belief that my life experiences and personal narrative weren't happenstance or a mistake—they were exactly what were required to position me to do the work I was created to do. Knowing me begins with knowing my mother, Wanda "Patty" Plump Burnette. She would have celebrated her 68th birthday last month. Wanda's wisdom was often lost on me while she was physically present, but I can now appreciate and comprehend the lessons she instilled in me and I know I wouldn't be half the woman and leader that I am without them. At 29, four months after having me, my mother suffered a massive stroke. The outlook was initially very bleak and my family honestly had no idea if she was going to make it. But against the odds she powered through. My parents divorced soon after my mother's recovery and she and I returned to her hometown of Birmingham, Alabama. Life for us "was no crystal stair," as she often reminded me. Her medical issues mounted. Life below the poverty line, housing instability, harrowing medical issues and all their associated ills were part of our daily lives. However, my story isn't a simple one. And I'm aware of the privilege that was as much a part of my life as the poverty. If you had asked me when I was a kid if I was poor, I don't know what I would have said. I was clothed, fed and had a village of family and friends who loved and supported me, which wasn't aligned with my juvenile perceptions of the poor. Yes, I lived in housing projects. But I was also surrounded by kind people who looked after my mother and me at all times. Yes, there were periods of homelessness after our eviction from the projects. But I wouldn't have thought to call it homelessness at the time. There was always a place to sleep—a family member's spare room, a family friend's sofa, a motel. I just considered it part of life. My mother's annual income from disability payments was well below the poverty line, but our home was warm and full of laughter, light, love, music and LOTS of books. Early on, I was taught that education was paramount; it was my ticket to something better. My mother may never have completed her college degree, but four of her siblings had and three went on to receive master's degrees. My father was an engineer and my paternal grandfather received an MBA from the University of Chicago after returning from WWII—no small feat for an African-American man at that time. So while my reality was steeped in poverty, I was held to expectations that knew no bounds and had aspirational models. That was my version of privilege. Coaching and care by a village of amazing adults, effort and a lot of luck resulted in me excelling in the public schools I attended. I was told to do whatever I could to make a good living, challenge myself and ensure I would always have a job. That translated into a career in chemical engineering for me and later an MBA. I was almost seduced into a life of social responsibility and mission-driven work at the start of my professional journey, but a call to my mother during my junior year of college put it on pause. It was a call I'll never forget. I called my mother to tell her that while I was on track to graduate on time (four years in chemical engineering was not easy) and had kept up my grades, I'd had a vision that I was supposed to be in service to others. Her answer was swift and no-nonsense, as was her way. "One: You don't have the luxury of doing what those rich kids you go to school with can do—we have bills to pay. And two: The best thing you can do for poor people is never be one of them…ever again!" After that, she hung up. There was no discussion or debate. I knew what I had to do. I now know that she was doing her best to guarantee I charted a different course for my life. Though it was soul-crushing at the time, it allowed me to forge a path that eventually led me to exactly where I was supposed to be. I never lost the nagging feeling that all the privileges I was afforded weren't for me. I knew they were about something bigger. For years I addressed the nagging itch by volunteering, establishing mentorship programs with partner schools and the like, but it wasn't enough. After living in Chicago and hearing countless stories of the way its—my—children were being underserved, I knew I had to do more. I could no longer sit idly by and think my occasional checks and volunteer efforts were enough. I dived in, quit corporate America and went to work in Chicago Public Schools and eventually worked my way up to chief of staff of high schools. Throughout my career, I've been shaken by the fact that the further up the rungs of leadership and influence I climbed, fewer and fewer people around the decision-making and policy-setting tables had any shared experiences with the majority of students we served. I was frequently the only, or one of the few, people of color and very rarely did anyone else around these tables know poverty or unequal educational opportunities. I found myself all too frequently being the sole voice of dissent, reminding others that a single story could never define our students, their families or their communities. I am tired of the constant references to the contemporary education reform movement as the civil rights issue of our generation without any acknowledgement that this "movement" is by and large not of, with or by the people. The people suffering from a lack of access to high-quality education are often invisible in the places where their fates, and those of their communities, are decided. The Surge Institute is born of my desire to ensure that diverse leaders are appropriately prepared and networked to fill the pipeline of leadership in education that often falls woefully short of representing the populations of children and families served. I dreamed of creating an organization that assists oft-ignored and underrepresented education leaders in accelerating their impact and influence across the field of education. That dream is now a reality. I took the leap into education over a decade ago with equal amounts of fervor and naïvete. I will never be an education expert, and it's not my role to be. I have long-lasting relationships with amazing educators throughout the country and have found a place to use my skills to advance their great work on behalf of the students in whom I see myself—and my story.

Photo of Carmita and her mom courtesy of Carmita Vaughan.

Carmita Vaughan is founder and president of the Surge Institute. Surge was established to address issues of race and class in urban education through leadership development, technical assistance and advocacy. The Surge Fellowship, the Institute's signature program, identifies and develops emerging education leaders of color. Carmita's commitment to empowering our country's most underserved young ...