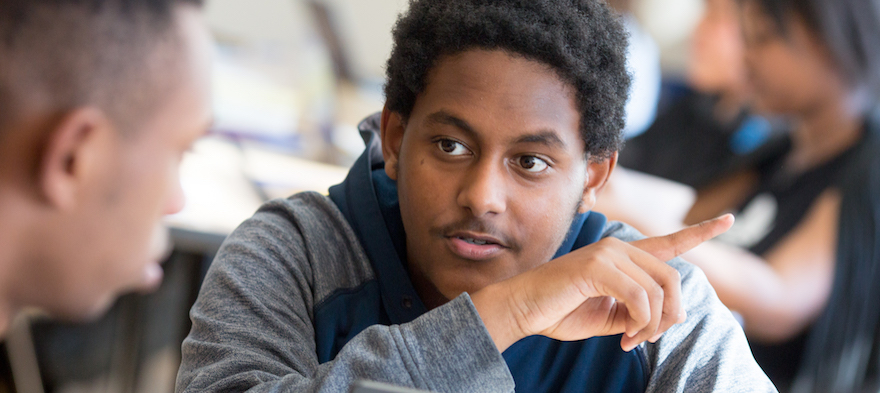 The Make-or-Break Year' Offers Ed Reformers Sobering Lessons on How Real School Change Happens
"If we have to remove dead weight, we will remove dead weight." That's what the assistant principal of Chicago's Orr High School told me in 1998, when I asked him how he dealt with no-show students. What he meant was, they'd be dropped from the school rolls and handed a list of alternative schools to call. As both an education reporter and a former alternative school teacher, I found it shocking to hear an administrator so blatantly dismiss any young person. Yet at the same time, I well knew how few adults in city high schools really knew—and sometimes, how few really cared to know—the specific challenges of individual students' lives and how to help them stay in school. Today, the focus inside Chicago's high schools has shifted from removing "dead weight" to ensuring young teens finish their first year of high school on track to graduate. Decades of studies from the University of Chicago Consortium on School Research show that supporting students through a strong freshman year is the single most important thing educators can do to steer them toward graduating, regardless of their race, income or even previous academic performance. Recent increases in Chicago's graduation rates bear this out. Last June, more than three-quarters of the city's class of 2018 earned their diplomas. That's a far cry from the 50/50 chance of finishing high school that was business as usual for decades. In "The Make-Or-Break Year," Emily Krone Phillips tells us how the Chicago Public Schools made this dramatic shift. By showing how principals, teachers and (some) district leaders transformed what goes on in Chicago high schools from dropping dead weight to building kids' academic and interpersonal skills, Krone Phillips argues powerfully against education reform as we've all grown to hate it. She shows the futility of top-down mandates and the "politics of distraction," which encompasses most reforms that don't fundamentally change how adults work together within schools to support students. Even more interesting, she argues just as powerfully against the opposing notion that poverty is the real problem and schools can't make a difference simply by improving what they do. While resources matter, especially for schools facing the toughest challenges, the stories here show that when educators make a commitment to change their limiting beliefs about students and open themselves to new approaches, they can get better results with what—and whom—they already have. "The Make-Or-Break Year" offers a look inside a groundbreaking, third-way approach to stubborn problems of school improvement and equity.
Find a Problem, Let People Solve It. Sounds Easy, But in Reality It's Hard.
At first glance, the work Chicago did to keep freshmen on track seems simple. The UChicago Consortium on School Research identified a clear problem, with high payoffs for students when solved. District leaders unlocked and strengthened the capacity of principals and teachers to develop new ways of reaching freshmen, then tested and evaluated them based on whether kids came to class and earned credits. The district and its research partner created a network of schools where adults trusted each other enough to get real and share their problems and solutions, then shared those solutions with other interested schools. In actual practice, herding the cats at both the system level and within high schools to focus on keeping their freshmen "on track" to graduate—meaning present in school and passing their core subject courses—demanded a great deal of thought and effort. How it really happened offers complex lessons about making deep and lasting change in schools and districts. Krone Phillips weaves three narrative strands that together chronicle the story of this particular sea change: the big-picture context of Chicago education politics and the struggle to get and keep a perpetually distracted system focused on one high-payoff problem; the history of Hancock High School's pioneering success with the Freshman OnTrack indicator; and the daily ups-and-downs of supporting freshmen at Tilden High, arguably Chicago's most deeply challenged neighborhood high school.
Moving Beyond Top-Down Reform Takes Letting Go of the Answers
The roots of the Freshman OnTrack strategy stretch back to the late 1990s, when former Chicago schools chief (and current mayoral candidate) Paul Vallas launched an ambitious, comprehensive set of high school reforms and watched most of them tank. [Disclaimer: a story I wrote about one aspect of this effort is quoted extensively early in the book.] Krone Phillips argues that while Vallas made the classic mistake of pushing top-down reform without buy-in from the people who would make it happen, his insistence on holding schools accountable for their students' outcomes laid important groundwork for keeping freshmen on track. His successor, Arne Duncan, made a smart next move: Giving high schools a simple metric to monitor—the numbers of freshmen who ended their first year of high school on track to graduate based on their attendance and course credits. What Duncan did not give the high schools was a formula for how to get those numbers up. Instead, the people inside the schools had to figure it out, with some help from central office to increase their access to useful data. A handful of pioneering schools led the way in developing new supports for entering high schoolers. While some gaming numbers has occurred, what's amazing here is the commitment educators made to self-reflection and changing the way they do business with each other and with students. After Duncan's departure to serve as U.S. Secretary of Education, it was up to the principals, teachers, researchers and district mid-level leaders already committed to the work to keep the flame alive despite leadership churn and scandal. The Network for College Success, a partnership between UChicago Consortium researchers, the district and a coalition of the most-willing high schools became the center of the work. Not coincidentally, a number of former network principals have become key district leaders, including current CEO Janice Jackson.
Changing a School Where Adults Don't Believe in Kids is Like Therapy
To see the work from a school-level lens, Krone Phillips recounts Hancock High's remarkable turnaround using Freshman OnTrack. At first, the Hancock story reads a bit like a traditional ed-reform narrative—idealistic principal Pam Glynn pushes her team of skeptical, mostly-White teachers to believe in their working-class Mexican-American students and raise their expectations for them. (Glynn also pushes out the most change-resistant staff and hires top teachers away from other schools. More of the new hires share their students' ethnic background.) One element that sets the Hancock story apart is Glynn's insistence on putting student survey data in front of teachers to challenge their perceptions. When Glynn showed the faculty the numbers of students telling them they didn't find courses challenging enough, some teachers began to take a look in the mirror. That's when the Hancock story becomes truly interesting. Changing a school where adults don't believe in kids is like working with a clinically depressed person—they have to make changes on the inside before changes in outcomes can take place. In Hancock's case, Glynn pounded hard on teachers to change their belief systems and face the reality that students were both under-challenged and under-supported. Her successor, Karen Boran, continued the work and, with help from the Network for College Success, built teams and systems to sustain it no matter who led the school. By 2016, Hancock had yet another new principal, yet the school had maintained more than 90 percent of freshmen on track to graduate for three years running. Ultimately, Hancock's success in getting and keeping its freshmen on track did not rely on fixing (or firing) individual teachers in isolation, but on building a shared culture of improvement and common knowledge among staff about how to support students. Hancock also made the shift from looking at data as a nightstick with which to blame and punish people to viewing it as a dipstick to diagnose problems and look for solutions. The Hancock story also shows that once one problem is resolved, similar collaboration and problem solving among adults can be put to work on new problems, like ensuring students are prepared to persist and succeed in college.
Nurturing Kids Demands A Push for Equity
The Tilden chapters are far and away the most compelling parts of the book, where we get close to a handful of young teens and the adults who support them. While, as always, it's the kids who drive the story, the adult character who stands out is Tilden's principal, Maurice Swinney, who strives to keep his freshmen on track while facing massive budget cuts and coping with the death of his own father. "All the things that my Tilden kids do now, I've done," he says, including using the b-word on his ninth-grade math teacher. His empathy for his students, plus their dwindling numbers, creates an opportunity to build deeply nurturing relationships. But Swinney's approach to keeping kids on track demands a lot from adults. Some of the tactics are highly controversial, including retroactive grade changes for a student who drastically improved his grades in second semester. The dean of discipline and the external partner who runs Tilden's Peace Room expend precious time and energy debating what constitutes "coddling" an angry teen versus teaching him to manage his emotions on his own. Eventually, after much angst, the school's freshman-on-track coordinator, English teacher Sharon Holmes, decides the work is taking too much out of her, and leaves. Since the publication of this book, Swinney has been promoted to head the district's new equity office. A crucial part of his mission will be working on policies and resources to support schools like Tilden, where a massive infusion of federal grant money helped boost the school's freshmen on-track rate to a high of 84 percent, only to see it drop 20 percentage points once the grant ended. Only time will tell if Swinney and other district leaders can find a way to avoid the pitfalls of top-down policy solutions, even when they come with dollars, and make smart, strategic and sustainable investments that promote equity and solve the next round of challenges Chicago faces in helping its students succeed in school and in life.
Lasting Solutions Come from People Closest to the Problem
Much of Krone Phillips' Chicago narrative parallels the national arc of school reform. Early, stringent emphasis on accountability pried open classroom doors and created urgency around the need to change adult beliefs and practices that weren't serving students, especially those facing disadvantage due to race or economic status. But the next phase of improvement calls for a more open-ended approach to problem solving and a recognition of the talent and expertise already present within schools. It also requires district, state and federal leaders to strike a delicate balance between offering resources, setting realistic goals and creating clear structures for support and accountability. New York's recent experience with Mayor Bill de Blasio's Renewal initiative—big promises, big money spent, small and unclear returns on investment—shows how hard it is to get that balance right. [pullquote position="left"]School improvement work is messy, and much as we wish there were silver bullets, even the Freshman OnTrack measure is not one of them. When the Dallas Independent School District tried to follow Chicago's lead by focusing on its freshman on-track rate and changing grading policies, a popular backlash against "no-zero" grading policies likely entrenched teachers in an ineffective "don't coddle them!" mindset. Dallas never managed to significantly reduce freshman course failures and its on-track rates actually declined. "The Make-or-Break Year" is an important, and sobering, contribution to the conversation around education reform. It keeps us honest and realistic about what it takes to make real change in a school system. It also keeps us honest about the realities that lasting solutions come from the people closest to the problems, and one solution in one place may not transport well to another. Perhaps the most important lesson of the book is that Chicago's transformational journey took more than two decades. As New York is re-discovering, lasting change doesn't usually happen fast.

Maureen Kelleher is Editorial Partner at Ed Post. She is a veteran education reporter, a former high school English teacher, and also the proud mom of an elementary student in Chicago Public Schools. Her work has been published across the education world, from Education Week to the Center for American Progress. Between 1998 and 2006 she was an associate editor at Catalyst Chicago, the go-to ...