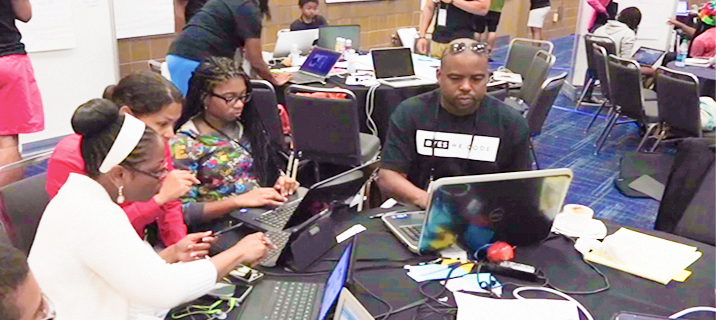 Technology, But Not for All
There hasn't been a quantum leap in the way we educate kids in some time, but we are starting to see steps in the right direction. As a former teacher in low-income schools, I have to wonder if our country's poorer students get left even further behind as we push deeper into the tech boom. In May, AltSchool, a Silicon Valley school network, announced it had raised over $100 million in venture capital funds to continue and expand its schooling model that incorporates extremely personalized learning, innovative technology and forward-thinking classrooms. AltSchool is just one example of an education reform that is attempting to not only change the way we teach our country's children, but also change the way we think about education in general.
They're Onto Something
No longer does school need to simply be a single teacher standing in front of a classroom of 25 children sitting in desks; it can be a teacher working with several students of different grade levels. While some students are coding an app on the other side of the room, others can be designing urban gardens and another section of students can be focused on uploading blog posts. The possibilities are endless. In so many ways, AltSchool is onto something. The traditional classroom method is old, not always effective, and has left millions of children off track. Silicon Valley has provided the education realm with countless tools to make classrooms for both poor and rich students better places for kids to learn. There's LiveSchool, the classroom management application that streamlines data and makes classroom management easier. There's Khan Academy, which provide videos and technology to support curriculum and is free to students. Or, take mSchool, the remarkable "microschool" program that claims months of math growth in students after just six weeks. The program is free to students, but schools must be able to afford to purchase it.
But Wait, What About the Divide?
These technologies are often free to students (and sometimes free to individual teachers), but another problem emerges. As we advance and ask parents (and schools) to pay for new technology and innovative models, will we end up with even more disparity based on the schools and students who have resources and access? And even if the technology is free, do our country's highest-need children have the access and understanding to capitalize on these resources? Sadly, even as the Internet becomes an everyday commodity, there is still a digital divide that exists, leaving low-income families with less Internet and technological access than their more affluent peers. There's nearly a 30 percent gap in Internet access between rich and poor families, and 56 percent of teachers in low-income schools state that student access to technology was a "major challenge." When I taught eighth and ninth graders, the majority of my students could barely type, let alone open a Google doc or begin building websites. And, when I worked in a Title I public high school, neither the school nor the parents could afford to pay for additional technology or training. Even if the school had been able to afford mSchool, I'm not sure the students would have been able to leverage it to the fullest potential. As technology continues to advance, it unfortunately continues to fall into the hands of the most privileged. In fact, according to a recent article in Slate, there is already data to show that educational technology, which is often intended to level the playing field, is worsening the achievement gap between poor and rich students in some places.
Not Everyone Can Pay
Still, there's hope. Schools like Rocketship and Silicon Flipped are tuition-free, public schools that offer innovative, tech-savvy models and expose children of color and children from low-income communities to technology early and often. Rocketship is similar to the AltSchool method in that it works to individualize the learning process as much as possible for children. I recently visited one of the Rocketship elementary schools and saw dozens of first and second graders working through individualized computer programs. Rocketship uses a variety of programs when students are in the computer labs, including software-based platforms like iReady and ST Math, both of which adapt to learners as they go. ST Math uses games to improve and assess student learning and iReady can provide significant data for student growth as students answer questions on various subjects. And they've seen serious results. Rocketship's San Jose schools have been performing in the top 5 percent of schools in the state, and many other schools are following in their stead. Carpe Diem Collegiate High and KIPP LA's Empower Academy have similar models with strong results. There's nothing wrong with a price tag on life-changing technology and powerful educational resources but the truth is not everyone can pay for tools and access. Even tuition-free public schools like Rocketship raise funds and accept donations to afford additional technology in their schools. So as organizations, thinkers, teachers, innovators and tech wizards continue to push us forward into the future, I hope we can continue to provide and plan for all kids using these advancements and continuously remind ourselves what's possible for the future of our kids.

Liz Riggs is a writer and educational equity advocate who lives in Nashville, Tennessee.

Photo courtesy of Loudspeaker Films.

Liz
is a writer and educational equity advocate who lives in Nashville, Tennessee.