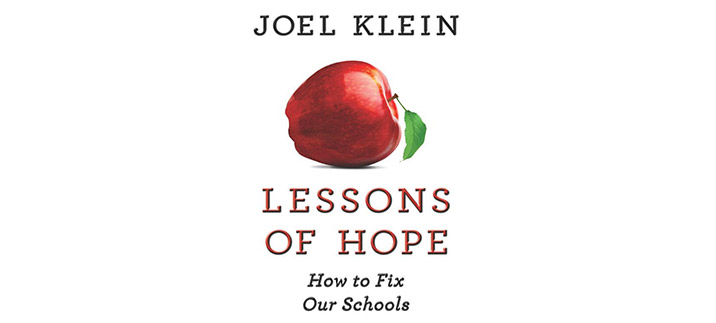 Teachers, How Do You Want Your Bureaucracy?
Editor's Note: Education Post believes that open, honest dialogue among people who don't always agree is a needed step toward finding solutions to our educational challenges. Dmitri Mehlhorn recently submitted a review of Joel Klein's new book, "Lessons of Hope: How to Fix Our Schools," in a larger piece contrasting unions and reformers. Dr. John Thompson, a well-known presence on social media who mostly opposes reforms we support, reached out to engage with Education Post and also submitted a review of Klein's book. We offer them both for your consideration.

Roughly 100 percent of America's 3.3 million K-12 teachers dislike the public education bureaucracy. They generally divide into two different camps, however, on how to fight it. Those two camps might be called "choice-and-data reformers" and "union-sponsored reformers." Choice-and-data reformers want to fight the bureaucracy by promoting choices, such as alternative certification routes for teachers, and charter schools for kids. They also support the use of data, including dropout and graduation rates, safety and attendance measures, and test scores. Choice-and-data teachers are numerous, but tend not to vote in teachers union elections. Union-sponsored reformers, by contrast, oppose choice-and-data reforms. Instead, they seek substantial increases in taxpayer funding for neighborhood social services and teacher professional development. New York City has served as a test bed for both theories of reform, giving teachers an opportunity to observe them in practice. From 2002 to 2010, the choice-and-data approach was taken by Chancellor Joel Klein, who describes his experiences in the book " Lessons of Hope: How to Fix Our Schools." The union-sponsored approach is underway today under Chancellor Carmen Fariña.
A First Taste of Bureaucratic Inertia
Klein experienced bureaucratic inertia early in his career, when he taught sixth grade mathematics in Queens. Klein asked for permission to work with the students' parents after school to help them understand what their children were learning. The response back was: "If you do it, the parents will expect the other teachers to do it, and they won't want to, so they will resent you." This same deadening impulse met Klein decades later when he became Chancellor in New York. As he recalls, "The guiding principle was that rules, rather than trust, were the best way to run a school." On his first day, Klein asked about a light on his phone. A secretary from the previous administration answered: "Oh, ignore that. It's just an angry parent. If we leave it on hold long enough she'll go away." Schools in poor neighborhoods did poorly under this regime. They suffered thousands of violent crimes, atrocious dropout rates, and decrepit buildings with major plumbing problems.
Leveling the Playing Field
Wealthy neighborhoods, by contrast, made the system work. Current Chancellor Carmen Fariña provided an example of this when she served in the 1990s as principal of a public school in the city's richest neighborhood. Then-Principal Fariña set up a selective admissions process, whereby students had to apply and interview to get in. Only 1 out of 7 who applied were admitted. Fariña also replaced 80 percent of the teachers at her school. Teachers and students pushed out of this school had to find spots elsewhere. As Chancellor, Klein was responsible for the entire system, so he did not have Principal Fariña's luxury of picking his students. Nor could he follow her lead in pushing out 80% of the weakest teachers; between 1997 and 2007, under the union rules in place, only 0.008% of the teaching workforce was fired for incompetence. Most teachers who were disciplined for incompetence, excessive absence or abuse through due process hearings were returned to the classroom. Klein's only choice, therefore, was to level the playing field with choice and data. As his first order of business, he and his team (including consultants) conducted individual and joint interviews of fifty thousand New Yorkers, mostly parents. His team implemented a high school choice system whereby all students ranked their schools in a transparent process. If the union contract required "excessed" teachers to be given new jobs, those teachers would no longer be pushed into the poorest neighborhoods. And, where possible, jobs would be assigned based on merit. These steps provoked furious backlash from the politically powerful interests who knew how to work the old system. Wealthy New Yorkers asked for specific student, teacher, and principal placements, and reacted with rage when Klein demurred. For example, Klein met early in his tenure with three principals from the East Side (where Fariña had served as a principal). These principals told Klein that the worst thing he had done was "sent us excessed teachers from another school." When Klein responded that the contract required him to give those teachers jobs, the principals said: "In the past, we never got the excessed teachers, because everyone knew our community wouldn't tolerate them." Klein asked whose kids deserved those teachers, and the principals answered: "That's your problem. Just don't send them to us."
Withstanding the Backlash
These forms of backlash—furious parents, politicians, principals, and teachers—are to be expected of a bureaucracy threatened with change. In another district, Klein would have been fired promptly. Instead, Klein's sponsor—Mayor Michael Bloomberg—had the personal financial resources and belief system to withstand the backlash and back Klein. Klein served as Chancellor until 2010, and his reforms were continued until 2013. By then, crime and dropout rates had been slashed, student results had improved, and many important initiatives were still being implemented. Upon Klein's departure in 2010, scholars from Harvard, the University of Virginia, and Research Alliance for New York City Schools weighed in on Klein's tenure. They concluded that his reforms had significantly improved teacher quality in high-poverty schools, and had significantly improved student academic performance compared with a control group of students elsewhere in the state. The benefit of distance makes results under Klein look even more impressive. Within the past month, two rigorous, gold standard studies showed that Klein's controversial decisions to close failing schools and experiment with new approaches delivered gains in poor kids' college enrollment and compensation for individual teachers. Fast forward to today, and the union-sponsored reformists have an ally in new Chancellor Carmen Fariña—who had previously navigated the system as a Principal on the Upper East Side, and who had previously served for 22 years as a public school teacher. Her sponsor, new Mayor Bill de Blasio, wholeheartedly endorses the union-sponsored education agenda, and opposes the choice-and-data reforms.
Coherent, Bureaucratic Reform?
So, what does that mean in practice? The union-sponsored agenda has clear goals outside of K-12 bureaucratic reform, new initiatives in areas such as poverty, hunger, violence, illness, and poor parenting. Already, de Blasio and Fariña have appointed the talented and highly regarded Rich Buery to supervise a new preschool program. Union-sponsored reform also means lots of additional money into the existing system. One of de Blasio's first acts was to agree to a $5.5 billion, nine-year contract with the United Federation of Teachers, which included retroactive raises, future commitments, and unspecified future savings, backed by the city's reserve funds. What remains unclear, however, is whether the union-sponsored camp under de Blasio and Fariña has a coherent, proactive vision of bureaucratic reform. The early indications are not promising. Union reformists talk about teacher collaboration, professional development, and best-practice sharing, but one of the few charter schools in New York City actually run by the union is performing poorly and may be shut down. Even the left-of-center New York Times has editorialized that: "Mr. de Blasio seems almost fixated on distancing himself from Mr. Bloomberg. In doing so he robs himself of a useful reform tool." Since virtually all teachers hate the bureaucracy, they should demand a coherent strategy to make the bureaucracy less onerous. De Blasio and Fariña clearly lack such a strategy. The question for the unions is whether union-sponsored reforms have worked anywhere, in any city or state, to make the bureaucracy more responsive to teachers, parents, and students, especially those without political power.

Dmitri Mehlhorn is a parent and school volunteer, as well as a Democratic donor and activist. He is a member of several boards, including that of StudentsFirst and several early stage companies, and he was a co-founder of Hope Street Group. He has earned degrees in political science, education policy and law from Stanford, Harvard, and Yale, respectively.