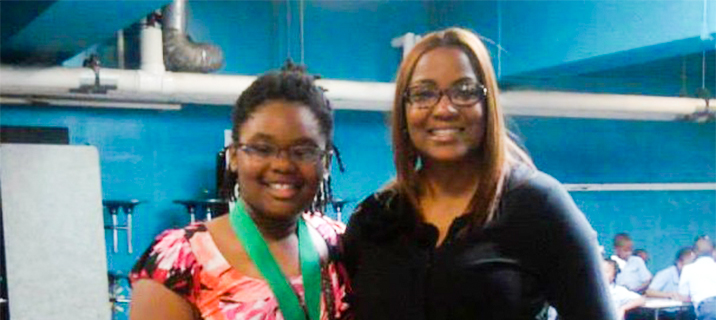 Rethinking Education in New Orleans: A Principal Charters a New Course
This summer, Chris Stewart spent a month in his hometown of New Orleans, where he spoke to the city's parents, activists and educators about the state of the public schools 10 years after Katrina, and where the city's schools are going in the next 10.
Rene Lewis-Carter is a native New Orleans educator with over 23 years of experience. Before Hurricane Katrina, she worked in Orleans Parish schools as a teacher, instructional coach, assistant principal and principal.
After the hurricane, she wanted to rebuild her community and provide a caring environment for students deeply traumatized by the devastation.
She became the founding principal of
Martin Behrman Charter Academy of Creative Arts and Sciences
in 2005 and built her school culture from scratch. She relished the challenge, but it forced her to rethink everything about how schooling is done.
Since then, Behrman Charter School has become a star among open enrollment elementary schools getting high marks for performance. Behrman's student population is 95 percent black and more than 90 percent low-income,
and doing well academically
.
Her hard work hasn't gone unrecognized. She is the 2016 Middle School Principal of the Year for the State of Louisiana, a first for any charter school principal.
Below is an edited transcript from an interview with Rene Lewis-Carter.
Let's talk a little about what our black children need. Many people in the United States argue that because children are poor and black that we can't expect schools to get results for them.
Lewis-Carter:
I absolutely refute that thought. When I took on the challenge of coming here to Martin Behrman Charter post-Katrina, I vowed that the children that I served would not be judged because they were in a building that was old and antiquated. I believe in the potential of our children. I've never had the opportunity to pick and choose who it is that I'm going to educate. I simply educate every child who walks through the door.
Our job is simply to take them from where they are to where they need to go. We're not a wealthy school, but we live like we are. The children believe that even though this building is antiquated, it is the very best building, that these floors are the shiniest and that the uniforms that they wear are the best, that they have the best teachers and they know that I treat them like kings and queens believing that they are going to reach high and meet that expectation and surpass it.
What did you do before?
Lewis-Carter:
I was a principal at Harriet Ross Tubman Elementary School, but that school did not open post-Katrina because of some damages, so I took over this school.
What's the difference between the educational context now and then?
Lewis-Carter:
Our city, our educational system was exposed to the world as a result of Hurricane Katrina. For me, it was a challenge. I saw it as an opportunity to get this thing we call education right.
I had the autotomy at that time to hire the very best teachers. I decided to hire veterans. I was not looking for young idealists.
I wanted people who had that Katrina experience who were eager, who were hungry, who knew what education was supposed to look like and who were ready to teach. I had the autonomy to pick and choose programs and curricula and services that best fit the needs of the children. If those things did not work, as the principal of this charter school, I could get rid of them. With that autonomy, of course, comes a whole lot of accountability, but I had the freedom to do what I needed to do.
What was it like in the earliest days after Hurricane Katrina?
Lewis-Carter:
[Before Katrina,] New Orleans was very territorial in terms of schools. You educated the neighborhood children, so it was amazing to me to see that I had children from the Lower 9th Ward here with children who had been here in the 15th Ward and who were here in the 3rd Ward. We were all here together, and I found that to be amazing.
We had children who had been expelled. We did not have a system to deal with mental health. We did not have systems in place to deal with families, six families living in one house. As our community always does, it looks to the black church and it looks to the school to make those things happen.
My church happens to be a block from this school, so I pulled on all of those resources. Just as the city was going through a lack of housing, health care and mental-health services, we experienced the same things here. We actually became the hub of the community.
Very long days?
Lewis-Carter:
Very, very long days. What I wanted was the children to go home and tell their parents that they wanted to come back the next day. That's how I judged my effectiveness. I needed them all to come back because there was no one tracking whether they were in school or not in school. I just needed them all to come back, and they did.
I try to get all the resources that I can here because I know if I bring them in here that we can meet the needs of our children. But it troubles me when I have to give a troubled family a referral to go someplace.
What are the type of things that they need?
Lewis-Carter:
Housing, legal help. When the son is in jail, mom's focus is certainly not on the children who are coming here. Utilities need to be paid. I mean the gamut—medical, everything.
You do offer some services here already.
Lewis-Carter:
We do offer services in terms of being able to bring services in that can help those parents. Services in terms of housing and parents who may be homeless. Those things continue to pose challenges.
Do you have any mental health services or counselors for students?
Lewis-Carter:
I do have a school counselor. I do have a social worker who fit into that role, but every adult in this building is responsible for every child in this building. It is our responsibility. The onus is on us to make sure that those children do not go unnoticed and to do our very best to pair them with the resources that they need.
You hear about authoritarian practices and discipline. How do you differentiate what you do from those schools?
Lewis-Carter:
First of all, they're children. Their days with me in terms of behavior may not necessarily define who they're going to be as adults. My job is to shape that behavior, not in a punitive way, but in a loving and corrective way. We do have rules. We do have guidelines, but I do not believe that rigidity is necessary. We are a school of creative arts and science.
You still must get some of the side eye about running a charter school.
Lewis-Carter:
You know, I have not, and I think it's because I look beyond charter. I service children, and that's what I do. I happen to be in a charter school. I believe that I have an advantage because I have seen both sides, and I have been able to have some experiences that some of my colleagues who are working in traditional schools have not had.
You went through rough early days. Has it become more normal or is there still a transition happening?
Lewis-Carter:
There's always going to be transition. We're moving into our 10th year, so we're very reflective about where we want to go. We want to do even greater things, so we're always moving. It pushes me to become better, to become a better educator, to learn more, to do more, to find those best practices. I don't know if it's ever going to get there. We're not in the stormy stage, but…
It's still moving.
Lewis-Carter:
It's still moving. Results still matter. It's about doing the very best that I can do for children, and I happen to be in a charter school. We continue to be under resourced. Every phenomenal person in the world, be it an engineer, doctor, lawyer or scientist, has been touched by a teacher, but we continue to be under resourced. We need to place the resources where it matters most so we can continue to affect and touch every great human being in this country. I do believe that.
Chris Stewart is Director of Outreach and External Affairs at Education Post.
Photo courtesy of SecondLine Blog.