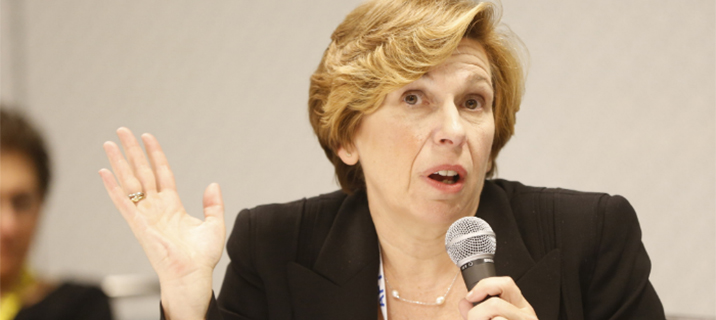 Really, Randi? This Is What You Want to Ask the Candidates?
The first major presidential debate for Republican candidates was last week, and though there were plenty of stories coming out of it, few had to do with education. Other than a brief exchange regarding Common Core between Jeb Bush and Marco Rubio, substantive discussion of education issues didn't come up.
Most folks in education circles probably figured this would be the case, but we still needed to push to insert the topic of schools into the debate. After all,
there's a lot to talk about.
If You Could Choose One Thing...
Each issue has a champion jockeying for position, but one in particular caught my eye.

Randi Weingarten, president of the country's second-largest teachers' union, chose to make

for-profit colleges the priority issue

for the debate. As she tweeted about it throughout the lead-up to the debate (even launching a website), I grew increasingly perplexed.

https://twitter.com/rweingarten/status/629401504701493248 https://twitter.com/rweingarten/status/629401195921014784 https://twitter.com/rweingarten/status/629019013247467520

Sure, for-profit colleges are a big problem. Thousands of students are being ripped off, and there's not much accountability for these schools.

But if the American Federation of Teachers (AFT) were really going to take on issues in higher education, you'd think they would want to start with colleges of education, which are doing a

pretty lackluster job

of preparing future teachers to be successful in the classroom, and the fact that

states are doing little to hold them accountable

. Wouldn't the organization that represents teachers want to first press candidates on

what they plan to do

about postsecondary institutions taking hard-earned money from prospective teachers without ensuring they can provide high quality instruction?

Or how about asking candidates what they can do to

support states

and teacher preparation programs in diversifying the teacher workforce so that

more students of color are being taught by teachers who look like them

?

But what really surprised me about Randi's push was that it ranked as a priority against the backdrop of so many other pressing issues in our K-12 public education system.

We need presidential candidates of both parties to tell us their plans and their policy priorities for improving our public schools. Here are just a few alternatives that are more deserving of greater attention:
ESEA ReauthorizationThe Elementary and Secondary Education Act (ESEA) is up for reauthorization. Both chambers of Congress passed their own versions of the most important education legislation of the past decade, and

all eyes are now on the conference committee

and whether the President will sign it without more rigorous accountability provisions. How is this not the AFT's top question? Is it because Randi doesn't want to draw attention to the

unusual alliance

between union leaders and congressional Republicans, and their divide with traditional democrats and their civil rights allies?

Higher Standards and Common CoreIf there's any issue Republicans have talked about recently with respect to education, it's Common Core. The push for higher standards has been a contentious fight for the past two years (after relatively quiet adoption of them by 46 states just five years ago), and the major GOP candidates themselves have held a

variety of views

on the subject. The national unions have stayed on board with Common Core generally, while using the fight over the standards to talk about testing. Yet Randi passed on the opportunity to

push candidates to explain their positions

.

Federal, State and Local ControlAt the heart of the battles over ESEA reauthorization and Common Core is an ideological debate over the roles of federal, state and local governments in education. Maybe it's understandable that the AFT didn't want to wade into those waters, but understanding where our political leaders are on this issue is foundational to answering questions regarding school accountability, funding and choice. Show me a critical issue in education today that doesn't involve untangling this mess.
But You Know, It's Not About Me
That some students have access to greater educational opportunities because of where they live is a tremendous injustice. There have been many proposed solutions to the problem over the past decade, like greater accountability and transparency regarding student achievement, expansion of school choice so that families' options are not limited by where they can afford to live, and weighted student funding that provides a greater share of resources to students with greater needs.
Better data and tools may help us understand the root of this problem
in greater depth than before, so shouldn't we be asking the presidential candidates how they will expand educational opportunities to all students?
The list of other topics goes on, but my point isn't to highlight that Randi didn't choose one I liked. Rather, with so many truly urgent challenges facing our public schools today, focusing the conversation on for-profit colleges seems akin to holding up a shiny object, a cheap device designed to distract from the harder issues.
Presidential elections only come around every four years and there is a lot of competition for the policy spotlight. Can we really afford to misdirect it?
Eric Lerum has been working on public education issues for over a decade. Most recently, he led the policy efforts at StudentsFirst as the vice president of national policy.

Eric Lerum is the vice president of growth and strategy for America Succeeds, where he leads the organization's efforts to amplify the business leader voice in support of improving public education. Eric has over a decade of experience in strategic planning, partnership development, and advising state and local policymakers regarding public education issues. Most recently Lerum led the policy ...