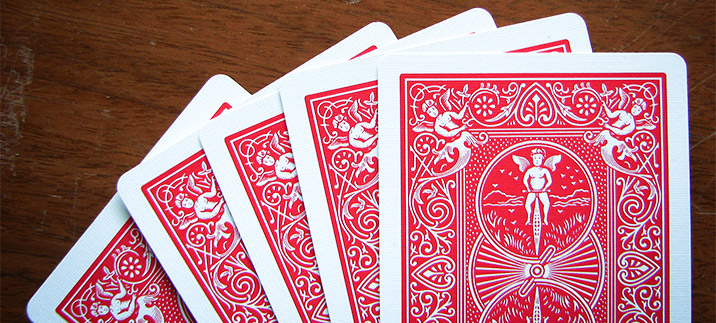 Who Is Really Playing the Race Card?
Peter Cunningham is the executive director of Education Post, a former assistant secretary of education (2009-2012), and a "friend" of Mike Petrilli and Rick Hess.

I'm no dog, but this whistle makes my ears hurt. In the pages of a conservative news magazine, two white beltway policy wonks accuse their "friend," a black education advocate, of playing the race card in a Daily Beast column. His crime is reminding people, as Congress begins updating the federal education law known as the Elementary and Secondary Education Act (ESEA), of America's history of discrimination and inequity in public education and the need for federal oversight. By almost every measure, children of color lose in our education system. Minorities have less access to rigorous courses, less effective teachers, more punitive discipline practices and lower test scores. Their schools get less funding, and they are less likely to graduate high school, go to college and earn a degree. It's hard to argue that reducing the federal role to handing out checks with fewer strings attached will improve any of these outcomes. Of course, some states and districts will do right by these kids, but some won't. It might come as a shock to some liberals that the author of the Daily Beast article, Stand for Children Executive Director Jonah Edelman, is described as a "liberal school reformer," by Mike Petrilli of the Thomas B. Fordham Institute and Rick Hess of the American Enterprise Institute. Stand for Children has pushed a range of thoughtful, evidence-based reforms, including many that liberals oppose and that conservatives like Petrilli and Hess support. Perhaps that's why Petrilli and Hess feel compelled to tell their readers that Edelman is the son of well-known and well-respected civil rights advocates. The apparent implication is that, despite his "laudable work," in their words, irredeemable liberalism is somehow part of his DNA. The National Review piece includes the usual right-wing noise about "federal micromanagement of schooling," blaming liberals and Democrats for "a stifling, rule-driven culture." They don't even acknowledge the current Democratic administration's efforts to provide over 40 states with flexibility from the overly prescriptive No Child Left Behind law that Petrilli and Hess both helped shape. They also neglect to mention that it was President George W. Bush who thoughtfully introduced the topic of racial inequity to a political party that too often pretends it doesn't exist by lamenting the "soft bigotry of low expectations." They accuse Edelman of failing to appreciate "How often federal bureaucrats have gotten it wrong—and put in place laws and regulations that have gotten in the way of smart, promising reforms at the state and local level." Perhaps, but let's look at public charter schools, which originated in states a generation ago. Today, there are more than 6,000 charters in over 40 states serving about 2.3 million kids. Or look at the Common Core State Standards. They also began at the state level and are currently in place in 43 states and a growing majority of teachers feel prepared to teach them. It's especially dispiriting to see them parroting false Tea Party talking points by accusing the Obama administration of "dictating state reading and math standards." It's not even close and they both know it. On it goes. Efforts to evaluate teachers based in part on whether students are actually learning are "half-baked," even though some places that adopted these policies, like Tennessee and D.C. are getting some good results. Moreoever, everyone agrees, including teachers unions, that older systems of evaluation did not work. They question federal oversight as a force for racial equity by mocking the notion that, "Only Uncle Sam's watchful eye will ensure that poor and minority kids will get a fair shake." Are they suggesting that if Uncle Sam looks the other way, minorities will get an even fairer shake? I am pretty sure the people advocating for criminal justice reform in the wake of recent police killings of black men would disagree. They further accuse the U.S. Department of Education of embarking on an, "ideological, deeply harmful crusade" by exposing racial inequities in school discipline practices. Harmful? To whom? The correctional industry? Finally, they just dump the whole wheelbarrow of right-wing sludge onto the sidewalk when they write, "The real issue is…that the federal government is destined to mess up whatever it touches in education." Hmm. Land grant colleges? The GI Bill? Pell Grants? Broadband access to schools and libraries? Transparency under NCLB? Support for charters? Innovation grants? And yes, Race to the Top, an Obama administration program that offered incentives, not mandates, to adopt needed changes—something conservatives should love if they were not hating on all things Obama. In recent days, reasonable voices across the political spectrum have—to one degree or another—endorsed basic principles of federally-mandated transparency and accountability. That includes civil rights organizations, the Business Roundtable, the organization representing top education officials in all 50 states, the head of the National Alliance for Public Charter Schools, the Center for American Progress, the American Federation of Teachers, and the ranking Democratic member of the U.S. Senate committee in charge of education, Washington's Patty Murray. Downplaying America's history of educational inequity sends a message to local control extremists that we just want to get the federal government out of your hair and free you up to do whatever you want. Today, "whatever you want" includes states under-funding public education, avoiding hard choices in low performing schools, and giving middle-class schools a pass on achievement gaps for students at risk. So the question is, who really played the race card—Jonah Edelman or Mike Petrilli and Rick Hess?

Peter Cunningham is the founder of Education Post and serves on its board. He served as Assistant Secretary for communications and outreach in the U.S. Department of Education during the Obama administration's first term. Prior to that he worked with Arne Duncan when he was CEO of the Chicago Public Schools. Peter is affiliated with
Whiteboard ...