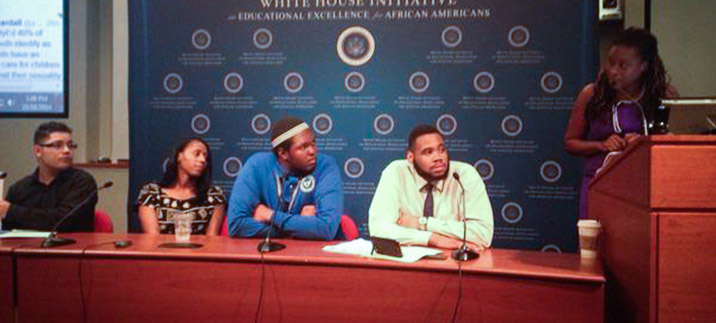 Philadelphia Proves Education Leaders Need to Be as Smart as Our Youth
I spent a few days in Philadelphia recently trying to understand the issues that have their public schools in chaos. I devoted time to hearing from adults—teachers and district staff—and a day listening to students. The contrasts between how adults and teens see Philadelphia public schools might as well place them on two separate planets. The high school students, who gathered to offer their true stories and suggestions to make schools better, displayed honesty, courage and imagination in their exploration of how to create an education system that supports their dreams of completing college. Then, there was the adults. I attended the School Reform Commission's first public meeting after that governing board had unilaterally altered their contract with teachers' by raising their contributions to health coverage. Outside district headquarters was the predictable sea of union redshirts, bullhorns and homemade signs. Inside, the SRC meeting was loud and embarrassing. Maybe it's my Midwestern expectation for decorum, but the meeting was a perfectly opprobrious example of how far adult relationships and the system of public education can deteriorate. Red-faced teachers shouted down anyone they disagreed with, including parents and community members. Stoic police officers in bulletproof vests lined the walls. And, members of the SRC sat imperially and disconnected at the front of the room collecting every manner of insult from their employees. As I watched these spitting-mad people lather themselves into a hostile mess it occurred to me that I wouldn't allow my children to be anywhere near their classrooms. Nor would I bring my kids with me to what should be the safe civic space. That's a shame. My takeaway from that meeting was this: "If this is the collection of grown folk in charge of the major system of child development in Philadelphia, God help us." As much as that experience deflated and disturbed me the trip was abruptly turned around by a wonderful day at the White House Summit on Educational Excellence for African Americans at Pennsylvania State University. Led by David Johns, Executive Director of President Obama's major initiative to improve black educational outcomes, this was the education discussion I've wanted to see—one where youth take center stage. At the outset of that day Johns made the whole crowd stand together and say, "I have never met a black child who isn't a genius." That Asa Hilliard quote framed for us an expectation that raised the bar and decoupled our aspirations for children and our community from the rotten politics that too often overcome our better selves. If the SRC meeting had been the gutter, this summit was higher ground. Several panels gave students a platform to tell their own stories and to do some rapid prototyping of better performing schools. Staff from the Center for the Study of Race and Equity in Education at Penn State were on hand to capture and organize the student recommendations, which in turn will be given Philadelphia's Mayor Michael Nutter. Here is their elegant prescription for better schools: teachers who are passionate enough to push their students, monitor them and encourage them to overcome all obstacles to college. That, and school work that is relevant to their lives and to their cultural heritage. A big surprise for the audience was that students expressed a deep desire to have adults who are invasive in their lives. They want to be pushed by caring people who stay on top of them. They are tired of being insulted with low expectations. In keeping with recent research suggesting teachers expect too little of black and brown students, the student panelists shared many stories of being underestimated by their teachers. The theme was consistent: Students believed they could succeed not because of but in spite of their educators and schools. At one point Johns asked the audience to raise their hand if they ever experienced educators who lacked belief in their abilities. Nearly all hands went up. "I've been told before that I wouldn't be anything," said Emmanuel, a bright student panelist, adding that his eighth grade teacher told him he doubted he would graduate high school even though he had good grades. "You need teachers to build you up." Another student, Alilyah, recounted a teacher who recommended "hair school" as her best post-secondary option. The student's response? "I feel like [teachers] automatically lose hope. I just feel like another statistic. I'm capable of doing bigger things." Brandon, a student benefiting from access to a Jesuit school spoke of a teacher who gets it right: "He breaks his back every class to help us understand the material. Even though I'm one of 130….if a student doesn't understand something it isn't the student's fault, it's the teacher's fault, and he takes full responsibility." And parents weren't off the hook. When asked what they should do to help their children succeed, the answer was remarkably simple. "I think parents need to hold their kids at night, talk to them, listen to them, check in from work or text them or cheer them on," one student said. Another said: "Be an example of the person you want us to be." Jamira Burley, executive director, of the Philadelphia Youth Commission, said adults need to know "they can change the trajectory of a young person's life." It seems to be a lesson completely forgotten by the sad group of individuals that packed the SRC board meeting two days earlier. They seem too interested in screaming over each other to notice the kids lost in the shadows of broken government. It's obvious to me that the youth of Philadelphia are gifted, bold, resilient and determined to make something great out of their lives. I should add beautiful as well. If we truly love them we will fight to get them the schools they deserve by demanding better leadership at all levels.
Chris Stewart is the Chief Executive Officer of
brightbeam
. He was named CEO in April 2019, after formerly serving as chief executive of Wayfinder Foundation. He is a lifelong activist and 20-year supporter of nonprofit and education-related causes. In the past, Stewart has served as the director of outreach and external affairs for Education Post, ...