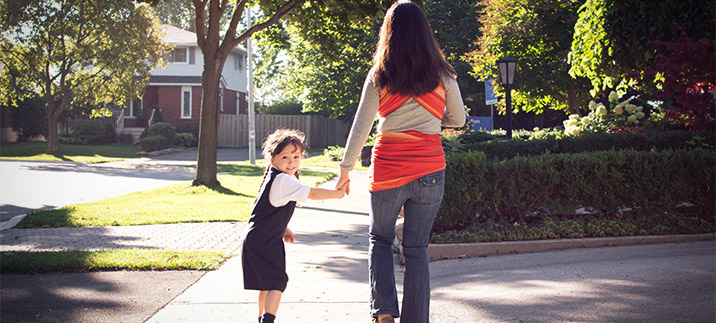 Parents Are 'Powerful Partners' in School Improvement
"I came here to work hard, so that my children will have more opportunities than I've had, and so they will have a better life." —Parent participant in the Abriendo Puertas/Opening Doors program An engaged parent can be a powerful force for good. Some of the bravest parents have set precedents that changed laws. In 1947, nearly a decade before Brown v. Board of Education, Gonzalo and Felicitas Mendez and four other California parents successfully challenged the notion of "separate but equal" schools for Mexican-American children. Mendez v. Westminster resulted in the first ruling by a federal court that segregated schools were unconstitutional and California became the first state to outlaw school assignment on the basis of race. Although schools segregated by race are unlawful, parents, policy makers and advocates continue to battle inequity in public education. According to the most recent data from the National Center for Education Statistics, 60 percent of Latino students and 55 percent of African American students attend segregated schools; 37 percent of Latino children and 50 percent of African American children attend schools where the majority of students are low-income. Recent census reports confirm this demographic trend: As of 2014, most public school students in the United States are low-income and children of color. Propelled mostly by the rapidly growing Latino population, these shifts have major consequences for our public education system, because we know that children in high-minority, low-income schools have higher teacher turnover and fewer resources, including dollars. Budgets are value statements. Some recent state and federal laws and regulations recognize the importance of including parents in educational reform. The U.S. Departments of Justice and Education recently released guidelines for school districts to insure that parents of English learners and non-English speaking parents are fully aware of their rights and responsibilities. Abriendo Puertas/Opening Doors is working to see that parents are aware of this vital information. There is growing interest in efforts that focus on the needs of both children and their parents and can move the whole family toward educational success and economic stability. Researchers have found that schools that welcome parents by building a foundation of trust and respect and encouraging questions and engagement around their children's learning are more likely to see higher student achievement. When parents have access to high quality parent engagement programs—which go well beyond attending PTA meetings and contributing to bake sales—they are more effective. The Abriendo Puertas/Opening Doors parent leadership program is designed to acknowledge and honor parents' deeply held aspirations for their children, demystify school readiness and promote parent leadership and advocacy. The curriculum, created in conjunction with parents, uses popular education methodology that respects and builds the knowledge and life experiences of each participant. Through art, drama, music, folk wisdom and storytelling, participants are engaged and the learning content made easy to understand and meaningful to their everyday lives. Recognizing that you can't change what you don't acknowledge, the Abriendo Puertas curriculum provides parents with key local school data on reading and math and outside resources to support their role as family and community leaders. We find that bringing research off the shelves and presenting it to parents in accessible and actionable ways inspires them to want to learn more about everyday activities such as talking, singing, counting and reading to support their child's optimal development. Parents grow the confidence to become vocal advocates for change in their communities, often with lasting consequences. Saber es poder. Knowledge is power. In Albuquerque, New Mexico, 200 Partnership for Community Action-Abriendo Puertas parents participated in an Early Childhood Education Day of Action at the state capitol, advocating for more home visits and access to early education. Reflecting the parents' newfound sense of empowerment, one mother said the day "allowed me to see how much influence I can have if I get involved. I know that my opinion counts and how it can make a difference." Similarly after completing the AP program, a Farmington, New Mexico, parent also found her voice: "I have a new awareness and knowledge that not only helps me, but others as well….I now know about different school services, what a child should be learning developmentally, and how to fight for someone's rights." Parents are our country's unsung heroes, shouldering the most awesome responsibility of all. And regardless of their level of education, first language or economic status, parents' dreams for their children are the same: they seek a better future with greater opportunities. All parents have the right to count on a quality education for their children and a welcoming environment at school. Little by little, we are seeing improved educational outcomes. Graduation rates in the U.S. are at a record high 81 percent. Low-income minority children are enrolling in pre-schools at higher rates as state budgets increase dollars for early education. Deep discrepancies remain, however, and parents are a critical part of the solution. When parents are well informed, they are powerful and important partners for schools and other social systems. At Abriendo Puertas, we know that armed with confidence, tools and knowledge, parents are the obvious and best advocates for their children, and their voices must be welcomed and heard.

Sandra Gutierrez is the Founder and National Director of Abriendo Puertas/Opening Doors. Prior to her work with Abriendo Puertas/Opening Doors, Gutierrez developed a series of training programs to support children and families involved in the child welfare system for Parents Action for Children. She brings over forty years of experience with legal, children's advocacy and community service organizations.

Sandra Gutierrez is the Founder and National Director of
Abriendo Puertas/Opening Doors
. Gutierrez led the development of Abriendo Puertas/Opening Doors, the nation's first evidence-based, comprehensive training program for Latino parents with children from birth to age five. Prior to her work with Abriendo Puertas/Opening Doors, Gutierrez developed a series of ...