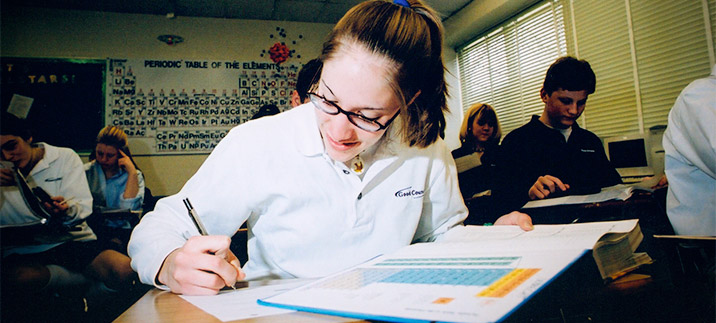 Opting Out of Opting Out
In recent weeks we have seen increased efforts on the part of some to encourage parents to opt their children out of upcoming standardized tests, which have begun in some states and will be happening in all of them shortly. Countless common sense voices have pointed out in recent weeks that testing is nothing new and it's a part of life. The new tests that have been developed by states will tell us more than ever before about where kids stand and what it will take to prepare them to succeed. They will also enable school systems to reduce unnecessary assessments that are fueling some of the resistance to testing. So let's join and elevate the following voices and stories. We've Officially Lost Our Minds Over School Testing Beth Kassab of the Orlando Sentinel describes how "the opt-out movement has officially jumped the shark." She writes:
Standardized tests in school are no more worthless than taking your blood pressure at the doctor's office.
New Jersey Gov. Chris Christie to Parents: Don't Opt Out of Tests Gov. Christie encouraged parents not to opt students out of CCSS-aligned testing. "We are going to have to test. We need to know where your children stand," Gov. Christie said. "The further education gets away from the community, the tougher it is for parents to have an impact on it and the less reliable I think it's going to be." New Jersey began administering CCSS-aligned exams this week and some districts report high numbers of students refusing to take the assessments. Our View: Opting Out a Poor Way to Push for School Testing Change Portland Press Herald in Maine explains how opting out is the wrong way to force the improvements necessary to make sure the tests are a true gauge of how well our schools are preparing students. Teacher Sees Benefits of Common Core Playing Out in Classroom: Angelle Lailhengue Angelle Lailhengue, a Louisiana teacher, says the new tests are more aligned with what students need to succeed and they don't require preparation because children are being tested on what has been taught to them. Deborah Gist: R.I. is Ready for PARCC Assessments Gist, Rhode Island's commissioner of elementary and secondary education, says her state has been long preparing for the tests and thus not riddled by the anxiety facing their peers.
Thousands of educators have participated in professional development preparing them for transition to the Common Core. We are now in the third year of full implementation of the Common Core in all of our schools. Clearly, our teachers and students should be—and are—ready for PARCC assessments.
An Illinois suburban superintendent: Embrace the concept of the 'common good' Albert Roberts, a veteran educator who leads an elementary district in Oak Park, says he is a little perplexed by the fervor of parents who want to opt out of the new PARCC tests, especially because the pushback seems to be coming from families whose students generally do quite well on tests. "I don't understand the extreme sense of urgency here. We will learn a great deal from this test and, as a result, be better prepared to build even more relevant and meaningful learning activities for the coming year. Without an objective measure, we lose a big piece of the puzzle," Roberts told Education Post. "Yes, many of our students are achieving at high levels, but I believe they can be achieving so much more. I understand parents want their youngsters to have a carefree and stress free life, but developing the skill set necessary to compete in a technologically advanced and globally interconnected world should not be optional." Suburbia and Its Common Core Conspiracy Theories The Atlantic took the time to debunk several Common Core conspiracy theories and addresses the alarmist tendencies of social media. N.J. PTA, Principals Launch PARCC Website to Answer Questions This story in True Jersey explores a website created to provide answers to frequently asked questions and identifies the best ways to support students as they take PARCC. An Open Letter to Parents on PARCC This letter from New Jersey Commissioner of Education David Hespe expels myths and explains the many benefits PARCC has for students, families and schools. Beware of Overreaction: Backlash Against Standardized Tests Could Impede Gains in Education This editorial in Columbus Dispatch states that "standardized testing is one of the foundations of making schools better, but it is under attack in Ohio." It encourages lawmakers to not listen to the minority voices of the opt out movement and instead stresses that "getting testing right is difficult, and the attempts so far aren't perfect. But the legislature's priority should be to work in concert with the Department of Education to make them better. It should not be to undermine them." Opting In: I'm a Parent Who Supports Testing Greg Harris writes about why he supports annual testing for his kids in Ohio. 'First Vaccinations, Now It's the PARCC Test' Laura Waters writes about an editorial from the Press of Atlantic City (not exactly pro-reform) coming out in favor of moving forward with PARCC. Groups Battle Over Student Testing in New Jersey
"Good instruction leads to good test results," says Superintendent Stephen Cochrane. "We don't emphasize test prep. We emphasize critical thinking and good writing, and that leads to good results on PARCC or any assessment."
Parsippany Schools Superintendent Speaks About PARCC Concerns Yet another piece from a superintendent trying to dispel rumors and doing what's best for students. Take Testing to Heart—It's a Key to Student Success This Washington state superintendent gives a background on Smarter Balanced and its role in her district and how it will benefit her students. D-109 Will Administer PARCC Exams: Superintendent says district plans to prepare students for state-mandated test "Our business is in the science of learning and child development, therefore, assessments play a pivotal role in quantifying and qualifying the learning process," Superintendent Michael Lubelfeld. "We need to measure student learning to ensure that our children are learning... Testing allows us to ensure that we are meeting our goal to provide a guaranteed and viable curriculum for every child." The PARCC Test / Relax, Folks The author of this piece compares hysteria around testing to the anti-vaccination movement and describes the thoughtfulness that has gone into implementing the assessment. Opting Out OF PARCC and Common Core Standards Is a Dangerous Concept A superintendent of a New Jersey district explores the risks in opting out of Common Core and its aligned assessments, including setting a bad precedent for future opt outs. New Common Core Tests—Coming Feb. 16—Will Test Skills and Reasoning, Not Memorization Educators and other education officials from Ohio spoke about the improved assessment, pointing out that the PARCC test actually tests a student's ability to apply knowledge, rather than just rote memorization and bubble filling. South Brunswick: District is PARCC Ready School administrators told community members at the Board of Education meeting that the students in their schools are ready for PARCC and were doing well. Ocean City Says It's Ready as PARCC Testing Begins Monday The director of curriculum in Ocean City shared the district's readiness at a local Board of Education meeting this week, citing the students' familiarity with computerized assessments and pointing out that PARCC is the "first standardized test that has an accurate correspondence between curriculum, instruction and assessments" Kyrillos: Don't be Fooled by the Noise: PARCC Benefits Kids
PARCC insures parents and taxpayers the best possible outcomes for our children and our future. Not only does PARCC indicate to parents and teachers which concepts their students have mastered or are still struggling to grasp, it also allows them to compare their results to peers across the state and the nation. PARCC gives teachers and administrators detailed, timely reports on each student to help them determine how to improve instruction.
Ann Whalen is senior advisor to Secretary of Education Arne Duncan. Prior to returning to the U.S. Department of Education, she served as the director of policy for Education Post. Whalen has served more than five years in the Obama Administration with the U.S. Department of Education. At the department, Ann was director of the Implementation and Support Unit, providing technical assistance to ...