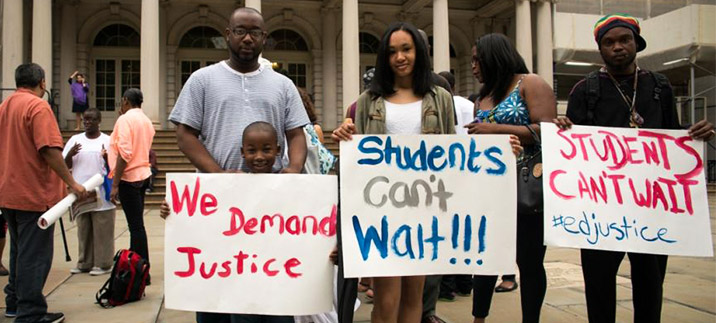 One Mom's Plea: Restore Common Sense to NY Tenure Laws
When a bad law doesn't affect us, we usually don't even know that it exists, let alone that it causes children and families to suffer. However, once we become aware, it's important that we stand with those victims brave enough to put themselves out there to try and change it. Right now, in New York, parents need our voices too. The lens through which I see the education world is twofold: as an educator of ten years and as a mother of three elementary-aged children. I reflect on my most excellent colleagues to inform my idea of all that a teacher can mean to a child. And I think of my own children when there is a question about what students, all students, need and deserve.
Ask Yourself
What would you do if your child's teacher spent much of her days sleeping in a rocking chair while a parent volunteer did her best to "lead" the class? (and you had witnessed it first hand!) (PS 94, The Bronx) What would you do if your son's teacher had sent him 153 inappropriate text messages after 11 pm, had allowed your son to watch pornography in their apartment, and had placed their hand on your son's thigh? (Teacher dismissal case #5317) What would you do if your child's folder came home empty every single day for an entire school year? (PS 94, The Bronx) What would you do if your child's teacher had received three years worth of evaluations from various administrators charging incompetence? (Teacher dismissal case #5158) If you're anything like me, you probably think you'd literally lose your mind and then do anything and everything in your power to protect your child's safety as well as their constitutional right to be educated. Common sense tells us that these teachers must have lost their jobs, right? Wrong. Sadly, common sense is nowhere to be found. Unbelievably, the system, in every single case above, protected the teachers and returned them to the classroom. How can this possibly be? Well, quite simply, because the system is designed to protect adults at the expense of the students they are supposed to serve. Because the system is totally broken and allows the most vulnerable, innocent children, to be hurt. Because New York's state statute 3020a exists. Most of us have probably never experienced a single one of the examples above. We should be grateful for that. I'm quite certain that the overwhelming majority of teachers I've known personally—both as a teacher and as a parent—would be shocked and sickened to read any of the egregious examples I cite from New York's schools. I'm grateful for that too. As with so many American injustices, the issue of education now finds itself in the hands of the court system. In Wright v. New York, nine brave families have decided to challenge New York state statute 3020a because they believe it denies their children their constitutional right to a "sound basic education" by keeping grossly ineffective and even dangerous teachers in the classroom. Oral arguments will begin in the case of Wright v. New York this week. Though I live outside of New York State, I follow this case closely because I want to stand with all of the families who have been hurt by the 3020a statute. I hope others stand with them as well. I'm confident that the teachers in my life, if given the chance, would choose to stand with them too.
What Other Choice Do They Have?
When the system is designed to hurt you, what avenues for change exist? What choice does a parent have when their only school option places their child with a teacher that isn't teaching him or her anything and instead, he or she is regressing before their eyes? How does a parent handle the agony of knowing that their child is in the classroom with a dangerous adult every single day? Parents with money can easily escape a nightmare like this by moving to another school district or by enrolling their child in a private school. But parents who lack that financial capacity are literally trapped in a desperate situation in which, despite their best efforts, no one in power is willing or able to help them. Not surprisingly, low-income children and their families are disproportionately impacted by laws like 3020a. Perhaps, the scariest parts of this case are the claims being made by the defendants—various unions, the New York City Department of Education and New York state—in their request for a dismissal. According to the papers they have filed:
Plaintiffs do not have standing to file this lawsuit and/or haven't shown harm caused by ineffective teachers.
Issues related to public policy matters, such as teacher tenure and dismissal, are matters best left to the legislature and are, therefore, nonjusticiable.
The complaint does not demonstrate that the challenged laws are causing ineffective teachers to remain in the classroom.
It is unconscionable that the powers that be would even imply, let alone state publicly in writing, that there is no evidence of harm caused. Really, no harm? Says who? The New York City school system and all of New York's schools are paid for by the very people they are hurting, the people they promise to serve. These nine families—and all New York families—deserve better. However inconvenient it may be, the state constitution guarantees them that.

Erika Sanzi is a mother of three sons and taught in public schools in Massachusetts, California and Rhode Island. She has served on her local school board in Cumberland, Rhode Island, advocated for fair school funding at the state level, and worked on campaigns of candidates she considers to be champions for kids and true supporters of great schools. She is currently a Fordham senior visiting ...