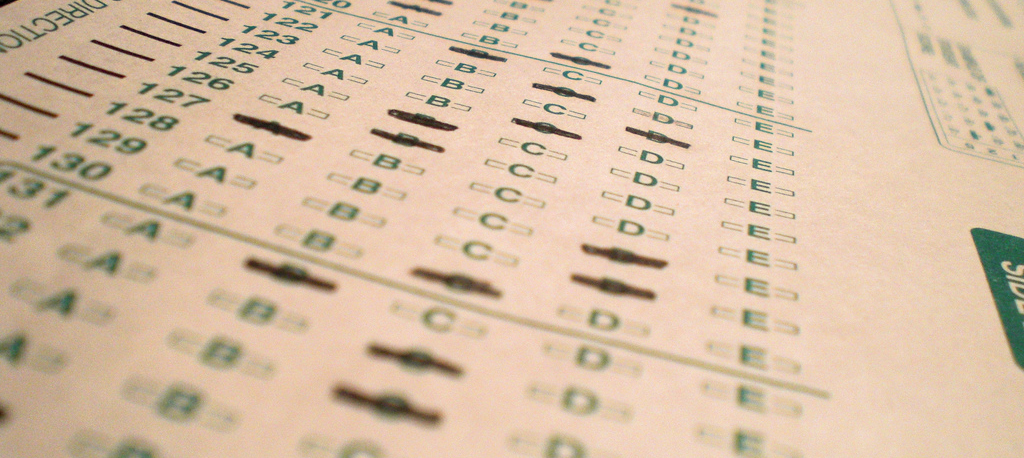 Okay, John Oliver, Let's Put the Test to the Test
There has been a groundswell of responses to John Oliver's latest segment on standardized testing. From feelings of heartbreak to feelings of vindication, Oliver's segment on standardized testing has definitely gotten its share of attention. While many of the recaps have made me laugh and cry about the current polarized standardized testing debate, few have actually talked about the real implications that existed without annual testing and what we risk if we allow rhetoric and anecdotes to dominate the conversation. First, let me clear the air and say:
Yes, there is too much testing today.
No, the current tests aren't perfect.
Indeed there have been some real, unintended consequences to standards-based accountability that need to be (and are being) addressed.
Okay, with that out of the way, let's talk about assessments.
Why Do We Have Standards, Testing and Accountability?
Testing does not, and should not, exist in isolation. We shouldn't be testing kids for testing's sake. Instead, the policy to assess students annually is part of a larger strategy to ensure all kids, regardless of race, have access to high standards, rigorous curriculum and data in order to improve student performance. While significant numbers of children benefited from desegregation, as well as the enforcement of other civil rights laws in education and federal programs such as Head Start, Congress realized in the 1990s that the barriers to obtaining a good education faced by many minority and poor families remained imposing. Low-income children were underrepresented in the more demanding college preparatory track and overrepresented in vocational programs. Further, high-poverty schools often had low expectations for their students, awarding high grades for low-level work. States had differing local standards and without an accurate gauge, like annual standardized testing, schools and school districts could not be held accountable for results. And even though some classroom and local assessments have helped many individual teachers and schools identify these gaps, they did not shed light onto the enormity of the problem in an accurate or consistent way. Standardized assessments became the glue holding together equity and access.
But What Did This Actually Mean for Kids?
So before statewide assessment and tests, were states really doing harm to kids? Well, they had unequal expectations:
In some places, students were tracked based on geography, race or income, assigning them to "low-ability groups" where they were offered only a watered-down curriculum and little or no opportunity to progress to classes with higher standards and a more challenging curriculum. In some systems, ability grouping began at an early age and whole schools were tracked.
California had no statewide standards in English and mathematics until December 1997. Until that time, each of the state's 1,052 school districts was left to develop its own standards and, until 1999, adoption of state standards was voluntary, meaning districts could have chosen to develop and use their own standards. While, in theory, local standards must be as rigorous as the state's, the reality often may be quite different.
Students were left out: According to the Citizen Commission on Civil Rights' report and the Department of Education's own monitoring reports of state's accountability systems (in January 2001, prior to NCLB):
Texas failed to include half of its students with disabilities in its state accountability system. They just simply weren't counted or included.
Nevada excluded 58 percent, and North Carolina and Wisconsin excluded at least 40 percent of their English language learners.
California excluded over 900,000 students who were disabled, ELL, or attending charter or small schools.
At least 30 states failed to fully disaggregate their reporting, instead they often reported an "average score," which masked many achievement gaps.
Kids were literally dropping out by the millions:
Has it Helped?
Have higher statewide standards, standardized testing and accountability helped? We still have a lot of work to do, particularly to close achievement gaps, but before there were statewide standards, annual standardized assessments and accountability systems, we know that millions of students were being harmed by our educational system and denied the right to a high-quality education.

Ann Whalen is Director of Policy at Education Post.
Ann Whalen is senior advisor to Secretary of Education Arne Duncan. Prior to returning to the U.S. Department of Education, she served as the director of policy for Education Post. Whalen has served more than five years in the Obama Administration with the U.S. Department of Education. At the department, Ann was director of the Implementation and Support Unit, providing technical assistance to ...