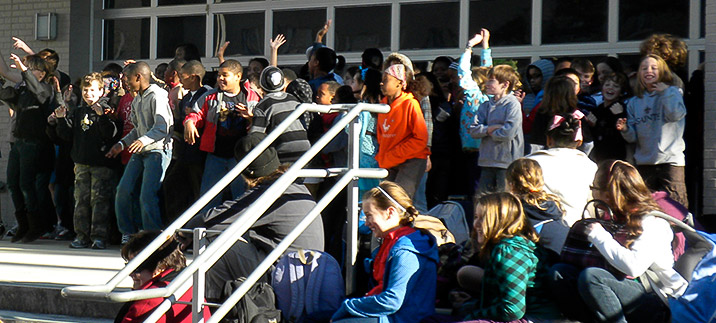 A Nuanced View of 'No-Excuses' in New Orleans
As we look for ways to improve the fairness and effectiveness of student discipline policies—especially around suspensions—we must be willing to take a real look at the impact of those policies, even if the view is discomfiting. And we must continue to take our lead from the teachers, students and parents who have the most direct experience with these challenges, not just the academics and activists who criticize from afar. The latest thoughtful piece on this topic comes from Sarah Carr in the December issue of The Atlantic, titled How Strict is Too Strict? Carr is a conscientious reporter who has covered the transformation of public education in New Orleans since Hurricane Katrina. Her article details the strict rules used at some of New Orleans' charter high schools and the risk to students when schools use out-of-school suspension as a regular disciplinary strategy.
The Appeal of Discipline
The article makes clear that many New Orleans parents are eager to enroll their children in schools with strict discipline. She quotes several parents who are encouraging school leaders to maintain high behavioral standards.
"Get even stricter, Mr. Dassler! Do it!" Another chimed in, "You have to be hard and strict. You can't be soft because you know how these kids are."
It shouldn't surprise us that parents desire schools with structure and discipline. An orderly environment conducive to learning is critical for student success, including in urban locales and in schools serving students of color. A reading of James Anderson's "The Education of Blacks in the South" or Harvard Professor Ron Edmonds work on effective urban schools indicate that our country has always had schools that expect students to perform at high levels academically and behaviorally, and those schools tend to produce the best student outcomes, especially for urban students. Yet, how schools enact "strict discipline"—and how parents and students perceive those policies and actions—appears to make all the difference. Carr's article does an excellent job of describing how school leaders, parents, students and communities are re-thinking how the implementation of high behavioral expectations happen on a day-to-day basis. Many of them come to appreciate the intense structure, but only if they also come to trust the mostly young educators who enforce it. As school leaders in New Orleans are discovering, forging that trust is far harder than teaching someone to say thank you and toe an orange line. And importantly, it appears that part of that re-thinking is reducing the number of kids who are suspended and expelled—demonstrating that it's possible to embrace "no excuses" and "strict discipline" without removing a lot of students from school as many effective schools have done for decades. What is the effect of all of this on results for kids? In New Orleans, those outcomes have been steadily improving. From 2007 to 2013, the share of students reading and doing math at "proficient" levels surged from 37 percent to 63 percent in New Orleans. From 2005 to 2011, the high school dropout rate declined from 11.4 percent to 4.1 percent. While historical trend data is not available, the 2013 expulsion rate in New Orleans is 0.57 percent, lower than the statewide expulsion rate of 0.7 percent. Taken together these data suggest that restoring order and discipline was part and parcel of the Crescent City's academic success story. They also suggest—as does Carr in her article—that the city's school leaders are taking advantage of their charter flexibility to rethink policies as circumstances change.
Parents Have More School Options
It is important to note that New Orleans has tremendous diversity in schools and approaches to student discipline. Post-Katrina New Orleans is no longer a one-size-fits-all school system. The charter landscape provides for a variety of types of schools to meet the variety of educational and behavioral needs of New Orleans children. Some are no-excuses schools, some are not. Parents have choices now that they did not have before. I believe that a truly healthy system of public education must have this variety. The story does an excellent job portraying the parents, educators and students affected by "no-excuses" discipline policies as they strive for ways to improve. The piece makes clear that parents and students want schools with high behavioral and academic expectations—and schools that enact those expectations in a way that includes their voice, expertise and active involvement. We would be wise to continue to listen to them.
Greg Richmond is President and CEO of the
National Association of Charter School Authorizers
, which is committed to advancing excellence and accountability in the charter school sector and to increasing the number of high-quality charter schools across the nation. Mr. Richmond spent 11 years at Chicago Public Schools in a variety of roles, including ...