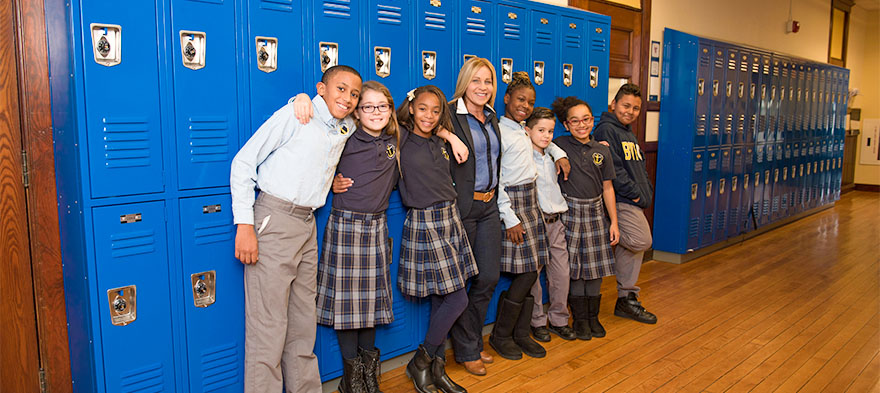 Making a Difference in the Lives of Children Is #WhyITeach
I hated middle school, which is why it still surprises me that I'm a middle school principal. Thinking back to my middle school experience, I can't remember anyone in the building ever noticing me. I felt invisible, and I don't remember feeling a close connection to any teacher, in particular. As an adult, I've come to dread being asked to "think about a teacher who had an impact on you." No one comes to mind except for my mom—a lifelong teacher whom I most admired as a kid.
Why I Decided to Become That Teacher
I think I always wanted to teach, but coming from a family of educators, I wanted to prove that I was my own person, and therefore I pursued something else. In college I studied communications and went on to become a claims adjuster for an insurance company. I enjoyed my work, but I was never able to put my head on my pillow at night and say, "Wow, I'm making a difference. I'm having an impact." After spending time volunteering in my children's' school, and being so impressed by their first-grade teacher, Ms. Joseph (You need to call out good teachers when you have the chance!), I realized I could have real impact doing this work and I decided to become an early-childhood teacher. I won't lie, teaching kindergarten is the most awesome job on the planet. Not only do people adore kindergarten teachers but kids change and grow so much during that first year; it's mind blowing. Many come in able to do very little and then they leave you in June able to do so much. I spent my first seven years teaching in traditional public schools and then transitioned to the charter sector, founding a new network of schools—Blackstone Valley Prep—where I've been now for seven years. I never for a moment wanted to leave the classroom and I certainly had no plans to become a principal, in middle school no less, but as it turns out, an urgent need arose and I was tapped to fill it. While I had lots of reservations about moving into a position so different from teaching five- and six-year-olds, I was motivated and comforted by the knowledge that my former kindergartners would be coming up as fifth-graders before long, and I wanted to be there at the threshold of middle school to welcome them. I'm not sure I'd have have taken the job if that hadn't been the case. It turns out, educating students as kindergartners and then again as middle schoolers has been incredibly special; it truly is a privilege to work with the same students and families over the course of many years and I'll be forever grateful for this unique opportunity. So, what have I learned during my career?
Relationships Matter Most
In my experience as a teacher, principal and mom, I've seen over and over how common it is for schools to underestimate the power of relationships between the adults in the school and the kids and families they serve. In my school here in northern Rhode Island, we call ourselves a "Team and Family," and that includes our staff, students and parents. It may explain, at least in part, why our teachers find themselves invited to so many family celebrations for our students on weekends and over the summer. Our home meet and greets at the beginning of the year help to build the foundation, and parents are comforted and empowered knowing that they have access to their children's teachers or to me via our work cell phones whenever they need us. Yes, being on call is not just for doctors! At our school there is no "down time." When teachers aren't teaching, they're connecting with students by having lunch or setting up a weekly chess game with a student who needs a little extra love, attention or support. This isn't a requirement, it's just us being a Team and Family . Without relationships, nothing we're trying to do works.
More than Academics
The teaching of values and strong academics is key to what we do. In our network of schools, we are guided by what we call PRIDE (perseverance, respect, integrity, discipline, and enthusiasm), the constant backdrop to what goes on in the classroom, in the hallways, or on the athletic fields and music stage. There is no doubt in my mind that our focus on character and values is part of what propels our students to succeed academically. And while we recognize academic excellence, we also have a PRIDE honor roll to recognize students who excel at being kind, hardworking, disciplined and supportive young people throughout the trimester. Got PRIDE? We do...everybody should.
Our Students Make Us Better People
Our community service requirement has been a game changer and is an example of the powerful influence students can have on their teachers. As students have asked for more opportunities to serve their communities, it has pushed staff to also get more involved in serving the community. Truth be told, our kids and families make us better people and I'm so very grateful for that. Community is also about educators from different schools working together to get better at what we do and to create more opportunities for kids. Whether it's partnering with the NAACP Youth Advocacy organization or joining with a local district middle school to create a Summer Leadership Academy, working on math instruction with a local district school or meeting with a fellow principal to talk through issues we both face as middle school leaders, community is at the center of all of it. While others get caught up in the noise and conflict about district schools versus charter schools, those of us working in both are forming partnerships to better serve kids. Perhaps the best part is now, 13 years after entering this exhausting and rewarding world of educating children, I lay my head on the pillow every night able to say, "Wow, I'm making a difference: I have impact."

Photo of Joy Souza and students courtesy of Blackstone Valley Prep.

Joy Souza is a founding member of the Blackstone Valley Prep team and middle school principal. Prior to her current role, she served as a K­-2 teacher at Elementary School 1, and at schools in Providence, Scituate, and Exeter­-West Greenwich, Rhode Island. During her career as a teacher, Souza was twice nominated for Teacher of the Year in Exeter­-West Greenwich, selected the Teacher of the Year ...