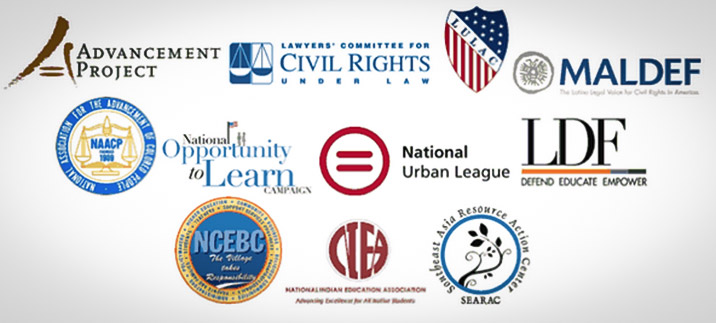 Losing Our Way: Civil Rights Groups Shouldn't Join Effort to Weaken Public School Accountability
I received an email from John Jackson at the Schott Foundation alerting me to a new vision for public education accountability. The subject line said accountability "shouldn't mean punishing students, educators and schools." I agree. In the coalition supporting this new effort are 11 " civil rights groups" that signed onto a letter in collaboration with the American Federation of Teachers urging President Obama to actually weaken accountability for public schools. Cross-checking the different lists of supporters mentioned in Jackson's email shows these aren't all "civil rights" organizations. For instance, Opportunity to Learn Campaign is basically an ancillary organization of the national teachers unions. Similarly, there is no discernible sunlight between the Advancement Project and national teachers unions. Scanning the list of supporters at the coalition's slick new campaign website shows this effort is even more tilted toward groups protecting the system more than kids. That list includes the AFT, NEA, Albert Shanker Institute and the Alliance for Quality Schools, a group funded by teachers unions.
Shifting Positions
Just a few years ago in 2011 some of the venerable civil rights organizations in this coalition, including the National Association for the Advancement of Colored People and the National Urban League, sent a letter to Congress demanding stronger accountability. Back then they urged congressional leaders to hold the line on high standards for students of color and the poor during reauthorization of No Child Left Behind legislation. Here's what they said three years ago:
Federal funding must be attached to firm, ambitious and unequivocal demands for higher achievement, high school graduation rates and gap closing. We know that states, school districts, and schools needed a more modern and focused law. However, we respectfully believe that the bill goes too far in providing flexibility by marginalizing the focus on the achievement of disadvantaged students.
Here's what they say now:
American education has been increasingly driven by a system of sanctions based on standardized test scores. These scores have been used to determine the futures of students, educators and schools, with severe sanctions imposed for poor test performance. In desperate attempts to avoid these penalties, many American schools have resorted to the widespread use of impoverished 'test prep,' with the resultant loss of the meaningful teaching and learning and the rich curriculum that young Americans need to be fully prepared for college, career and civic life.
I might get whiplash from that erratic lane change.
Adopting the Teachers Union's Agenda
Sure, the new view on accountability raises valid issues about unchecked child poverty and the need of students for support to overcome a widening array of social challenges. I too share concerns about the narrowing of curriculum where that is happening because young minds need rich and meaningful content. And, as a parent and former school board member, I will always champion equitable funding for schools. But why frame those issues as being inconsistent with a strong public education accountability system, one that accurately assesses the learning of students and efficacy of their teachers? And why act as if one required test given once per year is too much to ask of a system that has historically tracked students of color and poor students out of high-quality educational opportunities? The answer seems simple. Teachers unions have learned to organize cash-starved civil rights groups who are struggling for relevance and resources. In the coalition's new 1,000-word missive called " A New Compact For American Education," I find only one clear objective: to expect less of teachers and the schools that employ them. Their position is that accountability should be distributed among students, parents and government leaders, even though the $600 billion Americans invest in public education is allocated mostly to teachers and schools with the understanding that they will teach children to read, count and decode the world. What should we expect from them for that investment?
'Accountability' Helps Us Correct Civil Rights Issues in Schools
Civil rights groups have historically held public institutions accountable for measuring and addressing racial disparities. Some still do. For instance, the National Urban League is currently running a brilliant campaign in support of Common Core State Standards that level the educational playing field and address the rampant culture of low expectations for our kids. Other advocacy groups have lost their way. I fear the "new accountability" campaign is a naked attempt to uncouple student assessments from any worthwhile consequences for public education. By letting schools off the hook for addressing educational disparities in outcomes, civil rights groups risk losing bona fides as serious advocates for justice. Jackson's point that accountability should not "punish" students is well-taken. I remind him that there is nothing more punishing than sending young people into a ruthless economy without the appropriate skills to earn a dignified living.
Chris Stewart is the Chief Executive Officer of
brightbeam
. He was named CEO in April 2019, after formerly serving as chief executive of Wayfinder Foundation. He is a lifelong activist and 20-year supporter of nonprofit and education-related causes. In the past, Stewart has served as the director of outreach and external affairs for Education Post, ...