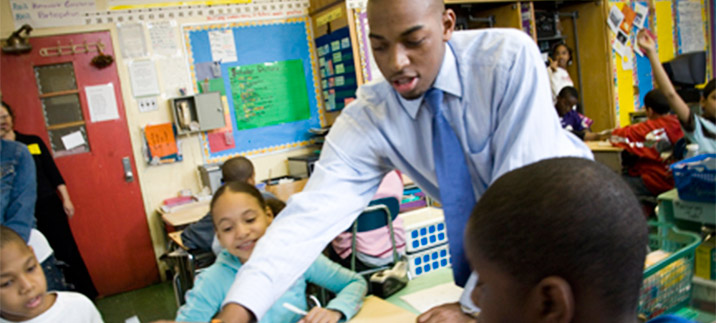 Let's Stop Criticizing Teach For America and Learn From What They Do Well
A New York Times story last week about declining enrollment in the Teach For America (TFA) program quickly unleashed hundreds of critics, who posted a torrent of comments taking broad swipes at the program. Most commenters chose to ignore the fact that enrollment in traditional teacher colleges for the past three years has dropped by more than 12 percent nationwide, and by more than 50 percent in California alone. The critics don't seem interested in recruiting new teachers for our nation's most challenged schools, nor do they give TFA any props for holding a high bar for entrance into the field. Instead, the comments were pretty universal in disparaging the program's motives, as well as its funders, efficacy, diversity and recruitment by charter schools. Most who went on the attack essentially dismissed all the corps teachers as racially clueless elitists with a singular goal of building up their own resumes. They ignored evidence that most teachers struggle at the beginning, and conveniently failed to acknowledge that gold-standard research has established that TFA teachers outperform other new teachers, particularly when it comes to teaching math.
My Experience
How do I respond to such unfounded and outright mean portrayals of a program that has brought so many wonderful people into my life? They include colleagues, bosses, my children's teachers and even some of my friends. I can't imagine that any perfect teacher prep program exists. That being said, there does seem to be an inordinate desire on the part of some to demonize a program that has become a vital pipeline of human capital into so many classrooms. I am so grateful that in 2010, they finally came to Rhode Island. I had the privilege of working with my first TFA corps member upon my return to the classroom after being home with my children for seven years. At the time, I was 38 and a veteran teacher; Kelsey was 22 and brand new. It turns out, she is exceptional, not only in her intellect and work ethic, but in her unique ability to move the needle for special education students who struggle the most with math. Students who had previously been written off because of a low IQ score are now headed to college. Time after time, they say that Miss Lucas is the reason. My own second grader happens to be in a former TFA corps member's classroom this year. Miss Dennis is in her fourth year of teaching now and her intelligence, wit and devotion to kids is something to be replicated, not criticized. She too continues to play a significant role in closing the achievement gap, particularly for poor students of color. Sadly, far too many who work in education seem to believe that the achievement gap is inevitable. Both of these teachers are proof that it is not .
Some Questions
Have I worked with many non-TFA members who are equally excellent in the classroom? Yes, I have. Have my children had non-TFA teachers that were awesome? Yes, they have. Have I worked with TFA members who decided not to stay in teaching? Yes, I have.
Turnover Concerns
A frequent criticism of TFA is that they have high turnover; this claim, while fair, ignores the reality that high turnover isn't unique to TFA but is actually a reality throughout the teaching profession, regardless of one's path to the classroom. Looking at the turnover issue through my parent lens, one thing is crystal clear: I'd rather have my kids with a smart, hardworking, and effective teacher for one year than with a mediocre or ineffective teacher who happens to stay in the same place for an extended period of time. Good is good—in my mind, the preparation path is irrelevant. The most disappointing thing about the anti-TFA crowd is that their actions do not seem to show any sincere or targeted effort to actually recruit the next generation into teaching. We know that many who choose to apply for TFA attend universities that do not even offer education degrees. Should they be kept out of a profession that so desperately needs them or out of classrooms full of our most underserved children?
Unmatched Diversity
The march in Selma is about to have its 50th anniversary and we just celebrated Dr. King's birthday. Michael Brown, Eric Garner and Tamir Rice's deaths still weigh on the minds of many. Within that context, we have a moral obligation to acknowledge and try to perpetuate the success that TFA is having in recruiting teachers of color, especially men. No other teacher prep program can match their effort and success at bringing more people of color into the teaching profession. Recent data from December 2014 shows that they are 49 percent teachers of color (versus 26 percent in traditional prep programs), and that 47 percent are from low income backgrounds, 33 percent are Pell grant recipients, and 33 percent are first in their family to attend college. Since it is pretty universally accepted that the American teaching force does not accurately reflect the majority of students in the system, we should be applauding and trying to emulate any organization that is making progress in diversifying the teaching pool for our students and their families. Let's celebrate that success. Every classroom needs an effective teacher and Teach For America has proven to be committed to that goal. They are highly selective and diversified, the perfect match for getting smart college graduates into schools where their background and life experience actually mirror that of their students. These young teachers bring a wealth of knowledge, love and dedication to countless children in our areas of greatest need. Let them do their work.

Erika Sanzi is a mother of three sons and taught in public schools in Massachusetts, California and Rhode Island. She has served on her local school board in Cumberland, Rhode Island, advocated for fair school funding at the state level, and worked on campaigns of candidates she considers to be champions for kids and true supporters of great schools. She is currently a Fordham senior visiting ...