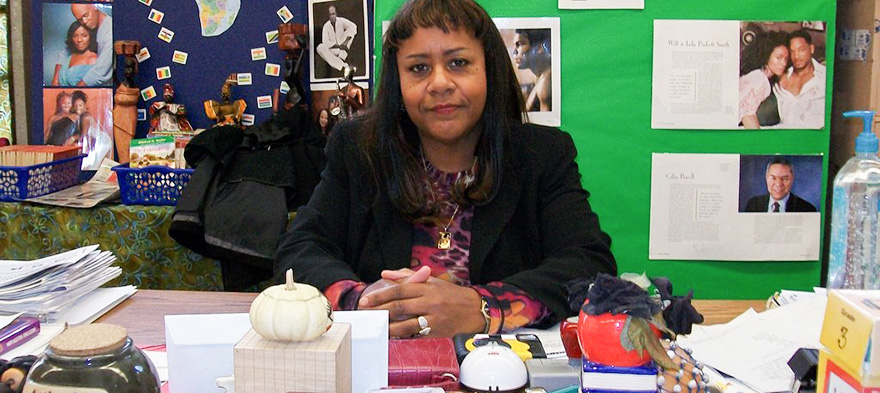 It's Hard to Get a Teaching Job When You're Black
Is it possible for a school to change the trajectory of low-income Black students' lives while denying people who look like their aunts, uncles, mothers and fathers the opportunity to teach at the school? In other words, what is the long-term effect of a school system that seeks to inspire low-income Black students to dream big but sees little value in exposing them to educators who share their cultural experience? Is it realistic, then, to expect Black students to aspire to become teachers when they can rightfully doubt that they'd ever be hired at their own school? I've been asking these probing questions for years, so I almost shouted "Hallelujah!" when I came across the new report, "Where Are All the Black Teachers? Discrimination in the Teacher Labor Market," published in the Harvard Educational Review. According to the study, "Black applicants were significantly less likely than their White counterparts to receive a job offer. Further, they find evidence of workforce segregation: when hired, Black teachers were significantly more likely to be placed in schools with large populations of children of color and children in poverty or schools characterized as struggling." While the George Mason University researchers refused to name the school district they cited in the study, current and former school officials confirmed in a Washington Post article that it was Fairfax County Public Schools, a high-performing, wealthy, and large district in the Washington D.C. region with 15,700 teachers serving 188,000 students—10 percent of whom are Black. According to the study, Black teacher candidates in Fairfax County Public Schools were more likely to have advanced degrees, such as a master's, and almost two more years of school teaching experience than White teacher candidates. Yet, in 2012, Black teachers made up 13 percent of the candidates and got only 6 percent of the jobs, while White candidates accounted for 70 percent of the candidates and got 77 percent of the jobs. White principals—87 percent of all principals in the district—tended to hire Black teachers at a rate of just 3.9 percent, while Black principals hired Black teachers at a rate of 11 percent.
It's Sweeping the Nation
This trend of the vanishing Black teacher is sweeping the nation. Today, 16 percent of all public students are Black but only 7 percent of teachers are Black. I've witnessed this phenomenon at my own school. In the nine years I've been there all three principals have been White (as well as an all-White board). The first two years, I was one of two Black teachers. Then the next four years I was the only Black teacher (though for two years we had a Black instructional leader). And in the past three years, since I stepped out of the classroom and into a pseudo-administrative role, there have been zero Black teachers. Whenever I see another Black adult in the hallway, it's either a substitute, a student-teacher or our sole African-American paraprofessional. The rest of the Black bodies work in the kitchen. One particular Black substitute worked at my school for about two years. She started as a long-term maternity leave sub in a fourth-grade classroom, then she bounced around from class to class before becoming the school's main standardized test proctor. When she wasn't offered a permanent position, she took a teaching job at another school. A year later, the same fourth-grade classroom in which she had a long-term subbing assignment needed a teacher, so she applied for the job. The new administrator made her come back three different times for in-person interviews, plus a demo lesson. Ultimately, she was denied employment, with some reference being made to her attitude. Wow. The woman was well-liked on staff; she knew all the children and school-wide systems; and I had personally put in a good word for her. Worse, she was still hopeful, waiting for a call back, when I unofficially informed her that the position had been filled for at least a week. An inexperienced, young White woman got the job. She lasted all but six weeks before abruptly quitting. She was soon replaced by another young White woman. Let me be clear: I have nothing against young White female teachers. But you know something's wrong when White staffers are asking why the staff at my school, who serve students that are 85 percent Latino and 5 percent Black, keep getting Whiter and Whiter. (Last year, all the staff who were laid off due to budget cuts were Latino.) At the opening orientation this year, my principal introduced the new hires as "the best of the best," and she asked them all to stand up. All nine standing were White and just one was male. So, in an act of desperation, I suppose, she asked the Hispanic teacher assistant who everybody already knew because she started working in the middle of last school year to stand up, as well as the 19-year-old Mexican American custodian assistant whom she had already introduced 30 minutes earlier. I felt like walking out.
This Time I'm Not Walking Out
Three years ago, I did walk out, and I cried in a bathroom stall. I had looked around at staff orientation, with 60 educators in the room, and realized that no Black teacher was hired over the summer to replace me. But at the start of this year, I possessed a fortitude that I didn't have back then. I resolved not to cry and not to lodge another complaint with administration (I couldn't bare to be told one more time that highly-qualified Black candidates are just too hard to find). I decided I'd simply blog about it, chips falling where they may. So excuse me while I kiss the metaphorical feet of the four George Mason University researchers who conducted this study, thus providing the empirical evidence that "colorblind" folk insist upon to prove any claims of racial injustice. Studies show that Black boys who spend just one year with a Black teacher decrease their risk of dropping out by 39 percent and that Black teachers are more likely to identify Black gifted students than White teachers. The value of hiring more Black teachers is undeniable. So is the workplace discrimination against us.

Marilyn Anderson Rhames is an educator, writer, thought leader and social entrepreneur. She is founder and CEO of
Teachers Who Pray
, a faith-based nonprofit that has more than 100 chapters nationwide. She is also the author of the upcoming book, "The Master Teacher: 12 Spiritual Lessons That Can Transform Schools and Revolutionize Public Education." ...