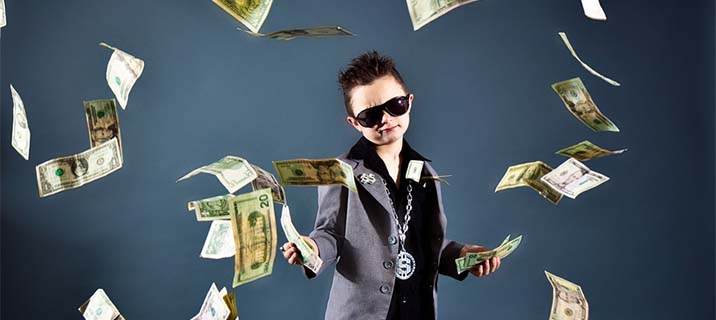 In Chicago, Teacher Pension Checks Are Written in Crayon
The Chicago Public Schools (CPS) system is robbing Peter in first grade to pay Paul, who retired from teaching in 1992.
And nowhere is this clearer than the $5.7 billion budget they are

set to approve today

during a Board of Education meeting.
If CPS goes bankrupt over paying teacher pensions, then school choice, higher learning standards and everything else reformers have fought long and hard for will go down with it. Most importantly, the kids.
As a teacher who has two children in CPS, this situation infuriates me. For the past 12 years, I've had no choice but to pay up to 4 percent of my salary into a retirement system that I always feared was unsustainable.
But every year, I've heard the Chicago Teachers Pension Fund rep recite the same mantra:
In more than one-hundred years, our retirees have never missed receiving their pension payments—not even through the Great Depression and two World Wars.
But in order to keep that trend going, my children—and the nearly 400,000 children in CPS—risk getting an inadequate, watered down education. We've already closed 50 schools, cut special education personnel and slashed elementary school sports programs. Now there's talk of class sizes reaching 45 students.
Is it okay that my teacher retirement is being funded on the backs of my students? My own children?
The Sky Is Falling in Chicago
At the end of the last school year, CPS had to make a $634 million pension payment so it cut $200 million of education spending and laid off
1,400 central office employees
.
By June 30, 2016, CPS must make an additional $700 million payment to the Chicago Teachers Pension Fund. Earlier this month, the district announced another round of layoffs: 1,400 school staffers, including 479 teachers.
Despite these cuts—and
borrowing $2.3 billion
to fund this school year and restructure long-term debt—CPS' operating budget remains $500 million short. The district is asking the cash-strapped state of Illinois, partially shut down due to its own budget stalemate, to fill the gap. Governor Bruce Rauner has said that he could probably come up with
$200 million
to cover CPS' pension costs for
two years
, but even if his proposal were approved, it's still not enough.
Could CPS run out of money mid-year and shutter schools citywide?
On top of that, the
Chicago Teachers Union
is threatening to strike over the percentage teachers would have to pay into their pensions; it's 2 percent now but could balloon up to 9 percent. Ironically, a strike might provide relief to CPS since it can't afford to pay its teachers anyway.
What Went Wrong?
Twenty-five years ago, the fund was more than 90 percent funded. Back then, there were two teachers for every retired teacher, but now the ratio is approaching 1:1, according to a representative from the Chicago Teachers Pension Fund.
So with 29,000 teachers currently paying into the pension system and 25,000 retirees pulling money out—plus a city government that for years borrowed from the fund without ever paying it back—the pension has
unfunded liabilities
totaling almost $10 billion. That's why CPS is now pulling hundreds of millions of dollars out of schools to fund its teacher pension.
To complicate the situation, in 1970, the state legislature passed a
constitutional amendment
stating that public pension benefits "shall not be diminished or impaired." Therefore, all recent attempts to reform the pensions have been struck down by the state courts. Illinois Attorney General
Lisa Madigan
is considering taking the case for pension reform to the U.S. Supreme Court.
Pension or Ponzi?
The
average pension for Chicago teachers
is $47,700, but that figure rises to about $71,000 when looking at the pensions of career teachers who retired recently. Every retiree, by law, also gets 3 percent compounded interest per year.
The chances that my pension will survive fully intact 21 years from now when I'm eligible to retire are slim to none. Chicago property taxes, which fund the pension, would have to go through the roof and schools would run on skeletal budgets.
Former CPS CEO Paul Vallas recently detailed his idea for pension reform in an editorial, including asking teachers to contribute more unmatched dollars to their pensions. Still,
Vallas' plan
projects the pension system will only be 80 percent funded by the year 2059.
If CPS is $500 million short this school year, even after borrowing over $2 billion dollars, what's it going to be like next year? With nearly 500 classroom teachers laid off this year, could it be 3,000 the next? How will these layoffs, plus early retirements, affect the current working-to-retired teacher ratio? If more teachers retire than those who are working, could it force CPS and its pension to default at the same time?
Let me be clear: The teachers who invested in this pension plan did nothing wrong
.
The way politicians have managed the funds, however, is eerily similar to an illegal
Ponzi
scheme: promises of large, guaranteed returns, misappropriation of investment dollars, with investors seeing strong returns on paper until the money runs dry.
Reform to the Rescue
I wonder if any reform-friendly philanthropist would consider donating a few billion dollars to help us out of this mess? For the love of the children? Pretty please?
Partial joking aside, the phrase "school reform" has been synonymous with charter schools, Common Core standards and standardized test accountability, but perhaps the wiser strategy, at least here, would be to make a Herculean push for equity in education funding.
Suddenly, spats between reformers and the teachers union over extending the school day seem luxurious. The fight now is to just keep the school doors open.
Marilyn Rhames has taught in district and charter schools in Chicago for the past 11 years and currently serves as alumni support manager at a K-8 charter school. A former New York City reporter, Rhames' award-winning education commentary is featured in Education Week and on Moody Radio in Chicago.