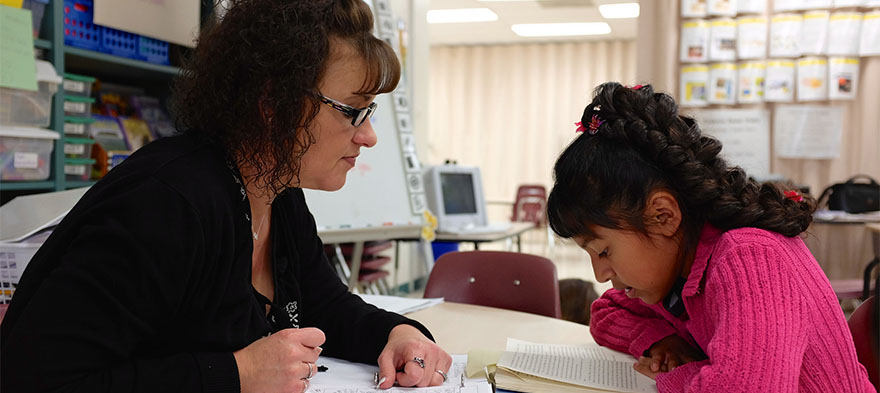 How Will Every Student Succeed?
The Every Student Succeeds Act has passed; the shift to more local control is on the way. Now, the question arises: How should states and districts use this opportunity? Will they continue to downplay the many in- and out-of-school factors that get in the way of good learning and effective teaching? Will they continue to address such factors with piecemeal policies and marginalized and fragmented practices? Or will they finally begin to transform the current mess into a unified, comprehensive and equitable system of student and learning supports?
We Must Escape Old Ideas
The new law dramatically replaces a maze of federal programs with a single "Student Support and Academic Enrichment Grant" with the intent of providing states and districts with more flexibility in assisting students and families. It also stresses greater subgroup accountability and calls for adding at least one "nonacademic" accountability indicator. Such changes provide opportunities to substantially move student and learning supports in new directions. In advocating for change, we always are reminded of a caution offered by John Maynard Keynes. He stressed that: "The real difficulty in changing the course of any enterprise lies not in developing new ideas but in escaping old ones." The problem ahead involves escaping current thinking about improving student and learning supports. Dominating such thinking are old and limited strategies that amount only to tinkering with the multifaceted and complex problems schools face each day. The focus of such strategies is on pursuing special initiatives and improving services. For instance, special projects often are initiated to counter bullying, improve attendance, increase graduation rates and so forth. These commonly are a response to some immediate pressure and special funding and tend to last for only a few years.
A Few Services Can't Solve All
With respect to improving services, there are calls for adding, coordinating and integrating more at schools. There also are efforts to link with and co-locate community service providers on school campuses. Policies supporting such strategies are pursued despite evidence that they usually benefit only a relatively few schools and students. Certainly, special initiatives and good services are part of any set of supports. However, such strategies alone cannot adequately address the needs of the many youngsters who experience learning, behavior and emotional problems. (In some schools at least 40 percent of the student body are doing poorly and eventually drop out, relatively few of these currently receive special attention.) Dealing with multiple, interrelated concerns (such as poverty, child development, education, violence, crime, safety, housing, employment) require multiple and interrelated solutions. Bringing a few more projects and services to any school does little to enhance the role of all schools in preventing problems and promoting social and emotional well-being, empowerment, social consciousness, critical inquiry and equity of opportunity.
We Need a System Transformation
It is time to stop tinkering and face up to the type of system transformation that can address the complex problems experienced by the many students in need. Such a transformation embraces the views that equity of opportunity is fundamental to enabling civil rights, and transforming student and learning supports is fundamental to enabling equity of opportunity and promoting whole child development. The process involves reworking existing student and learning supports, identifying critical gaps, and then outreaching to engage a wide range of community and home stakeholders. It emphasizes redeploying and weaving together available internal and external economic and social capital. To initiate the process, schools are encouraged to draw on the relatively untapped potential for system development that exists in their wide-range of student and learning support professionals (e.g., psychologists, counselors, social workers, nurses, dropout/graduation support staff, special educators and others). As a guide, prototype frameworks for transforming student and learning supports have been developed. These include designs for:
Developing a unifying, comprehensive, and systemic approach to intervention;
Expanding school improvement policy and school accountability;
Reworking operational infrastructure at school, district, and state levels; and
Facilitating system change.
At this point, you may be wondering what a unified, comprehensive and equitable system of student and learning supports looks like. The research-based prototype frames a continuum of integrated, overlapping subsystems that weave together school-community-home resources. The three subsystems focus on:
Promoting healthy development and preventing problems;
Intervening early to address problems as soon after onset as is feasible; and
Assisting with chronic and severe problems.
At each level of the continuum, student and learning supports are organized, based on functional commonalities, into the following six content arenas:
Enhancing strategies in regular classrooms to enable learning.
Supporting transitions.
Increasing home and school connections and engagement.
Increasing community involvement and collaborative engagement.
Responding to, and where feasible, preventing school and personal crises.
Facilitating student and family access to special assistance (including specialized services on- and off-campus) as needed.
It's Beginning to Happen
Pioneering efforts to develop a unified, comprehensive and equitable system of learning supports are underway around the country. On a statewide scale, the Alabama Department of Education has expanded its school improvement policy and is well underway in guiding districts across the state in developing a unified and comprehensive system of learning supports. Fifty districts and approximately 300 principals are currently involved in the initiative. Passage of Every Student Succeeds Act places states and districts at a crossroads in the journey to improve how schools address barriers to learning and teaching, re-engage disconnected students and enhance equity of opportunity for student success at school and beyond. Leaders for school improvement can continue to tinker with such concerns, or they can begin the complex task of transforming student and learning supports. We suggest that, despite the complexity, transformation is the best route around the barriers that interfere with learning and teaching.

Linda Taylor has a long history of working in schools with a focus on transforming how barriers to learning and teaching are addressed. Linda co-directs the national Center for Mental Health in Schools.