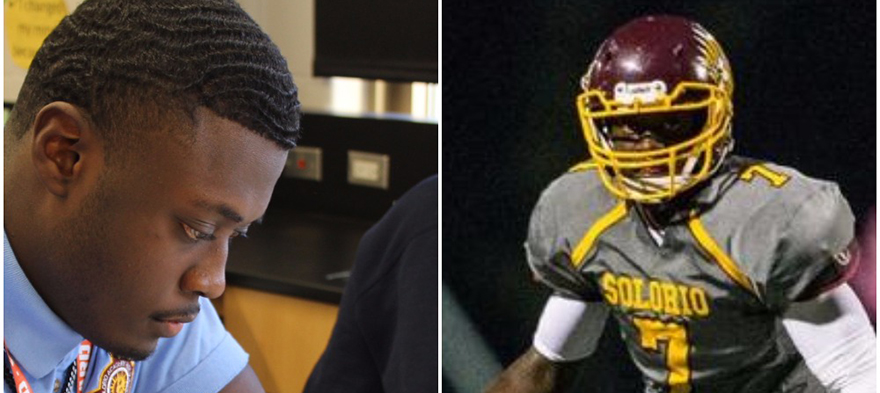 How Quincy Patterson Became Virginia Tech's First Quarterback to Major in Engineering
If you follow Chicago's high school football scene, you probably already know Quincy Patterson, the Solorio High School quarterback who drew lots of attention from college recruiters before committing to Virginia Tech last spring. But you probably don't know he'll be the first Virginia Tech quarterback in history to major in their highly-regarded engineering department. This is all possible because Quincy's high school academic record is just as stellar as his athletics: a 27 on the ACT, a slew of AP courses and a weighted GPA now hovering around a 4.4. And he earned all this despite some elementary school experiences that could have thrown off even the brightest kid. How did he make it through so successfully? I'd chalk it up to two factors: a fiercely dedicated mother and school options that didn't exist for two of his older siblings. To the surprise of his family, Quincy spent his first three years of school at May Elementary in Austin, which was closed in 2013 for poor academic performance. His mom, Kimberly Dalton-Patterson, says the family had to scramble for housing after the building where they had been renting was suddenly sold.
The Sacrifice
They landed in May's attendance area, despite Mom's misgivings. "I knew about the neighborhood. I knew the school. I knew the problems," said Dalton-Patterson. So, she stepped up at once to shield her baby from trouble. "I just made sure I was at the school every day." That sacrifice was nothing compared to the work Dalton-Patterson had already put in to support her children. After Quincy, her youngest was born, she decided to stay home and focus on him while keeping tabs on two of his older siblings at Gage Park High School. Her decision gave Quincy the opportunity to go on public transit adventures across the city with his mom, get his thousands of curious questions answered one-on-one and spend lots of time taking things apart and learning to put them back together—the roots of his interest in engineering.
'He Doesn't Belong Here'
At May, Dalton-Patterson helped out in classrooms and on the playground. She remembers a lot of children who came from difficult family situations and a lot of teachers who didn't know how to manage and support them. "I broke up a lot of fights," she said. "I remember a lot of teachers struggling." She was able to connect with the children in ways they couldn't. "They were grateful, actually." Despite the challenges, Quincy's first-grade teacher managed to make a difference. He sought out the students who were most interested in learning and made time for them. "Mr. Schroeder was great. He was real intuitive," said Quincy. Meanwhile, Dalton-Patterson was getting a strong, consistent message from the faculty about her son: "He doesn't belong here." Meaning, he's too smart and well-behaved to be in this environment. He needs a better school.
'I Really Taught Them Myself'
So Dalton-Patterson found a place to live in a different part of Austin, known as "The Italian Island" and close to amenities like Chicago's beautiful Columbus Park and the suburb of Oak Park. In Quincy's younger years, it was six tight-knit blocks of Black and Italian families where all the kids attended just two schools: the local Catholic school and the neighborhood school, George Rogers Clark. "Clark was almost like a suburban school," Quincy recalled. "It was very different. Nothing ever happened in school or in the neighborhood" that would threaten a child's sense of safety. With no discipline issues to distract anyone, Quincy had the chance to fall in love with math and was showered with attention as a result. "I got a lot of awards." Dalton-Patterson says her son thrived in the new environment. "He became more open and got into extracurriculars" like school spelling bees and talent shows. But this happy situation only lasted for two years. The family moved south just in time for Quincy to start fifth grade at Marquette Elementary in Gage Park. "It was terrible," he recalls. On his second day of school, he witnessed a fight in the courtyard while waiting to enter the building. While fifth grade was bad, the next year was worse. "There were fights every day. No structure," he said. Dalton-Patterson was ready to move Quincy out of Marquette and put him in the KIPP charter where his next-older sister went. (She went on to graduate from Whitney Young and attend the University of Chicago.) But when the Academy of Urban School Leadership (AUSL) agreed to turn Marquette around, Dalton-Patterson decided to see if it would make a difference. Plus, at bottom, she felt that she and her kids had final responsibility for their academic success. "All my kids, I really taught them myself," she said. "Whatever they needed, I got it beforehand so they could do their best. Sam's Club has good books—test preparation, study material."
Turning Down Whitney Young for Solorio
To Quincy's surprise, AUSL's Marquette turnaround brought sweeping changes to the school. "We walked in the first day of seventh grade and there were like 30 security guards," he said. The principal and teachers were all brand-new. Physical fights subsided, though there were still plenty of verbal arguments. Quincy's new teachers saw his talent right away, in the year that matters most for high school admissions. His reading and math teachers began giving him advanced work on top of what he had to do for class, so he would be better prepared not just to score well on the entrance exam for Chicago's most elite high schools, but prepared to do the work. This was the same year Quincy discovered football. Unlike many of Chicago's high school players, he didn't get his start in football very young, through the park district. He ran track as a youngster, but Marquette was the place he began exploring lots of athletics: football, basketball and baseball.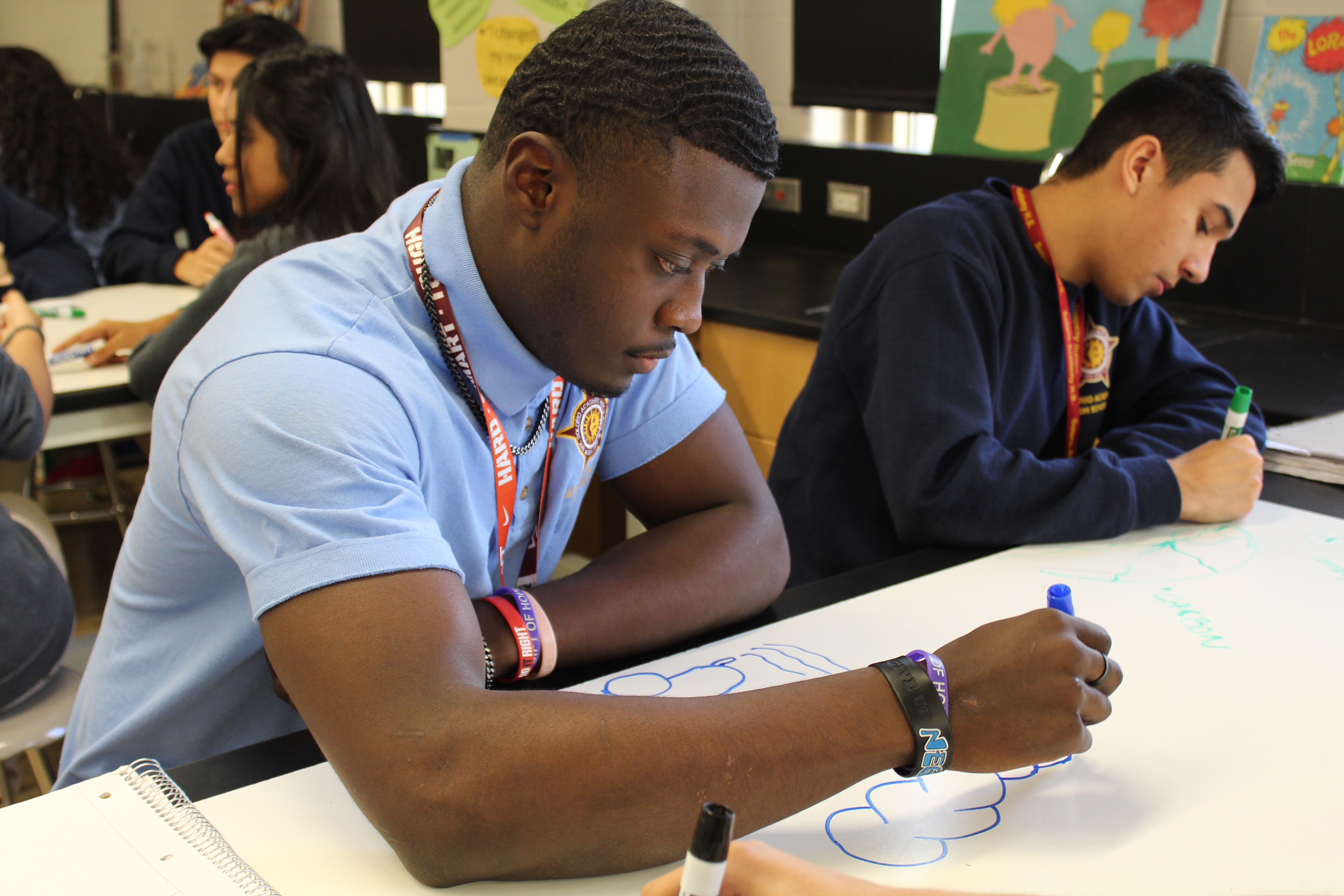 He met Solorio's baseball coach while playing a game on their diamond. They hit it off and Quincy began to hear a lot about Solorio's advantages: no fees for AP exams (unlike at Whitney Young), AP courses available as early as freshman year, athletic opportunities with more room to shine. Quincy had planned to follow his sister to Whitney Young, but Solorio began to capture his interest. He told his mother he wanted to go there, and she took pains to check it out. "I came up before and after school and saw how the kids were. I watched the neighborhood." She decided to let him attend a shadow day. Although Quincy aced the high school entrance exam and won a coveted spot at Whitney Young, he and his mom decided Solorio was the right fit.
Solorio Supported the Whole Family
They have not been disappointed. As a freshman, Quincy got his first classroom taste of engineering in an elective and loved it. "My egg didn't break," he says of the results of his design project creating something that would keep an egg from breaking when dropped from a second-story window. Like most high school freshmen, Quincy struggled at first to manage his time and meet new levels of responsibility in sports and studies. But he got key support from his athletic director and AP Human Geography teacher, Jeff Niemiec. When Quincy's grades slipped under the pressure, Niemiec "forced" him out of JV games and kept him focused on varsity football and studies. "Freshman year was a little shaky in the beginning, but he got it under control," Dalton-Patterson said. "I've loved it here." In fact, Dalton-Patterson has loved it so much she now works in Solorio's front office. This year she also became the first parent to win Solorio's Mike Koldyke Friend of the Athletic Program award. While it's clear Quincy wouldn't be where he is today without his dedicated mom, his educational trajectory also took a turn for the better thanks to AUSL, from their work turning around Marquette to providing an outstanding neighborhood high school, Solorio. In reflecting on the progress made in Chicago Public Schools over the last 30 years, creating new and better choices, especially in high schools, has made a real difference, not just in numbers and statistics, but in lives of young people, like Quincy Patterson.

Photos courtesy of Quincy Patterson.

Maureen Kelleher is Editorial Director at Future Ed. She was formerly Editorial Partner at Ed Post and is a veteran education reporter, a former high school English teacher, and also the proud mom of an elementary student in Chicago Public Schools. Her work has been published across the education world, from Education Week to the Center for American Progress. Between 1998 and 2006 she was an ...