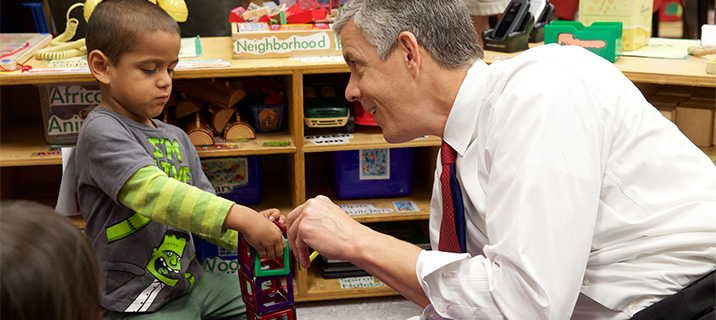 Here's Why Race to the Top Was So Genius
In September 2009, I was asked to spearhead the District of Columbia's efforts to win a Race to the Top grant. At the time, I didn't have much knowledge of the national education reform landscape, Race to the Top or Education Secretary Arne Duncan. I had been working on education with my head down in D.C. for several years, the previous two focused on supporting the mayor's efforts to turn around the school system. We had a lot of work to do, and it was a whirlwind.
A Perfect Candidate
So when the Race to the Top opportunity landed on my desk, I didn't fully grasp the magnitude of what would be involved in crafting a winning application or what would transpire across the country as a result of the competition. I looked at it as a chance to rally education stakeholders across the city around our already ambitious reform agenda, and to highlight the district's initiatives. The district was a perfect candidate for Race to the Top because we were already doing a lot in terms of reform. A robust charter school sector had been growing for years, and leaders had already started making the shift toward a focus on quality over quantity. Everybody, from the mayor and state superintendent down to educators in individual classrooms, was focused on using data to inform decision-making. If aggressive, student-centered change was what Secretary Duncan and the department were looking for, then D.C. was all over it.
Focused on a Vision
Perhaps the biggest challenge was getting so many smart, strong leaders on the same page. There were fears about slowing down what was already going on, about having to shift focus away and about committing to something that could very likely require more resources down the road than were being offered through the grant. All were relevant and valid concerns. We addressed them through lots of engagement. We formed working groups, and working groups within the working groups. We held community briefings. We presented to the state board of education and the District's Council at various stages of the proposal. A team of consultants helped us crunch the data and craft the smartest application we could. It was a full push over many months, involving dozens of people. When we reached the interview stage, we even prepared as a team—our mayor, deputy mayor, state superintendent, schools chancellor and charter school leaders, all in the same room focused on a vision for accelerating improvement in D.C. schools.
Win or Lose, It's the Process
It wasn't until the actual competition interview stage itself, however, that I truly comprehended what was happening nationally. It turned out that what we did to craft our Race to the Top proposal wasn't unique at all. There were state teams from all over the country who had been doing the exact same thing . Everybody had been preparing for months, developing ambitious plans. And like us, they came to win. Fortunately, our hard work paid off and we won in the second round of the competition. One thing I kept note of throughout the process though was that whether we won or lost, most, if not all, of our plans were still things we were going to do. Reform was happening in D.C., but we were missing a single, coherent agenda—now we had one. I believe Arne and his team knew this from the start—that in the end, what would spur the most change would be the process itself. Leaders would come together to figure out what needed to happen in their state and they would commit to doing it. And that's exactly what happened. What a profound impact.
Arne the Leader
Through Arne Duncan's leadership, Washington did a rare thing in education: It changed the conversation. In other sectors, this isn't unique; it's pretty well accepted that when Washington stirs on something, the country moves, and when Washington speaks, states listen and respond. But that's not often the case in the locally-driven enterprise of education. Arne figured out a way to turn a very small investment into a hugely significant lever for change. Ultimately that made a whole bunch of folks uncomfortable and upset, even on the reform side. And now that he's stepping down, it's right for everyone to pontificate on Arne's legacy and whether he was right or wrong with his approach. Having fought for change directly at the local level though, I know how entrenched the establishment is and how hard it is to even get the conversation started. And what's undeniable to me is that without Arne's leadership, we would not be talking about any of this. From teacher evaluations to lifting caps on charter school growth to higher standards and assessment coalitions—to the extent everyday Americans know about any of it, it's because of Race to the Top and the process in which nearly state engaged in order to win. Arne Duncan threw a small pebble into a very stagnant body of water, and today we're still seeing ripples from the waves of reform that flowed. Good for him. Good for our kids and educators. Good for our country.

Eric Lerum has been working on public education issues for over a decade. Most recently, he led the policy efforts at StudentsFirst as the vice president of national policy.

Eric Lerum is the vice president of growth and strategy for America Succeeds, where he leads the organization's efforts to amplify the business leader voice in support of improving public education. Eric has over a decade of experience in strategic planning, partnership development, and advising state and local policymakers regarding public education issues. Most recently Lerum led the policy ...