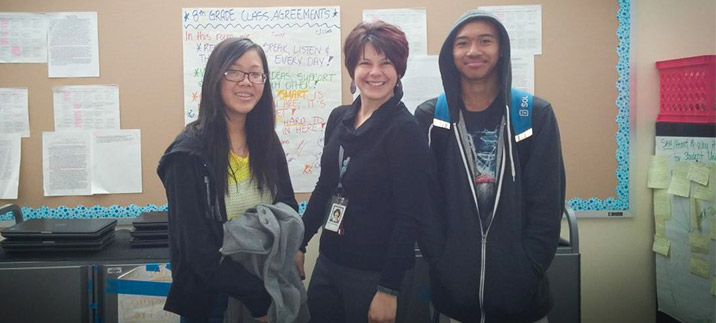 Here's What Students Want: Expect Them to Succeed
In a few short months, I will send my students off to high school. I have watched them grow academically, socially and physically for the past three years. The upcoming transition both excites and terrifies me. What excites me: There is so much to celebrate.
Kathy and Jeffrey (pictured with me in the photo above) were recently awarded $100 scholarships for outlining their definitions of "postsecondary workforce readiness" and submitting their writing in a local essay contest.
Tyler was one of a handful of featured vocalists asked to perform at a state conference for school board members and district superintendents.
Daniel made significant growth in his reading fluency and comprehension and we celebrated a major benchmark milestone at a recent meeting for his IEP (an Individualized Education Plan, which we design for the special needs of any student).
A substitute teacher shared she was moved by the quality of students' argumentative writing as they passionately drafted letters calling for amnesty for child soldiers worldwide without me in the room.
Deep down, I know my students are prepared to tackle high-school level work. What terrifies me: What if one (or more) of their high school teachers cannot see the growth, uniqueness, strengths and challenges each student brings to high school? What if they aren't pushed to succeed or persevere (even if they protest the work is too hard)? What if teachers don't inspire them to find a college or career pathway that matches their passions, interests, or dreams? Recently, a local article brandishing a one sentence headline left a pit in my stomach: "Most teachers expect us to fail." I listened to the chilling audio clips from Kelsey Williams, Armand Green and Kason Hill, three African-American students who attend high school a few miles from the school where I teach and learn with my students each day. The phrase, "most teachers expect us to fail," continues to haunt me, weeks after hearing it for the first time. I can't shake the fact that I know this is too often true. Institutional racism permeates our public schools even in light of heightened awareness, culturally responsive pedagogy, and an increased focus on equitable education for all. I know there are no easy solutions to complex problems, but these words, "most teachers expect us to fail," propelled me to take a small action—to open the door for a conversation about equity and access with my students. After students read the same article and listened to the audio clips, I asked them to reflect on the quote to determine if they believe this is true. Over half of the students admitted they felt that one or more teachers at some point in their school careers expected them to fail. The raised hands included students of color, English language learners, students who live in poverty and special education students. I don't think this is a coincidence. I believe this is representative of what teachers know—our students who have historically been the most disenfranchised with school, still too often feel unsuccessful, invisible, and separate from the high expectations set for others, often their white middle-class peers. Sam Adler-Bell recently interviewed Robin DeAngelo, professor of multicultural education, in the piece Why White People Freak Out When They're Called Out About Race. The article addresses the concept of "white fragility" and it forced me to think about the areas where I am fragile in my own classroom practice. When I think about issues of inequity in education and institutional racism, I often feel like a microscopic speck in an all-consuming labyrinth of systemic oppression. But there is one thing I can do, one thing all white practitioners can do. We can reject "white fragility," ask students hard questions, and expect uncomfortable answers. We can open the dialogue and really listen to what our students have to say. At the end of the lesson, I asked the class to respond to the following question: If you could give new teachers (or any teacher who has hurt or disappointed you, including me) advice, what would you tell us to do to set you and your peers up for success? In their words, here is a sampling of the responses: "Never give up on a student who is struggling. Always respect the way some students are/act." "Push students to do their best. They should challenge you to always work harder than you think you can, and make you think differently." "I would say, no matter how hard things get, I want you to remember why you came here. The reason you are here. Is it to benefit the kids and help them? Or is there another reason? Whatever it is I want you to think how you and your friends were in school...I want you to try to really listen to what we are saying. Do an educational project, hands-on so the kids aren't always sitting at a desk...And never give up on yourself or your students." "I think I would say to push their students to try and get more out of them than they let you. Because they might know what the answer is, but just don't want to share. And try and respect their feelings and thoughts." "Never, ever ignore us…" Regardless of the student's background, familiar ideas surfaced in their comments again and again. Students don't expect us to be perfect. They expect unconditional care, respect, and support. They expect us to expect them to succeed.

Jessica Cuthbertson currently serves as a teacherpreneur, dividing her time evenly between teaching eighth-grade literacy at Vista PEAK Exploratory in Aurora Public Schools and supporting solutions-oriented efforts to improve Colorado's schools with Center for Teaching Quality. This post originally appeared on Cuthbertson's blog, In a Teacher's Shoes. Reprinted with permission from the Center for Teaching Quality, home to the Collaboratory, a virtual community for all who value teacher leadership.
Jessica Cuthbertson currently serves as a "teacherpreneur," dividing her time evenly between teaching eighth-grade literacy at Vista PEAK Exploratory in Aurora Public Schools and supporting solutions-oriented efforts to improve Colorado's schools with Center for Teaching Quality. A passionate educator with 12 years' experience, Cuthbertson is an active member and association representative for ...