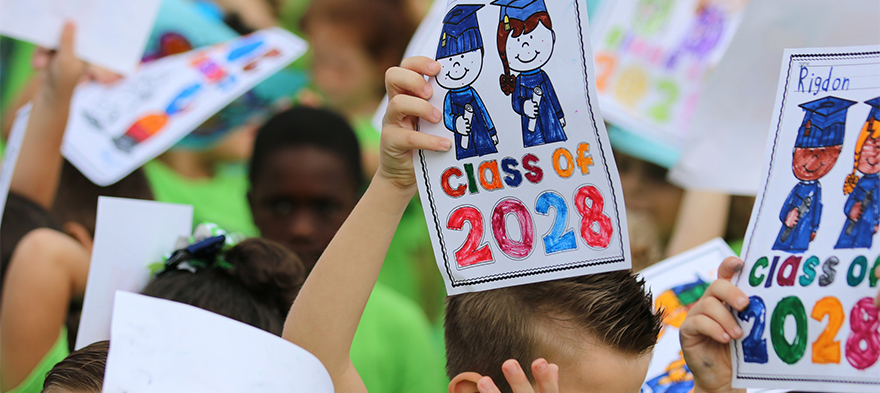 Helping New Teachers to #TeachStrong
Bringing new teachers into our schools is vital to maintaining our great schools and improving our struggling schools, as well as nurturing future generations of teachers. But how we help them enter the profession is critical. As my former boss, New Teacher Center founder and CEO Ellen Moir, says, all teachers are inducted; it's just that some are inducted purposefully and deeply, while other teachers are handed keys, a class list, and a ream of paper. That kind of treatment—hand over the keys and say "Good luck!"—is what leaves new teachers crying in the car by November.
A Mentor of My Own
My own early teaching experiences were very different. When I first started teaching in Cambridge, Massachusetts (a district that continues to think deeply about professional learning), I was very lucky to have a mentor. I was a long-term substitute in the district, working with small groups of young children, and talked my way into participating in the mentoring program. My school assigned me a classroom teacher who was also a fellow early-childhood professional, and together, we delved into what strong balanced literacy instruction should look like. She invited me to observe her, brought me chocolate (more than once), and bought me my first professional text, a book I turn to again and again. Her guidance also helped me navigate some complicated school politics. In my second year of teaching, I was part of a group of teachers working through Jon Saphier's The Skillful Teacher. We had after-school gatherings where we'd eat, share our challenges, laugh and, I admit, sometimes cry. Back in the 1990s, these supports were tech-free; they involved phone calls, hallway conversations and reminder notes in my mailbox. While there were absolutely days in those first two years that I felt in over my head, I never felt alone, and I continued teaching, and coaching teachers, in large part because of my strong start.
How to Teach Strong
Recently, I was thrilled to see Teach Strong lift up new teacher support as one of its principles. To ensure all teachers receive strong support as they enter the profession, I offer a few suggestions:
Engage successful early-career teachers to help their new-teacher peers. After being a new teacher in Cambridge, I moved with my family to Chicago and joined a school that was part of a network focused on improving literacy instruction at the University of Chicago. There, a small group of us started the New Teachers Network. Our model relied on third-, fourth- and fifth-year teachers (like me!) bringing their voice to the support of new teachers. We organized vibrant meetings, hosted new teachers in our classrooms, and shared resources, lesson plans and advice in our online community. As facilitators, we were given an early opportunity to be teacher leaders. We built our pedagogical chops by opening our classroom doors and talking about our teaching.
Continue to ask new teachers what works for them. New teachers tell us school leaders should ask: "What's working? What isn't? What can I do to help you?" Doing this once, after noticing crying in the parking lot, isn't enough. Telling new teachers "the door is open" isn't enough. School leaders need to leave the office, show up in classrooms and ask questions that build rapport, trust and understanding with new teachers.
Recognize that we all need to talk more about how we connect informal feedback and formal evaluations. The fact is, when you're new, you make mistakes, so novices need support to grow. They need direct feedback on teaching, ideas for management, curricular clarity and time to digest it. If that support comes with too much judgment, including the pressures of high-stakes standardized testing, we add more pressure to new teachers already struggling with tough emotions.
Giving Teachers the Support They Need
Like others, I have jumped into learning about pursuing a growth mindset in the classroom, and I'm pushing my coaching community to embrace those same beliefs as we work with adult colleagues. Without that urgency for developing stronger skills, our students lose out. State and federal policymakers, foundations and nonprofits invested in education, and teachers and leaders themselves need to work on trust-building and stronger communication so that we can untangle ourselves from blaming and find the balance and improve the links between the journey of improvement—growing our practice—and those final teacher ratings. Our nation's teachers are mostly beginners, so we all need a sense of urgency about quality induction. We need them entering the profession with more than Hershey's and hugs to sustain them. Giving them real support means getting early-career teachers involved; talking to our novices; and strengthening the connections between support and evaluation. The journey to #TeachStrong means we give new teachers the tools to grow strong, too.

Lisa Vahey is a former classroom teacher and instructional coach who now works with schools, districts and nonprofits on improving instruction, leadership and collaboration. She remains grateful for the many informal and formal mentors who have helped her move forward after days when she cried in her car. She is on Facebook, Instagram, Twitter and in real life at many equity-oriented events and ...