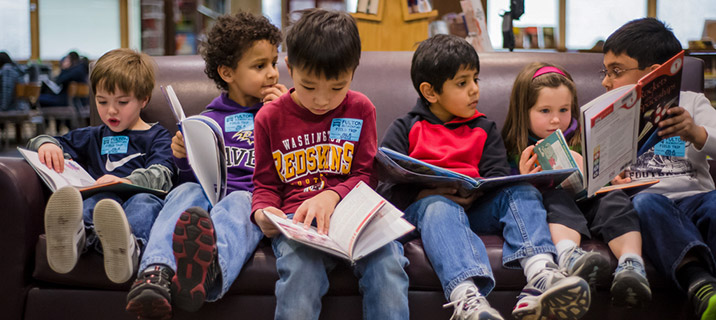 Guess What, Mom? Common Core Can Be Good for Your Kindergartener
I am always torn when I read pieces like that of Sarah Blaine, who shared her views on the Common Core State Standards for kindergartners. The gist of her piece, published on Valerie Strauss's Answer Sheet blog, is that based on her personal experience with her two daughters, she sees the standards as "developmentally inappropriate" for kindergartners. As a mother myself, I can empathize. I want to be able to say, "Yes, me too. You're not alone." And I'm confident that she isn't alone. I am just not one of the mothers able to agree or stand with her on this. I am a mother of three boys. One attended kindergarten prior to the rollout of Common Core, another went very early on in the rollout, and the youngest is now in kindergarten in a school that is 100 percent Common Core-aligned. Like Ms. Blaine, I look at all of this from a place of privilege. Ms. Blaine's disagreement with the kindergarten standards seems to be much more about her personal choices with regards to when she decided to have her children start school as well as a local cutoff date that appears to allow 4-year-olds to begin kindergarten. She takes particular issue with what she sees as an expectation that "kids develop reading skills at the same pace." The evidence in Common Core-aligned classrooms, however, doesn't bear this out. Schools use a variety of scales to measure a child's reading levels; they are often called "steps" and each one is identified by a number or a letter. Classrooms and school libraries are loaded with independent reading books that indicate the level of reader for whom they are written and since there are over 20 levels, it's hard to imagine that anyone expects all kids to be at the same place at the same time.
Some Wisdom
There is much wisdom to be found in the voices of educators on this question of developmental appropriateness. Pat D'Alfonso, an English arts specialist in West Warwick, RI, has this to say to those who deem the Common Core standards to be developmentally inappropriate:
All kindergarten ELA standards are prefaced with the statement, "with guidance and support." The writers of the standards never intended kindergarten students to read text independently, but rather to engage in group reading activities such as read-alouds and interactive text discussions. I have taught in many kindergarten classes where students successfully read complex text to answer questions about key details, determine the meaning of unknown words, discuss text features and identify the author's purpose.
Ms. D'Alfonso goes on to say the following in response to those who suggest that the Common Core assumes that all students learn at the same rate and in the same way:
The standards were written as the "what." Every teacher recognizes that the "how" is different for each student, regardless of the "what" that is being taught. The Common Core standards do not mandate a specific instructional approach, but rather, allow teachers the flexibility to differentiate and scaffold to meet the needs of all learners. I have taught standards-based lessons in K-3 classrooms where students with special needs were as successful as their peers.
Ms. Blaine emphasizes the many hours per week that she and her husband spend reading with their daughters (a practice she started in utero) as well as the copious amount of books in her home, particularly in each daughter's bedroom. I guess the implication is that if one of her daughters is struggling with reading in kindergarten then it must not be a realistic or healthy expectation for any child to start reading in kindergarten. While all that she and her husband have done to model the importance of literacy is admirable, it is certainly not essential in order for a child to be a happy and successful kindergarten reader. I've never had four bookcases in my sons' rooms and I don't recall intentionally reading to anyone in utero. Still, the transition to Common Core has been smooth and positive for us and despite differences in my boys' pace of learning and even interest level, no one is in crisis. This is likely due in large part to the hard work and backwards mapping that went into ensuring that the reading standards are both age and grade appropriate.
The Gap
Poor children in America are in crisis and kindergarten is where major triage begins in order to compensate for what most agree is a 30 million word gap during their early years. Reading early and often is the antidote that can fill the gap and put students from widely different backgrounds on much more equal footing. In addition, by requiring students from the beginning to use evidence from the text when writing and speaking, Common Core allows for students to depend far less on their prior knowledge and, in turn, quickly begins to mitigate the impact of having had less conversation or vocabulary rich experiences in early childhood. Because of their school's commitment to overcoming the word gap, low-income children in my boys' classes find their way into the highest reading groups, at least in part because of Common Core. Their school has ensured students spend time with books in a variety of ways throughout the day, each designed to foster a love of reading and help students to meet the standards. I do not, for one second, get the impression that anyone expects my boys to develop their reading skills at exactly the same pace. Not even close. Ms. Blaine is confusing a leveling of the playing field with expecting kids to develop at the same pace. Equity means that every child has the same chance and opportunity to succeed because the expectations are the same for all. It is wrongheaded to infer that by equalizing standards, we expect all kids to develop their skills at the same rate or in the same way. Common Core lays out the goals, but certainly doesn't dictate how to get there. It's hard to believe that beginning to read early ever hurt anyone but it's near impossible to deny that failing to do so can quite literally ruin a child's life.

Erika Sanzi is a mother of three sons who taught in public schools in Massachusetts, California and Rhode Island. She has served on her local school board in Cumberland, RI, advocated for fair school funding at the state level, and worked on campaigns of candidates she considers to be champions for kids and true supporters of great schools.

Erika Sanzi is a mother of three sons and taught in public schools in Massachusetts, California and Rhode Island. She has served on her local school board in Cumberland, Rhode Island, advocated for fair school funding at the state level, and worked on campaigns of candidates she considers to be champions for kids and true supporters of great schools. She is currently a Fordham senior visiting ...