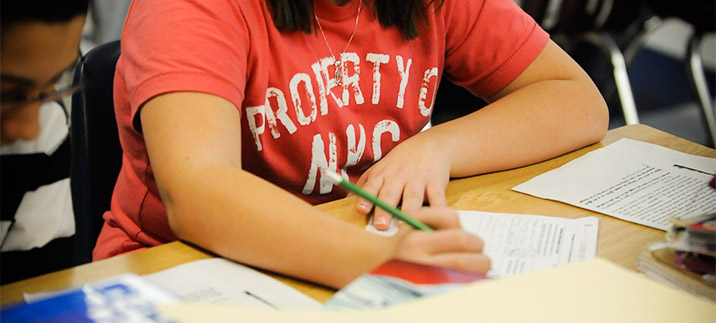 From One Teacher to Another: Results Matter More Than Practice
The bottom line is and always will be very simple: If my students aren't learning, then I am not an effective educator. Period. In his recent piece for Education Post about accountability, John Thompson writes of the importance of spurring innovation, improving outcomes and realizing education equity. As an educator and mother of three, I'm in full agreement with him on all three points and would give him a high five on those if I could. We quickly part ways, however, when it comes to what those priorities actually require from educators and what they must look like to be meaningful for kids. Thompson is clear in saying that we need to back away from what he sees as a "punitive approach to controlling schools." He does not provide any specific examples of what he means by that, but I'm guessing he is opposed to consequences or actions that result from underperformance of students on standardized tests. In my mind, there is nothing punitive about that. I'd call it common sense based on logic and necessity. I'd also call it the least we can do considering the billions of taxpayers' dollars that support public education.
Innovation Means Taking Risks
Thompson says he supports "win-win experiments." The problem for me is that I don't believe there is such a thing as a win-win experiment. I have never seen one as a science teacher or in my many practicum hours as an aspiring principal. The whole purpose of an experiment is to identify a problem, test a hypothesis and see if it works. We can't know with any certainty going into the experiment whether or not it will succeed. On the contrary, most experiments fail. The idea of limiting ourselves to "win-win experiments" makes true innovation impossible—there are no guarantees anything will have a positive outcome until we take a risk and give it a try. And who would the "wins" be for, anyway?
A School Improvement Grant Success
Thompson is critical of Race to the Top and School Improvement Grants. He sees them as federal interventions that hurt some children in an effort to help others; not a "win-win" in his book. I disagree with him and here's why. Pleasant View Elementary School in Providence was on "priority" status, the worst rating a school can receive in Rhode Island. The school received a SIG grant to implement blended learning. It was a huge success, not only improving outcomes for kids but for overall school culture as well. In three short years, the school moved from priority status to "rising" status and is now considered a model school for blended learning. If Thompson is saying that the success at Pleasant View should not have been allowed to happen because every school didn't get the grant, I wholeheartedly disagree. We need schools to innovate and upon finding success, become proof points and models for others. That is exactly what happened in Providence, and I can't imagine anyone wanting to put the brakes on that. Borrowing from what works is how we, as educators, spur improvements quickly and collaboratively, not just within one state but nationally.
State Control of Everything
State control as described by Thompson is a recipe for disaster. According to Thompson, states will determine their priorities, design their systems, and then "hold themselves accountable." He supports using federal dollars to incentivize but then wants states to control their own accountability and consequences regarding outcomes. I can't imagine anything less respectful of taxpayers' contributions and more dangerous for our students. Regarding his positions on collaboration and data, we are already using data to hone in on places that, according to Thompson, "need extra scrutiny" and are "hot spots." I am particularly confused by Thompson's call for "flesh and blood human beings" to be the evaluators. My evaluators have always been human beings and I do not know of a single school in the entire country where evaluations are not being done by human beings. Here in Rhode Island, we also already have rubrics and observation techniques in place. Is he suggesting that other states do not?
Practice Over Outcomes?
It is very dangerous to put the importance of teaching practice above outcomes. Thompson is insinuating that if teachers are doing all the practice well, then students' failure to learn is not the responsibility of the educator. This opens up opportunities for a blame game that consistently and unfairly points to parenting, poverty, and even a lousy breakfast. I don't know how an educator can be happy or think he or she is doing everything well if kids aren't learning. That defies everything that it means to dedicate one's life to education. Thompson asserts that it's easy to identify bad teachers. He expresses disagreement with using student outcomes in order to evaluate teachers. His position leads me to wonder how we can determine who the bad teachers are. I certainly hope that Thompson, a teacher himself, is not implying that one must exhibit egregious actions against children to be considered "bad" at teaching. I don't like to use the word bad; a better word to use is "ineffective." Teaching is driven by a mission of ensuring that kids learn. Learning is the priority outcome. I agree with Thompson about the importance of trust. Parents, community leaders, and students trust us to educate them well, give them a clean slate each day when they walk through our doors, pick them up when they fall, and to change or pivot if what we are doing is not working. Perhaps what we need to do before we engage in conversations about accountability is to find consensus on what an ineffective or "bad" teacher even is. Is it someone who doesn't show up to work or is often late? Do they hit kids? Scream at kids? Belittle kids? Refuse to plan lessons? Or, is a bad teacher someone with whom kids are consistently not learning? A teacher whose students don't only fail to grow but also regress from the start of the school year? In the last paragraph of his piece, Thompson speaks of inner-city principals and the danger of teacher shortages. He asserts that firing bad teachers will lead to shortages. In my opinion, teacher shortages will result from something different: a failure of leadership. We will find ourselves dealing with teacher shortages if our principals do not support their teachers by providing regular, timely, specific, and actionable feedback on their practice. Leaders have the obligation to be an integral part of teacher growth. This is a team effort. It will never work if it isn't. It must be an honest team effort where we are truthful about our strengths, our weaknesses, and dedicated to improving outcomes for all kids. Students are what matter. We teach so they may learn. So, why would we take them out of the equation?

Jessica Waters was the 2013 Rhode Island Teacher of the Year and a mom of three. She taught high school science for six years, and is currently completing her 240 hours of training in a principal preparation program.

Jessica Waters is a mother of three, former Rhode Island Teacher of the Year and current director of academics at Nowell Leadership Academy.