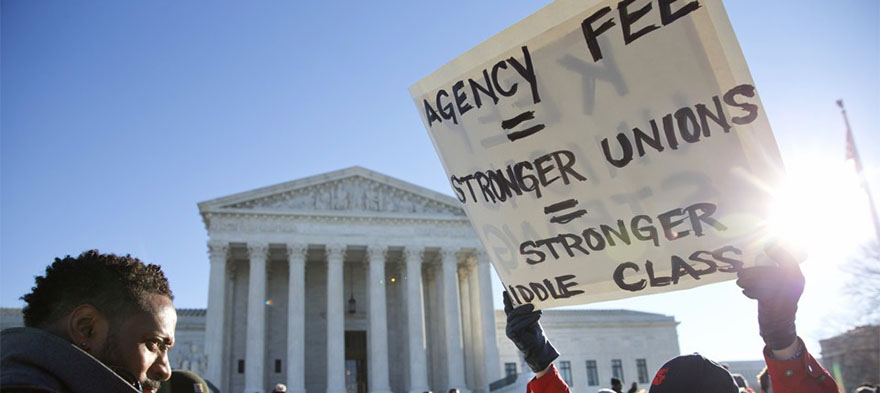 Friedrichs v. CTA: E4E Members' Perspectives
Oral testimony began this week in Friedrichs v. CTA . The question at the core of this case is whether or not a fair share fee paid to unions by public service workers infringes on a teacher's First Amendment Right. The case presents a highly nuanced and controversial topic being hotly debated through a steady stream of news coverage and numerous amicus briefs filed to the Supreme Court. As an organization that works every day with teachers, we approach the debate being argued through the Friedrichs case by asking ourselves, what do teachers think? So, we polled Educators 4 Excellence members to ask them if they were aware of the case and whether or not they support public service workers paying fair share fees to cover the cost of collective bargaining. Over 1,000 teachers responded. Among them, a mere 17 percent were aware of Friedrichs v. CTA while 55 percent responded that they support public service workers paying fair share fees, demonstrating opposition to debate Friedrichs poses by a three-to-one margin. Our members' responses led us to take a public position on Friedrichs, and we recently held a call with American Federation of Teachers (AFT) President Randi Weingarten to help our members learn more. To better understand our position and our desire to engage teachers on Friedrichs in partnership with AFT, we invited E4E members to share their perspectives.

I am a high school math teacher from Chicago's west side who has worked in the Chicago Public Schools for ten years. I do not serve as a Chicago Teachers Union (CTU) delegate but I am a member and I have worked closely with dozens of colleagues who are more active in the union. No, I don't agree with everything the union says or does. Yet, I often find myself defending the union to my friends outside of education, some of whom believe that teacher pensions are to blame for Chicago's potholes and a bankrupt city hall. I am thankful for union advocacy every day and shudder to think of what my classroom would look like if the CTU was not there. The dues I pay to the union each year is a minimal cost when considering the support services and benefits my union secures me and other teachers through contract negotiations. As a member of Educators 4 Excellence-Chicago and supporter of the fair share fees I pay to the union, I value having the leadership of organizations like these who bring educators together.... Read more

The invitation from Educators 4 Excellence and the American Federation of Teachers to join a call on Friedrichs v. CTA granted me the opportunity to voice my questions and concerns to Randi Weingarten. More importantly, it informed me of the issues surrounding the Supreme Court case, which could have a monumental impact on the future of union organizing. During the call, I was able to affirm my support for E4E's commitment to elevating teacher voice and my allegiance to the United Federation of Teachers through Randi Weingarten's call for action. This resulted in learning how to communicate the details of the case and its potential impact for union workers – including me. Fair share fees are necessary for a union to function at its greatest potential... Read more
I can see how forcing union dues serves the union and not students, how this conversation has too much to do with adults and adult needs. It would be nice if we could separate the needs of students from the needs of the union, and in too many cases they are different and opposing, but it's not quite that simple. Teacher's unions are an important check on the power of districts. Without a strong voice from those working in schools every day, it's too easy to imagine everything is just fine. For example, I'm a huge advocate of getting rid of suspensions whenever possible. However, many districts, feeling the pressure to shrink those numbers, are mandating fewer suspensions without really implementing any replacement. It would be easy to believe that fewer suspensions mean a better and safer school if not for the voices of teachers in some buildings. Teacher voices are telling us that, when done in an incomplete way, simply eliminating suspensions is not solving the problems of inequity that were causing the suspensions in the first place. Those kids were are trying to protect from unfair discipline are still failing to be served by chaotic schools. But, you know, the numbers look nice in meetings and stuff. So that's cool.... Read more

Evan Stone is co-founder and co-chief executive officer of
Educators for Excellence
. Previously, Evan taught sixth grade in the Bronx, New York, while earning his master's degree in teaching from Pace University. While teaching, Evan helped co-found E4E with colleague, Sydney Morris.