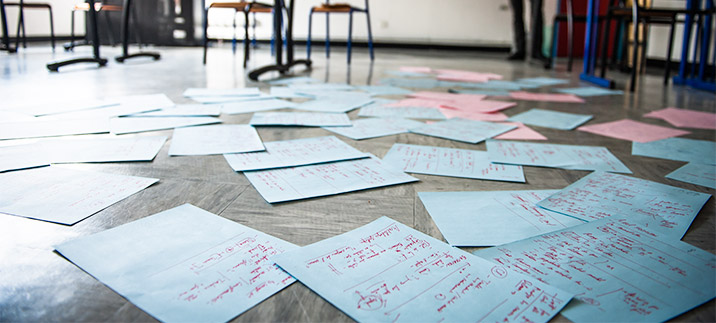 'Fewer, Better, Fairer Tests': Addressing Overtesting From the Ground Up
"Over-testing" of school children has become the battle cry of resistance among many parents, teachers and advocates. But people use the term "over-testing" to mean different things. For some parents it's just about the number of tests. For others it's that their schools focus mostly on reading and math, instead of science, history, the arts, PE and all the other subjects that are part of a well-rounded education. Some parents complain that schools spend too much time on test prep. Still others fear the relationship between over-testing and "teaching to the test." The evidence of over-testing varies wildly by district and school. The Miami Herald recently reported that the local district administers at least 25 separate tests. In Montgomery County, Maryland, the district's website lists about two dozen tests ranging from kindergarten assessments to college admissions exams. The issue has also prompted a national debate about "high-stakes test-based accountability" and whether we should intervene in low-performing schools. To address the issue of over-testing, we should start by getting a common understanding of what we mean. First of all, we can all agree that testing kids over and over won't make them any smarter. As testing critics often say (and President Obama affirmed), "Just weighing a pig doesn't fatten it." We should only test as much as we need to know if kids are on track. Some studies also show that test prep does not boost test scores, so if your school is doing a lot of test prep, they probably should slow down. Kids need a few practice tests before a big exam to get familiar with the process, but endless drill and kill doesn't work. Also, many tests are not required by the federal government so schools and districts should decide which ones they need and get rid of the ones they don't need. It's also important that parents understand the purpose of each test. Some tests help teachers identify a child's strengths and weaknesses—like when a child is new to a school and the teacher needs to know what the child knows. There are no stakes involved but these tests are very important for teachers. Some other tests are entirely voluntary but they can provide opportunities to students. For example, students have to take the SAT or the ACT if they want to go to college. They have to take Advanced Placement tests to earn college credits while in high school. They might also need to take entrance tests to get into selective or magnet schools. Some tests were added to evaluate principals and teachers in subjects other than reading and math. Again, these are local or state tests—technically not required by federal law—but agreed to by states in exchange for flexibility from No Child Left Behind. And, finally there are tests explicitly required by federal law and used by each state and district to hold schools accountable. Now, the good news is that many states are using new and better tests to replace the old multiple choice bubble tests. These new tests will measure how kids actually think instead of just measuring what they have memorized and can spit back out. These new tests take about 10 hours per year—the equivalent of about two days of school—or roughly one percent of total class time. Obviously, the more test prep the school does, the more class time it takes. Now, even with better tests, some people are still worried about too much testing, so it is important to understand why we need these tests for accountability. First, we need to know how kids are doing. Parents have a right to know if their child is on track to college. The public has a right to know if our schools are on track. Annual tests also tell us how much more students are learning each year compared to the year before. That's called measuring growth. Done right, it will tell us which schools and teachers are doing great, which ones could get better with some more support, and which ones are really struggling. We also need test results if we want to make the case that different kinds of schools are needed for different kids because, when it comes to education, one size doesn't fit all. Kids should have more education options, but you can't argue for more options without evidence. Ultimately, the reason we test is to protect children. Our country has not always done a good job of educating disadvantaged students—low-income kids, minorities, rural students, students with disabilities or children learning to speak English. We need tests to be able to compare students from low-income and middle-class families, white students and students of color, students with disabilities and students still learning English. We have to know if some groups of kids are falling behind others so we can figure out what to do about it. Education is supposed to be the great equalizer but if the results are consistently unequal for some groups then we have a responsibility to do something about it. It's about equity. Lastly, taxpayers provide about $600 billion each year to fund public education in America. They have a right to know if the system is working. And if we want the public to spend more money on education, we need to show them results. Test scores are not the only results that matter. Attendance, graduation and college enrollment rates are also important. But test scores tell us something important. We can't wait years to find out if your kids are behind. The sooner we know, the sooner we can act. The fact is, college admissions tests show that only about 40 percent of high school graduates are really ready for college. That's one of the big reasons why so many drop out and so many others take years to finish. Nobody likes testing and we should do everything we can to reduce time spent on testing and test prep. But without some tests we just won't know if your child is being challenged and learning what they need to be successful. Our goal should absolutely be fewer, better and fairer tests. That's what parents want. That's what teachers want. And that's what our children need.

Peter Cunningham is the founder of Education Post and serves on its board. He served as Assistant Secretary for communications and outreach in the U.S. Department of Education during the Obama administration's first term. Prior to that he worked with Arne Duncan when he was CEO of the Chicago Public Schools. Peter is affiliated with
Whiteboard ...