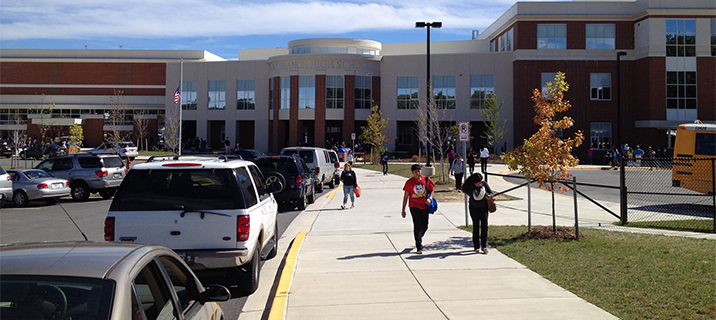 Falling Asleep on the Job of Protecting Children
There is something wrong when a district requires students to abide by a code of conduct but no similar code exists for staff.

On the heels of a very high profile

sexual abuse case

, Montgomery County Public Schools (MCPS) has instituted a

code of conduct for staff

. Not only will this protect students but it will also protect fellow staff members from the inappropriate conduct of a small fraction of their colleagues. And it will hopefully motivate any other districts dragging their heels to act swiftly regarding allegations of abuse.

Some may wonder why this was needed or why it is newsworthy.

Here's why:

A teacher in Montgomery County, Maryland was recently sentenced to 40 years in prison on 39 counts of sexual abuse of children in his classroom over the course of almost three decades. His victims were girls in kindergarten through second grade who were photographed and videotaped in sexually suggestive poses and touched inappropriately. He even had the name of one of his victims tattooed on his shoulder. He captioned his photos of the girls with fantasies of molestation.

The teacher in question had created a group called "lunch bunch" which helped him to build his young students' trust over time. The abuse occurred over eight years and included 14 girls.

And now for the worst part: The school's principal didn't believe him to be safe around kids, but failed to follow Maryland's mandatory reporting law.

Instead, in 2011, she placed him under "restrictions," saying that he could not touch or be alone with students and that he had to leave his classroom door open during instruction, stay off the playground during recess and refrain from sitting with students in the cafeteria.

Countless parents unknowingly sent their children to school to learn music from a man who the school principal considered to be a safety risk.

A man who wasn't allowed to shut the door to his classroom during class.

A man who wasn't considered safe enough to be on the playground during recess.

A man who wasn't considered safe enough to sit with students at lunch.

Even his fellow teachers, his own colleagues, went to the principal repeatedly with reports of issues that arose with Joynes that made them feel "uncomfortable."

"It just infuriates me," said teacher

Mary Silverman

, who taught with Joynes and said she twice reported him to administrators, including for locking his classroom doors when he had three first-grade girls inside for lunch. "It infuriates me that the administrators didn't take it seriously enough."

My heart goes out to these teachers who had the courage to stand up for students and weren't taken seriously by those in charge. These teachers who now blame themselves for not doing more.

"I feel I didn't do enough," she said. "I've talked to other teachers, and we all feel the same way: We just feel like we didn't do enough."

One particular teacher went to the principal on

three

separate occasions because of her concerns and still, the teacher in question stayed.

This isn't their fault.

The teachers did their due diligence by reporting their concerns to their supervisor. The school leadership failed these young girls and their families. The principal has since resigned.

Joynes also carried on a two-year sexual

relationship

with his 15th victim—a middle-school student—from 1991 to 1993 during his years teaching in a different district within Montgomery County. By the end, this relationship included weekly intercourse, sometimes behind the stage in his music classroom. He was indicted for child abuse, second degree rape, and sexual offense connected to those crimes as well. Sentencing for this case will come later this fall.

Joynes was employed by 11 Montgomery District schools during his 27-year career before his arrest in 2013. Multiple teachers reported him for what they considered to be inappropriate actions with children.

Parents

contacted the school about what they considered to be inappropriate actions with children.

But despite all the warning signs and complaints brought to the school principals' attention, it was Homeland Security who discovered the abuse. They were able to link him to a child pornographer in South Carolina and when they discovered a photo of a child in a music classroom, they came looking for him in Montgomery County, arrested him (as he was running out the back door of his home) and began an investigation of his interactions with his students. He pleaded guilty to sexually abusing 14 children.

This is a major wake up call to any and all administrators who feel forced to walk that fine line between protecting students and protecting the rights of their teachers, between PR concerns and the transparency needed to protect students, between taking a difficult stand and sweeping uncomfortable concerns under the proverbial rug.

Though long overdue, MCPS has finally been shaken out of its slumber regarding making the safety of their students (and their staff) a top priority. Their creation of a district wide and uniform code of conduct that puts the well-being of children at the top of the priority list is a first step in what will be a long process to regain the trust of the public.

Erika Sanzi is a mother of three sons and taught in public schools in Massachusetts, California and Rhode Island. She blogs at School Matters.

Erika Sanzi is a mother of three sons and taught in public schools in Massachusetts, California and Rhode Island. She has served on her local school board in Cumberland, Rhode Island, advocated for fair school funding at the state level, and worked on campaigns of candidates she considers to be champions for kids and true supporters of great schools. She is currently a Fordham senior visiting ...