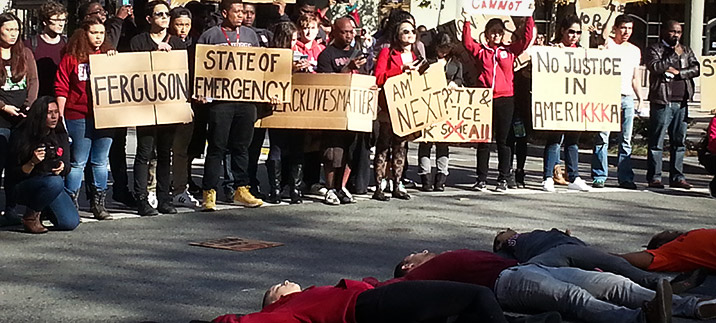 Educators Grapple with the Lessons of the Brown and Garner Killings
An outpouring of public opinion has burst forth in the wake of grand jury decisions made regarding the deaths of Michael Brown in Ferguson, Missouri, and Eric Garner, in New York City, and perhaps none so piercing as the sentiments expressed by teachers, parents and students. Here, we gather some of their thoughts. Feel free to add your own in the comments below, to continue the conversation.
On the Role of Educators to Honestly Discuss Race
Former teacher and Washington, D.C., resident Shree Chauhan:
As education advocates that say we serve students of color, we cannot ignore Eric's death, Mike's death and the deaths of countless others any longer. They are human beings, not hashtags.
Chicago teacher Marilyn Rhames:
As educators, we have to curb our own opinions and emotions to help students to process what happened in the most sensitive way.
TNTP's Layla Avila:
The right response to institutional indifference of any kind—in our education system, our justice system, or in any other institution that is supposed to serve and protect us as citizens—is outrage.
Philadelphia teacher Kathleen Melville:
But we need schools that give teachers wide latitude to tailor curricula to students' needs. We need administrators who encourage teachers and students to work for social justice. And most of all, we need diverse networks of colleagues who support this work, people who share honest conversations, who help us to see our own blinders and who challenge us to think critically about race and pedagogy.
NEA President Lily Eskelsen García:
Our resolve is steadfast: We owe it to our students to raise our voices and to help them grapple with the messages that have been conveyed by these cases to our youth, particularly our students of color.
Teach for America's Gary James:
My heart…is heavy because many of the kids and communities our corps members serve may internalize the idea that they're lives don't matter to the majority of the country, that they or their loved ones are just a bullet or negative interaction away from becoming a hashtag.
Council of the Great City Schools' Executive Director Michael Casserly:
On the surface, the tragic events in Ferguson and Cleveland concerned the police and the local communities. But ultimately, these are cases about how America's institutions, including our schools, respect the rights, well-being and futures of all our young people.
Oakland Unified School District Superintendent Antwan Wilson:
That these unarmed men, children in some cases, were killed at the hands of those appointed to protect and serve is maddening. It's a call to action for anyone who cares about equality or who believes that the ideals of this country must be demonstrated in actions as well as in words. It's a source of anger across the country and profoundly felt by our black youth right here in Oakland. As educators, the challenge is to help our children direct this fear and anger in a way that helps them fight injustice—while remaining alive. We must give our students the knowledge, the support, and the tools to maximize their chance at that most basic of conditions, survival, so they can reform society to the point where these lessons are no longer necessary.
On the Responsibility of White Teachers to Address Racism
Chicago-area teacher Jessica Lifshitz:
Because I know that we, white teachers of mostly white students, we don't talk about race very much. We don't talk about it partly because we don't know what to say. We don't talk about it partly because we fear the discomfort that the conversations might bring.
Education writer Audrey Watters:
I want teachers to talk about Ferguson, Eric Garner, Tamir Rice. But I fear that many white teachers aren't really ready to do so. — Audrey Watters (@audreywatters) December 4, 2014
Minneapolis teacher Tom Rademacher:
We need more teachers of color, yes, but we can't put the weight of building anti-racist schools solely on the shoulders of people of color. We also need more white teachers willing to disrupt the white spaces of our schools, white spaces that are enforced constantly in our policies, our dress codes, our hyper-vigilance on the obedience of kids of color.
New York teacher educator Alan Singer:
White teachers, imagine how angry and frustrated you feel when you are mistreated, or think you are being mistreated, by people in authority...Imagine if you were worried for your brother or son. I think then white teachers will start to have some sense of what it means to be black in America in the Age of Ferguson.
Minnesota teacher Callie Bush:
Hard for me-a White T-to focus on lesson plan. Too many thoughts in my head. Imagine how our SOC are feeling. #letthemtalk #FergusonInClass — Callie Bush (@calliembush) December 4, 2014
On Students Speaking Their Minds
Minneapolis student Nia Golson:
"That's the definition of white privilege. You get to look away while I, being African-American, have to live like this."
St. Louis student Dinetta Givens:
"Mike Brown and the others, they were like branches to the whole problem. If law was a tree, it's a tree with bad roots."
Denver student Collin Metscher:
"Seeing other kids, that not only were they able to organize a successful walk out but they got voices heard, it showed you can make your voice heard."
Sacramento teacher Christina Martinez:
Sometimes I think we have more to learn from them than they do from us. #FergusonInClass #BlackLivesMatter pic.twitter.com/DZus5ht2HA — christina martinez (@christinaixchel) December 2, 2014
On the Danger of Inaction
NYCAN Executive Director Derrell Bradford:
As I write this, many are physically or civically having their potential choked out of them while the status quo struts and frets over "how much" change there should be to our education system. Or "how fast." Or "who should" be the agent of that change. In a world of millions of potential Eric Garners, we must find the will to do everything in our means to educate our kids.
Math education professor Ilana Horn:
When we remain silent in the face of these injustices, students notice. They may mistake it for complicity. Pay attention. — Ilana Horn (@tchmathculture) December 4, 2014
Education editor and writer RiShawn Biddle:
Because the school reform movement should always be out front on all the issues that are impacted by the nation's education crisis. Because the policies and practices that condemn the academic futures of our children end up spilling into our streets. Because you cannot proclaim yourself to be a champion for all kids if you are not championing them at all times.
Education leadership professor James Shuls:
There have been no rallies, no protests, no marches in the street to demand justice for the students turned away from the doors of accredited schoolhouses.
Education researcher Conor P. Williams:
Perhaps white progressives have been so slow to make inequitable, violent policing of African-American communities a priority because they've struggled to accept that things could really be as bad as all that. And they've been loath to realize that this violence is symptomatic of enormous systemic injustice.
Pennsylvania parent Heather Johnson-McCormick:
Today is another sad, sad day for mamas of black boys. Deeply demoralized and shaking scared, we keep on fiercely loving them, and wait and hope for the world to see them as we do.… It doesn't matter that they are gorgeous and charming and organically charismatic. It doesn't matter that they are gifted and talented and have off-the-chart-IQs and that the world should be their oyster. It doesn't matter. Still, they are followed, suspected, questioned, accused, judged, and—yes, already—feared. They are black. They are ten.
UPDATE (December 6, 2014): Added Council of the Great City Schools' Executive Director Michael Casserly.
UPDATE (December 8, 2014): Added Oakland Superintendent Antwan Wilson.
Caroline Bermudez is chief storyteller at the Charter School Growth Fund and former senior writer at Education Post. Bermudez has been a journalist for almost 10 years. She was staff editor at The Chronicle of Philanthropy, covering the nonprofit world, with a particular focus on foundations and high net-worth giving. She has interviewed prominent business, political and philanthropic leaders ...