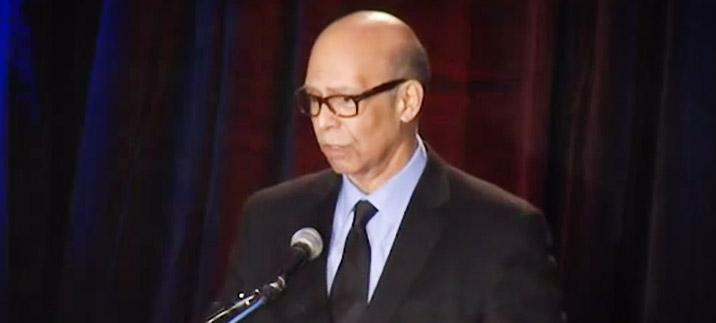 Educational Equity Is the Civil Rights Battle of Today
We devote one January day a year to honoring Martin Luther King, Jr., but his seismic impact on American history reverberates year-round, especially for those who have picked up his mantle.

Michael Lomax, president of the United Negro College Fund, experienced firsthand the struggle for racial equality as a young man growing up in the South. In a speech delivered at a Jan. 19 event in Chicago celebrating the legacy of Dr. King, Dr. Lomax shares memories of his own early activism and how it shapes his work today at UNCF pushing for educational equity. Below is an abridged version of that speech, including a video at the bottom of the page.

This morning, I want to speak personally about Dr. King, the holiday we celebrate today and the work that, I believe, we are called to do for our communities and our children, if we are to truly honor the great sacrifices Dr. King and his generation of activists made for us—the sacrifices of thousands of ordinary Americans who acted selflessly and courageously to end segregation and legal discrimination in America, ordinary Americans whose lives and actions are so powerfully and poignantly recreated in the film "Selma." The film "Selma" made me remember the first time I marched with Dr. King in 1966, my sophomore year at Morehouse College, in Atlanta. Less than a year after the Selma campaign, 1966 had started violently with the January 3 murder of Sammy Younge, a 22-year-old Navy veteran, who had recently come home to Tuskegee, Alabama, enrolled at the college there, and joined the Student Nonviolent Coordinating Committee, SNCC. I had first come to Tuskegee in 1961 with my mother, a freelance journalist writing about the civil rights movement. That year, I'd attended Tuskegee Institute High School and gotten to know Sammy, the privileged son of college graduates who, when he returned to Alabama in 1964, had matured into an activist no longer willing to play by the rules of Southern segregation and white supremacy. On January 3, he defied a white man at the Greyhound bus station in the center of town. The man shot him dead, was later acquitted, and Sammy Younge became the first black college student to die in the civil rights struggle. That same January, 120 miles away in Atlanta, another story of defiance and retribution was playing out in Atlanta at the state Capitol where Julian Bond, a former Morehouse student and member of SNCC, was defying the rules and was about to experience the South's rough justice. In 1965, Julian Bond had run for, and won, a seat in the Georgia house. Shortly before his swearing in, Bond had expressed his opposition to the war in Vietnam and said that he supported young men who refused to be drafted into fighting an unjust war. The Georgia General Assembly tried him for treason, found him guilty, and refused to seat him. And it was to protest Bond's expulsion from the Georgia House of Representatives that prompted Martin Luther King and John Lewis to rally 1,500 black college students to march to the state Capitol, carrying signs and singing freedom songs, and speaking out in behalf of our duly elected representative. The courts ultimately righted this wrong but our protest sent a message that, as citizens, we knew our rights and supported our state representative and his constitutional right to freedom of speech. The last time I marched to the Georgia State Capitol came two years later in April of 1968, days after the assassination of Martin Luther King. This time there were no signs, no freedom songs, as thousands of students, faculty and administrators silently marched to the state capitol and then silently returned to campus where Dr. King's body would lay in state. In the days leading up to his funeral, long lines of mourners stood quietly day and night, waiting their turn to enter Sisters Chapel at Spelman where Dr. King's body lay in an open casket. A young martyr, struck down in his prime. And grief-stricken mourners by the tens of thousands wept and prayed, traumatized by the terror and violence that still had a stranglehold on the South. Weeks later, shortly before my graduation, Robert Kennedy would be assassinated in Los Angeles. The violence seemed to be everywhere. At my graduation, newly widowed Coretta Scott King and Chief Justice Earl Warren sat on the stage as the glee club hauntingly sang "The Impossible Dream." And 100 young men of the Morehouse Class of 1968, each deep in his own thoughts, considered how we would live our lives in America, a nation forever changed by a young dreamer who had spent his brief life transforming the possibilities of ours. Would we use our educations to make a difference too? Would we find our own way to carry on the struggle to achieve justice for all in America? For over a quarter century now, communities all across our nation have paused on January 15 to reflect on the life of Martin Luther King and to celebrate his work. We have had not just wonderfully joyous celebrations, but we have also heard from incredible speakers who have brought us thoughtful and challenging messages, inspired by the life and work of Dr. King. We have heard from men and women whose lives and work have borne witness to the transformational impact of the civil rights movement and Dr. King's philosophy of nonviolent direct action. Dr. King told us that "the arc of the moral universe is long but it bends toward justice." The testimonies of the speakers who have graced our King program stages have reaffirmed that truth. We have not yet achieved Dr. King's ideal of the beloved community but we—you and I—can and must persist in seeking, working for, and championing that ideal. And if we ever ran the risk of complacency, of feeling that everything is fine now, recent events in Ferguson, New York City and Cleveland have been brutal reminders that racial injustice is still too prevalent in our great nation. There is still work to be done. At UNCF, we have felt a renewed sense of urgency about our work. For 71 years, we have urged all Americans to embrace our mission: ensuring that black and other minority low-income Americans have equal opportunity and access to achieve a college education. We have championed education so that every American can have the chance to live the enriched lives that come with the knowledge and skills, credentials and degrees, that only postsecondary education makes possible. But our renewed urgency also comes from the recognition that our work not only helps individuals ensure that they will live more financially secure lives and enjoy greater opportunities, but also because a better educated citizenry has the knowledge, habits of mind, intellectual gravitas, and wisdom essential to nurture, preserve and protect our democracy. We need not only to prepare new generations of Americans for the good jobs that fuel our economy, but also to prepare them to be wise, thoughtful, and compassionate leaders. And more than ever, we must ensure that we have a diverse pipeline of talented and educated Americans prepared to lead in our faith communities, our business and professional communities, our political sector, our criminal justice system, our media, and all across our nation. There is too much at stake. We can neither afford to lose any lives to violence and destruction, nor squander any with self-destructive behavior. Education is fundamental. Education is the foundation. When it comes to educating our children, we can't just talk the talk. We have to walk the walk. Dr. King's vision and the work of the civil rights movement were based in the belief that all Americans must have equal citizenship rights. And while the movement removed the legal barriers that deprived black Americans of our rights, we have not enjoyed equivalent prosperity or opportunity. And educational attainment now stands as a formidable barrier separating aspiration from achievement for far too many low-income children of color. And we need an educated and engaged citizenry to remain a vibrant democracy. And across every sector, we need diverse cadres of leaders to ensure that our nation embraces, protects and nurtures all her people equally and fairly. What would happen if the straight lines that separate us were to become circles of inclusion? If not today, when?

Since 2004, Michael L. Lomax has been president and CEO of
UNCF
, the nation's largest private provider of scholarships and other educational support to African American students. He is a leading advocate of college readiness—students' need for an education, from preschool through high school, that prepares them for college success. Under his leadership, UNCF ...