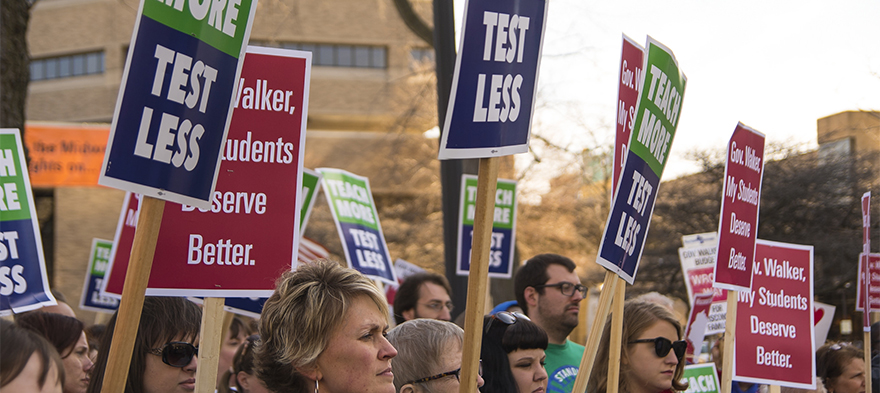 Don't Believe the Hype: Standardized Tests Are Good for Children, Families and Schools
A major effort is underway to cut back on standardized testing because many, including President Obama and Minnesota Gov. Mark Dayton, argue that too many tests detract from student learning in the classroom. As decisions are weighed about which tests to eliminate, I want to be sure we don't send the wrong message to our children. The students and families of Students for Education Reform-Minnesota know the power of standardized tests as a tool in the fight for educational justice. We believe schools should send the message that they want to know how our children are doing against national learning benchmarks, and that they'll use the results to make sure our children—especially children of color and low-income children—are getting an education equal to that of their more affluent and white peers. Today's testing debate has become so politicized that we forget that we were once sitting in our children's seats. If you're like me, growing up you needed to bring a #2 pencil to school some days. You'd take a timed test and answer questions about a paragraph you'd just read, solve a long division problem or complete an analogy. These tests required critical thinking skills I've used throughout my life—in fact not having them would have put me at a disadvantage. I want to my kids to have these skills, too. Taking tests wasn't a traumatic experience for me and many others, it was a reasonable and necessary one. Sadly, that's not the message kids are getting these days from an unlikely source: teachers. Adults didn't tell me that tests were stressful, that I couldn't handle them, or that my school would be punished based on my performance. Teachers didn't discourage me from participating in what is a completely reasonable school activity: measuring student progress. In fact, teachers regularly gave us spelling and math quizzes to measure what we learned. There was even testing in gym with the annual Presidential Fitness Award. All of these tests are still given today, yet nobody's boycotting them. So why are children suddenly unable to emotionally cope with standardized tests in 2016? Has anything changed since we took them? Or could it be that our children are capable of taking tests, but adults aren't comfortable with what the testing reveals? Year after year, standardized test results have exposed glaring racial biases in our education system. Teachers and schools are no longer able to hide behind school averages in performance, and are now having to answer for the low academic performance of students of color and low-income students. Many parents are being told to boycott these tests when really we should be looking more closely at the results. Standardized test scores are now broken down by student race and income. This allows everyone—including teachers, parents and policymakers—to see how inequitable our schools are. If you've heard of what's commonly called the " achievement gap"—the shocking difference in educational outcomes between white students and students of color—you probably have standardized tests to thank. With test results, we can no longer hide the underlying racial inequity in our schools, and we cannot and should not go back and pretend it doesn't exist. Thanks to standardized test results:
We can see whether a child is at grade level and how he or she is performing relative to other children in the next class, across town and around the country.
We can see that schools in higher income neighborhoods—often considered the "good schools"—are only performing well for Caucasian students. The majority of black, latino and native students are not getting a high-quality education there.
We can make informed choices for our children. Test data show that in some schools children have a 1 in 10 chance of reading at grade level. Put another way: the odds are against children learning at such schools. This data allows us as parents to seek out schools that are effective at teaching our children.
Report cards and teacher feedback are helpful tools in gauging our children's academic progress, but they are subjective. They tell us how well our children's teachers think they are doing according to unique assignments and tests they create, but don't compare our children's progress against a set of standard learning benchmarks. Many teachers embrace standardized test data. They use it to celebrate success and pinpoint areas for improvement. My own children attend schools that use testing to set goals and measure progress rather than consider it a punishment. The school regularly shares test data with me, has a clear plan for helping my daughters in areas they're struggling in, and gives me tips I can use at home. Our family talks openly and positively about the tests. Setting goals and achieving them is a source of pride for us and builds my daughters' confidence. Our kids are capable of greatness. They can and must take the tests so we know if they're mastering the critical skills they are learning from great teachers and great classes, skills they'll need to pursue the college and career of their dreams. And, guess what? We adults are emotionally capable of handling them too. 3 Questions to Ask Your Child's School About Testing:
How does your staff talk about testing? At many schools individual teachers tell students to boycott the tests—even stopping children on their way to the testing room to discourage them. Other schools see them as a positive and a chance to help their students stay on track and grow. Let the principal know your expectations for how tests are talked about with your child by every staff member at the school.
What will you do with the results? Are results shared with students and their families, and do teachers explain their children's scores and how students rank locally and nationally? Is there a plan to boost achievement at school in needed areas through targeted instruction? Is the school upfront about identifying and targeting any gaps they find in outcomes between students of different races or incomes?
What skills are measured by the tests and how will you ensure my child masters them? Talk to your child's teachers at the beginning of the year about the skills he/she needs to master and find out the teacher's plan for ensuring your child masters these. After the tests, make sure the teacher identifies ways to get your child on track, keep them on track or challenge them to achieve beyond their grade level. Teachers should also let you know what you can do at home to support your child.

Latasha Gandy is the Minnesota Program Director for Students for Education Reform (SFER). Latasha co-founded and co-led SFER's chapter at Metropolitan State University from 2012 until she graduated magna cum laude in the spring of 2013. Latasha's responsibilities include recruiting, training and leading the student coalition's campaign and event planning process, as well as building strategic ...